I'm putting the FULL TEXT of my Bootstrap Book online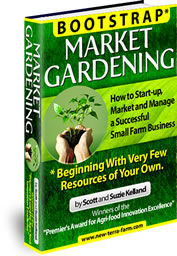 Yes, the Bootstrap Book is going on-line! In a radical experiment in Internet education, I'm putting the FULL TEXT of Bootstrap Market Gardening online for anyone to read!

All 100-plus pages will be available to read for free; I will be starting the upload in September; I expect it will take me a couple or three weeks to get it all formatted for the Web.

This is the same book that has generated thousands of dollars in sales for me this year alone; so why am I taking this radical step?

There's a few reasons (some practical and some altruistic). First, I REALLY BELIEVE we need more small family farms providing real food to communities. I believe it is a part of my mission to help those small farms get started and thrive.

So, I've removed the price barrier to getting access to the practical knowledge and experience I've gained about starting-up, marketing and managing a CSA market garden.



Read Bootstrap Market Gardening for free with my compliments
Anyone with Internet access can read the book for free, with my compliments. The only limit is that it is still my intellectual property, and copyrighted as such, so no reproducing it or distributing it without my prior consent. Feel free to send the link to your friends, though.

A couple practical reasons for doing this; first, putting the book online adds valuable content to my website. If you have been reading my stuff about how we grew our website you know that more content = more traffic.

That additional traffic will be exposed to other things I promote and sell on my site, like my How to Raise Meat Chickens Book or my Pigs on Pasture Book so (hopefully, because this is a leap of faith) this will compensate somewhat for lost revenue from the Bootstrap book.

By the way, I don't talk much about my personal beliefs (except my belief in the need for more small farms), but I do believe you have to give before you receive. I already give away a lot of information on my website; this is an extension of that process.

Second, I am hoping some people will find the free content valuable enough to want to get the whole Bootstrap Market Gardening Pack.

This means downloading their own copy of Bootstrap Market Gardening and getting the 5 bonuses: The Garden Planner software, the Cashflow Planner, the Guide to Pest Control in the Organic Garden, the Farm Budget Planner, and the Farm Business Plan Guide and Workbook.

I will still charge for the whole Pack, but you can read Bootstrap Market Gardening itself for free starting here.

Start reading here


p.s. if you just can't wait to get started with your own Bootstrap Garden, you can Get Bootstrap Market Gardening and 5 bonuses right now