Bootstrap Market Garden Plan: How much to grow?
The free online version of Bootstrap Market Gardening continues here.
For Further Reading . . .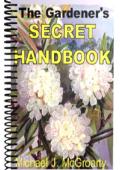 Free Gardener's Secret Handbook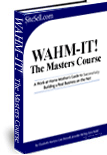 Free Work at Home Masters Course
BOOKS AND VIDEOS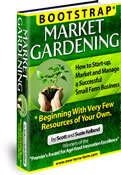 Bootstrap Market Gardening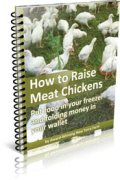 Pastured Poultry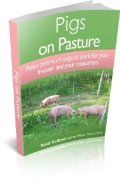 Raise Pigs on Pasture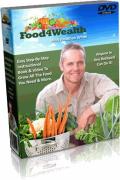 Food4Wealth Book and Videos
Once you have an idea of how many shares you think you can grow and sell, you can plug that information into the Bootstrap Market Garden Planner spreadsheet. This will tell you how much of each crop you will need to start, when to start it, how much space you will need, and when you can expect to harvest.

The Bootstrap Market Garden Planner spreadsheet contains data for about 30 common vegetables, and data can be edited to suit your particular conditions (see Instructions page in the Bootstrap Market Garden Planner).

This information will help you to estimate your start up requirements (see Estimating Start-up Costs in a later section).

Important note: Keep costs down if you are just starting up the learning curve in your first year. For example:
You don't need a greenhouse - a simple plant stand with florescent lights for starting transplants can be built for about $100, including the lights.


You don't need to buy a tractor or Rototiller - rent or borrow a tiller, or contract out the work. We recently paid a neighbour with a tractor to till about a 1/2 acre for us; he charged us $60.


You don't need to invest in a fancy irrigation system - buy some soaker hose and a sprinkler at your local garden supply store.


Pick up wheelbarrows, hand tools, etc at garage sales and auctions.


Stick to a level of production where you will not need hired help.


In short, don't 'bet the farm' on your start-up year. Make a realistic appraisal of your resources and skills, and start at a level you can sustain. Don't worry if the start seems small; you can grow quickly in subsequent years (we
tripled our size
in year 2!)
And, if you don't yet have a farm yet or enough land to start up, see the special section on
Finding space for your market garden
.
NEXT: How To Market Your Bootstrap Market Garden
---
If you would like to get the whole story,
you can download the entire
Bootstrap Market Gardening Pack
including the Garden Planner and Cashflow Planner spreadsheets at this link:
Get the Bootstrap Market Garden Pack here
Want to Raise Livestock, too? Get the Complete Start Farming Pack
Return to Bootstrap Book Online Start
Return to Home page from Bootstrap Market Garden Plan 2