Introduction to the New Terra Farm Bootstrap Market Garden - continued
The free online version of Bootstrap Market Gardening continues here . . .
For Further Reading . . .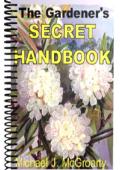 Free Gardener's Secret Handbook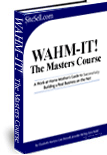 Free Work at Home Masters Course
BOOKS AND VIDEOS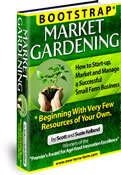 Bootstrap Market Gardening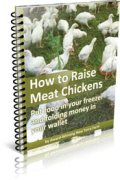 Pastured Poultry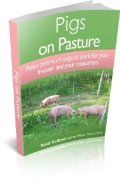 Raise Pigs on Pasture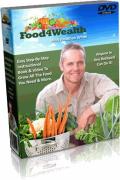 Food4Wealth Book and Videos
---
. . . We decided that was the proper order
in which to evaluate success – i.e. there was no point in committing to doing something we didn't like just for money (we had already had jobs like that,
why create another one?
).
And if we weren't good at it, it obviously couldn't be successful financially, and would be a source of frustration rather than satisfaction.
Eventually, in figuring out what would we would like to sell, we settled on
basic foodstuffs
– veggies, herbs, and meats that almost everybody eats. We decided against the 'exotic' things – we didn't eat emu, or wild boar, or buffalo, so we decided not to grow them. We tried rabbit for a couple years but found them difficult to raise organically.
So basic veggies and meats were our answer to the question 'what to grow'?
The rest of this book talks about the
practical details
of how we turned that decision into reality. You will note we are short on theory and long on practice (you will also notice we were
short on cash
and had to find a way to finance our start-up).
You don't have to duplicate every single thing we have done to be successful. We explain how we did it, but certainly some things we did will not apply to you. You may start with different resources and skill sets.
We expect you to adapt rather than adopt
all the methods we explain in this book. The unique model you develop will be based on your skills, your aptitudes, your resources, your goals, and your environment.
So we are giving you quite a lot of the 'how', and some of our 'why', where it helps to explain decisions we made. We hope that you can take the parts of our model that fit for you, and create your own small farm success story.
Next: The Bootstrap Market Garden 'natural advantage'
Return to the start of Bootstrap Market Gardening online
---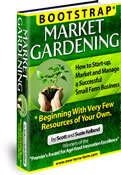 p.s. if you just can't wait
to get started with your own Bootstrap Garden, you can
Get Bootstrap Market Gardening and 5 bonuses right now