Key features of the Bootstrap Market Garden - continued
The free online version of Bootstrap Market Gardening continues here . . .
For Further Reading . . .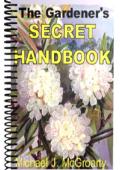 Free Gardener's Secret Handbook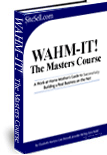 Free Work at Home Masters Course
BOOKS AND VIDEOS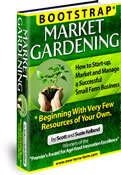 Bootstrap Market Gardening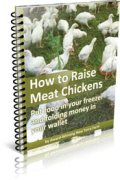 Pastured Poultry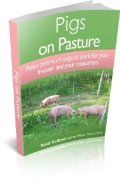 Raise Pigs on Pasture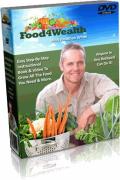 Food4Wealth Book and Videos
Key Feature 2 - All farm products are sold directly to consumers.
We knew from the beginning we did not want to get caught up in the 'commodity market' of big-time agri-business. We believed the only way for a small farm to make money was to keep more of the consumers' food dollar. This meant bypassing distributors and wholesalers and going direct to our customers.
There are lots of advantages to this approach. You get better profit margins, you can find out directly what your customers want, and you get better networking e.g. customers have pointed us at new opportunities and ways to expand, and we have planned 'joint ventures' with some customers who are also small business people.
Key Feature 3 - NO farmers market.
We came to this position after observing (and shopping at) farmer's markets for a number of years. One year, we sold produce at an on-farm stand.
Our experience and observations convinced us there was a better way to get our goods in the hands of consumers i.e.
Community Supported Agriculture
(CSA). Learn more about this in the later sections.
Key Feature 4 - The right business cycle.
When considering how to launch and run any small business (including a bootstrap market garden), you need to proceed in the right order. The business activity sequence you must follow consists of
Planning, then Marketing, then Management, then Production,
in that order. This 'business cycle' is one of the key ideas that make our model successful.
Scott's 'day job' was as a management consultant, specializing in planning and performance measurement (is it any surprise we built a spreadsheet to help manage our farm?)
The rest of this book will explain each of these elements in detail,
and the actions to take to create a successful and sustainable farm business.
NEXT: Developing the Bootstrap Market Garden
Return to Start of Bootstrap Market Gardening Online
---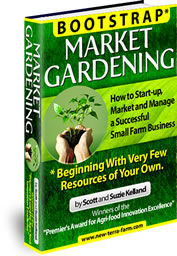 This is an experiment publishing the FULL TEXT of Bootstrap Market Gardening online.

You can also download your own complete copy of Bootstrap Market Gardening plus 5 bonuses and CHOOSE YOUR OWN PRICE.

You get:
1- the Bootstrap Market Gardening book,
2- my Bootstrap Garden Planner software,
3 - the Cashflow Planner software,
4 - the Guide to Pest Control in the Organic Garden,
5 - the New Terra Farm Business Plan Guide and Workbook,
and 6 - the Farm Budget Planner software;


Show me more about the Complete Bootstrap Pack
---
MORE books for the small farmer from New Terra Farm.
We've been raising chickens for meat
for a number of years, and have developed an easy and profitable way to put food in the freezer and some folding money in our wallet. Learn more about
How to Raise Meat Chickens
(includes plans to build the New Terra Farm Movable Coop.)

Raising pigs on pasture is a natural complementary business to your market garden. The pigs will help prepare your garden area, and will clean up garden waste for you. Learn how we Raise Pigs on Pasture


Share this page on your favorite social website or click on 'Pay it forward' to send to a friend.