New Terra Farm

v2.0

, or

Farming ain't easy, but it's worth it
Note: This is a pretty l-o-n-g page, but there is a reward at the bottom).

A little back ground; you might know that we conceived the centrepiece of New Terra Farm  as a  Community Supported Agriculture (CSA) organic market garden. We enjoyed several years of providing fresh produce for our member families.
We delivered a wide variety of vegetables, from beans to zucchini, as they become available throughout the growing year.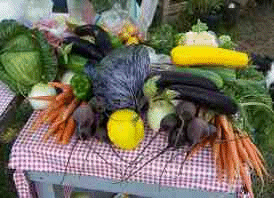 From our family farm to your family's door

Suzie and I were pretty happy, growing great food for appreciative customers, using organic and sustainable methods of production.

In 2006,  we won the Premier's Award for Agri-Food Innovation Excellence, for our small farm marketing and management model.
My books and other resources I recommend

3 Businesses in One - Premium Start Farming Pack w/AUDIO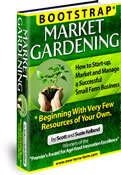 Money Grows in your Garden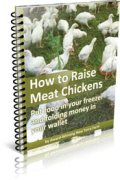 Profit from Pastured Poultry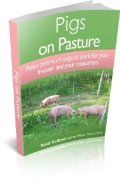 Growing and Selling Premium Pork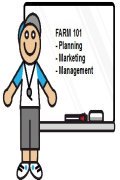 Get help from a Farm Coach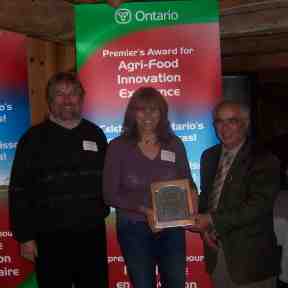 Scott and Suzie accepting Premier's Award from local MPP

Enter the Vision . . .
Following the award, I wrote some books about starting up, marketing and managing a small organic farm: 'Bootstrap Market Gardening', 'How to Raise Meat Chickens', and 'Pigs on Pasture'.
Suzie and I started to see New Terra Farm as a place that could grow farmers as well as food.  A number of people who worked for us to 'learn the ropes' went on to start their own market gardens, and I got lots of positive feedback from the books, indicating that we had 'inspired' people to follow their own small farm dreams.
We could see a future of working cooperatively with other local growers to mentor and educate new farmers, and increase food security for our community.
Things kept getting better; 2008 was a great season. We served 93 local families, delivering veggies, and free-range pork, chicken, and eggs every week. This is the point at which it just about becomes possible to make a full-time living on the farm.

Our three little pigs (actually about 500 lbs each!)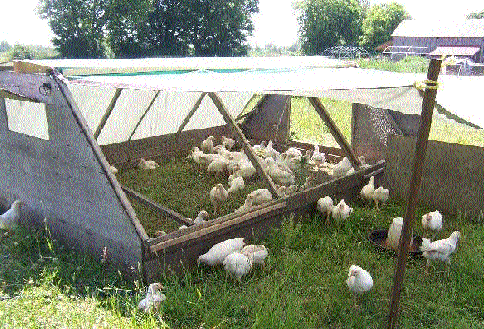 Chickens in our movable pasture coop

And other assorted lifeforms . . .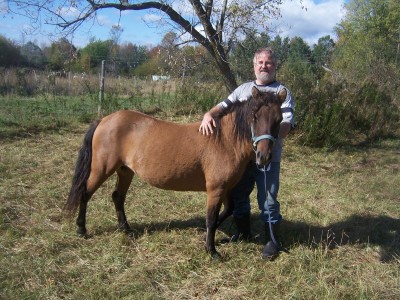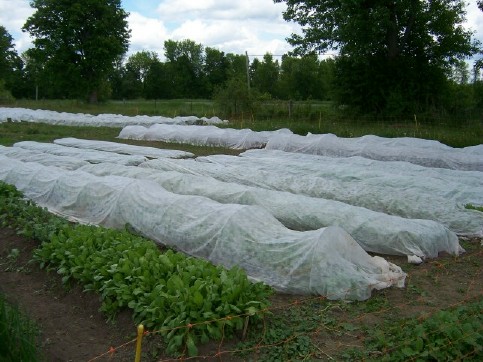 Floating row cover protecting crops from pests and weather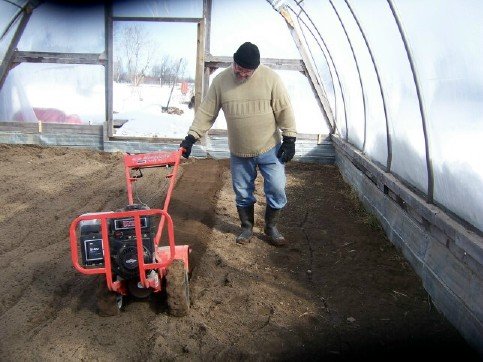 Tilling our small greenhouse in February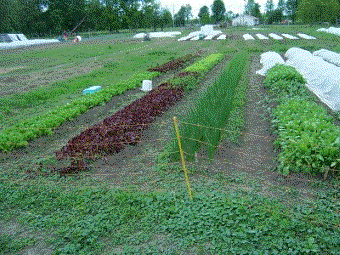 The 'sunny garden'

But, Mother Nature bats last

. . .


But we faced some challenges. I'm telling you all this, not to complain, but so that you hear the real truth of making a living off the land.

In 2010, on July 10, we were hit by a devastating hail storm, that shredded the row-covered crops, damaged our greenhouse, and basically put us out of business for the season.

To further complicate matters, in the fall of that year Suzie went through knee replacement surgery, and in 2011 managed to break the other leg while having a 'difference of opinion' with one of our pony stallions.

Ongoing health and other issues kept us from committing to a CSA for several seasons. But, we kept on farming.

I'm proud to say we persevered
In 2017, Suzie and I coordinated the launch of the Merrickville Mid-Week Market
This was our venture back into growing for market, to see if we still had the 'chops' to manage a sizable market garden. Despite the abyssmal weather (record-breaking rainfalls that JUST WOULDN'T STOP, even in August), we had a blast.
The Midweek Market was a big hit with both vendors and custiomers. For several of the vendors, this was their first venture at selling their wares. Lots of satisfaction in providing them a venue, and the MMM will be even bigger and better next year.

Which brings me to the Point of this diatribe . . .


We want to EXPAND our reach to help new growers, and we have a plan to get there . . .

Part 1 involves this web-site and regularly publishing tidbits of knowledge that have drifted my way. For instance, in the near future I'll be writing about my experiences selling at the MMMarket and some lessons learned.

Part 2 (very exciting!) will be to launch the New Terra Farm Podcast, a series of downloadable interviews with small farmers and growers who have some stories to tell and lessons to relate.

Part 3 is launching a new series of Bootstrap Books, 'cause I've done some stuff and learned some stuff since my last re-write of Bootstrap Market Gardening and the Bootstrap Bootcamp.

Part 4 . . . well, I'm going to wait a bit before I tell you about Part 4. Gotta save something for the turn.
OK, one little hint; lest you believe we have given up on CSA just because we had a couple tough years and were selling at a farmer's market, we are actually  getting serious  about adding more variety to the products we offer, with the idea of getting closer to a 'full-diet' CSA.

I think this is a direction all small farmers should consider;but more about that in the near future.

The aforementioned books . . . and your

$$- REWARD-

$$

for reading to the bottom.

To be consistent with the goal of supporting new growers, I've made my books and course more affordable, to help put them in reach of more people.

The books have been consistently popular, with like I said, positive feedback. I've got plans to write  more, and also the podscast, so this seems like a good way to kick off the renewed vision.

Check 'em all out below.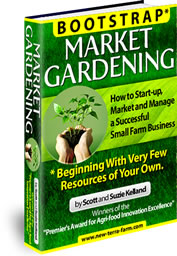 Get 'Bootstrap Market Gardening' and three bonus items (see link for details)
$9.97

Get my 'How to Raise Meat Chickens' e-book PLUS plans for my Movable Coop.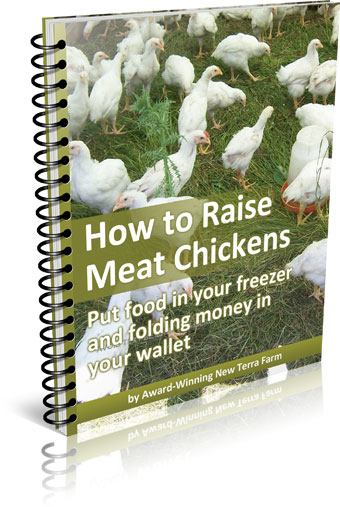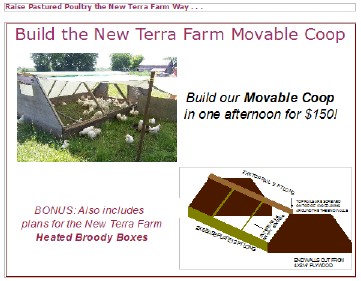 $9.97
.

Bootstrap Market Gardening, plus Raise Meat Chickens, plus Pigs on Pasture PLUS audio recording in the Complete Start Farming Pack
 $17
And, if you need business planning help
In January 2013, I led a 6-week tele-seminar course for 16 novice or 'soon-to-be' farmers and market gardeners; the Bootstrap Bootcamp Coaching Program. The course consisted of 12 written modules with 'homework' plus 5 training conference calls, all culminating in a custom business plan to improve their focus, make the best use of their time, and, grow their farm business and profits to their full potential.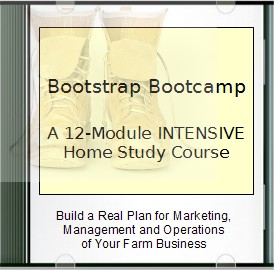 Participants paid $297 for the 'live' version of this course;
Now get this intensive home study course for just $37

Bootstrap Bootcamp Coaching Program.
Thanks for reading this l-o-n-g page
We appreciate your support for our dream of building New Terra Farm into what we know it can be. Even if you don't need our books yourself, we would appreciate it of you could pass it to someone you know may be interested through your contacts i.e. Twitter, Facebook, e-mail.

best regards,
Scott and Suzie Kelland
New Terra Farm