Build this Portable Chicken Coop (and my BONUS Hoop Coop) with plans from New Terra Farm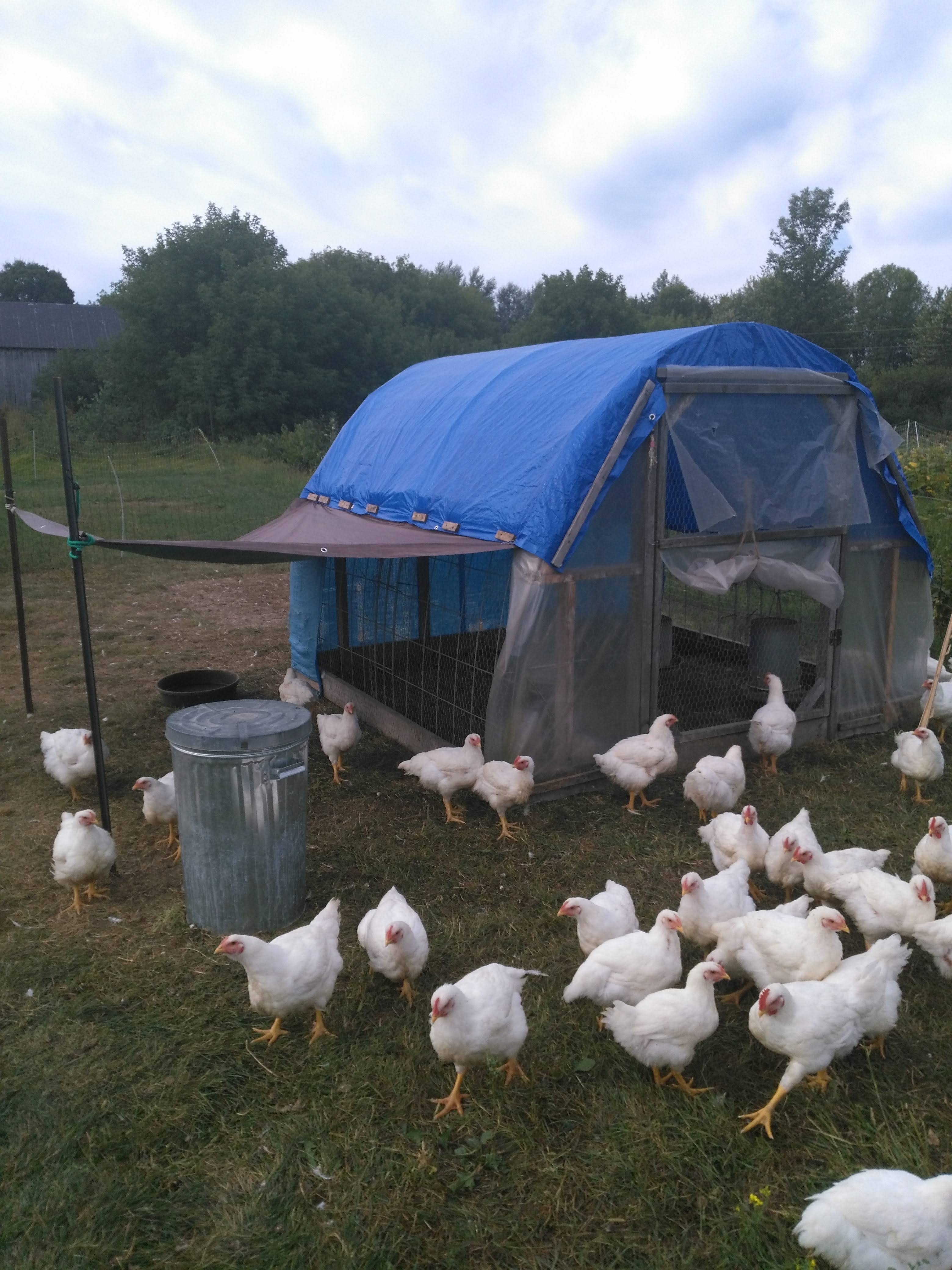 Imagine this: raising your own flock of tasty meat chickens or turkeys in a portable chicken coop you built for yourself!
Here's the portable chicken coop we use for raising meat birds on New Terra Farm. We like this design because it is sturdy but light-weight, and easily movable by one person.
We made the second design we built (see New New Terra Farm Portable Coop pictures below) even stronger and lighter, because we got smarter about framing and bracing the structure.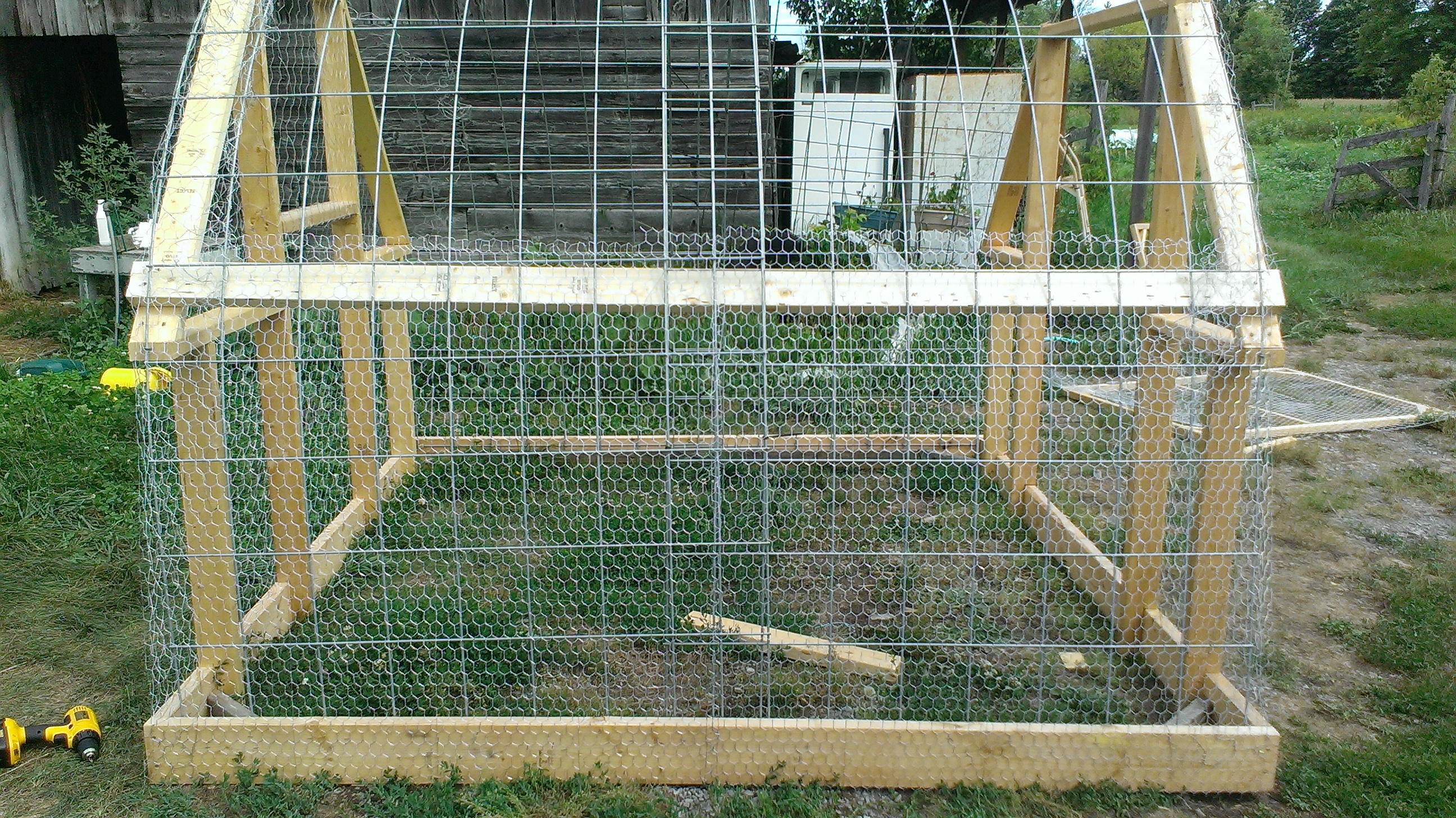 This one is lighter; all construction details are included in the book
A tarp roof provides shelter to the birds. The tarp is quite a bit larger than the coop, and can be secured to provide shade and shelter when the birds are outside the coop.

In the pictures below is the coop we use to raise 200-300 meat birds each year on the farm. We raise them in batches of 100, and do 2 or 3 batches each year, depending on how busy we are with other stuff.

I did not include wheels on my design; I use a hand-truck (dolly) to move it quite easily to fresh ground each week. This takes about a minute.

When I want to move it to a whole new field (which I do once a year) me and a couple friends lift the whole thing up and put it on my hay wagon. A smaller version could be moved in the back of a pick-up or on a trailer.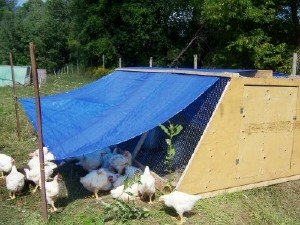 The ORIGINAL New Terra Farm portable chicken coop
Solid design but a little heavier than my Hoop Coop

The NEW New Terra Farm Portable Coop. This is the latest, stand-up version. Works very well to raise turkeys as well.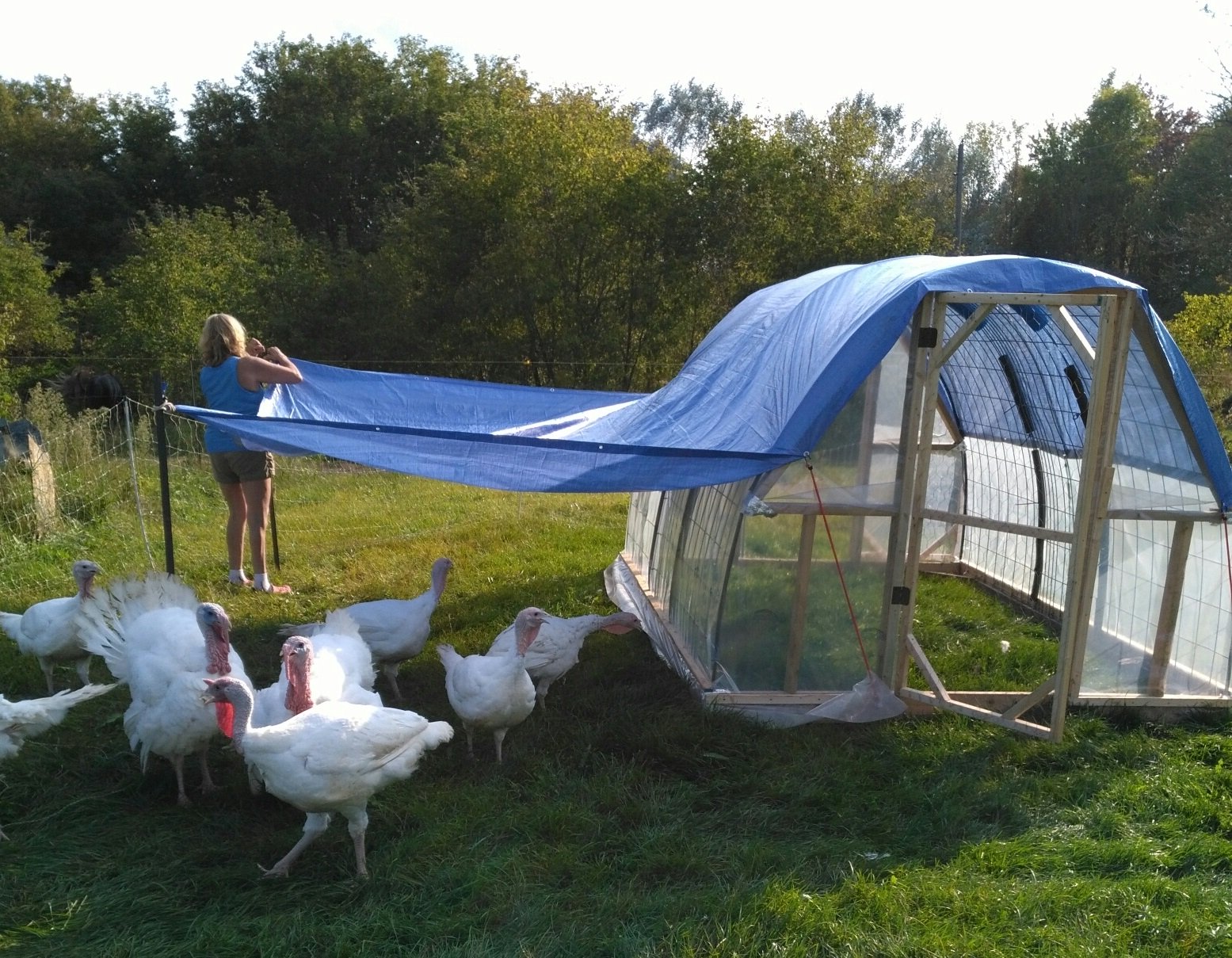 Suzie setting up the shade tarp on the new portable coop.
Here's why these are good designs for the new chicken grower
I admit I'm a better gardener than a carpenter; the construction methods I use are generally pretty simple.
No complicated joinery, or compound miter joints, or other stuff that adds cost and time to the construction.

But the good news about that is, anybody can follow my instructions to build either of my Movable Coops in about an afternoon, for a cost of around $150.

My designs are quite light but strong; I built the one in the pictures 6 years ago and it's still going strong, although I did have to replace the tarp last year.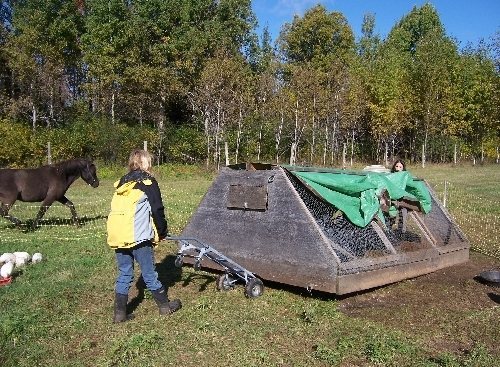 Suzie moving the Coop to new ground
YES, Suzie actually does all the work; I just write the books ;-)

Since (as you may have read elsewhere on this site) I consider it my 'mission' to grow farmers as well as food, I often make valuable information I have learned available to new farmers and others considering a small farm life.

So I decided to write up the plan and instructions to build my Movable Coop so others can start a profitable pastured poultry business too.

And, I've included in the package instructions for building my Heated Broody Boxes; this is the same design we have used for years to raise dozens of batches of meat bird chicks until they are old enough to go into the Movable Coop.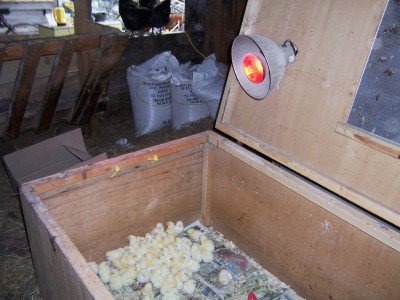 Day-old chicks in the heated New Terra Farm Broody Boxes
The "How to Raise Meat Chickens Combo Pack" including both Portable Chicken Coop Plans and the Broody Boxes
Raising pastured poultry is a good business for the small property owner; you can make 60% or 70% profit on each 'batch' of birds.

And one of the secrets to raising the birds successfully is to control your losses by keeping the birds safe, warm, and secure, both as young chicks and in the field.

My heated Broody Boxes and portable chicken oops are what do the trick for me. I've raised dozens of batches of meat birds successfully using this same equipment.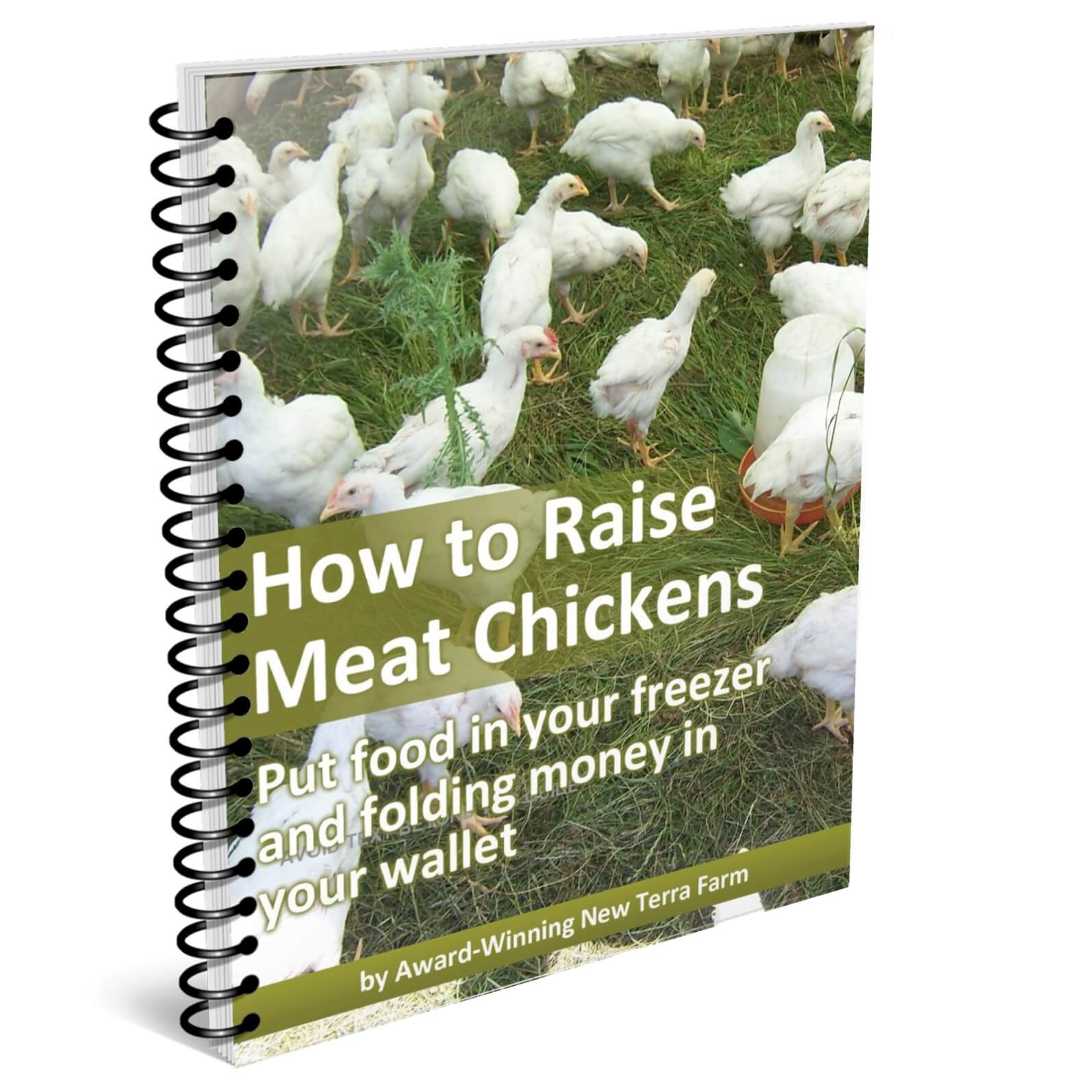 Step-by-step instructions to raise (and sell) your meat birds AND plans for my rwo coops. $10
The latest edition of our book explaining step-by-step how to raise healthy meat chickens on pasture, to put food in your freezer and money in your wallet.
Latest edition comes with TWO bonus books.
Bonus Book 1: includes plans for the ORIGINAL New Terra Farm Portable coop, the Broody Boxes, and more.
Bonus Book 2: Includes plans to build my new walk-in portable Hoop Coop.

The 3-book How to Raise Meat Chickens Combo Pack just $10 only from New Terra Farm.
.
Picture raising your own flock of chickens or turkeys with this easy-to-build coop.

Here are some comments from recent purchasers of 'How to Raise Meat Chickens'; these are people just like you who want to start a small farm flock:

. . . . . . . . . . . .

"Very clearly written and thorough" - Steve G.


"Fantastic reading, and it'll be really helpful when we start up our farm! - Katie W.


"Very well written. It seems that you have that gift of being able to transpose your thoughts onto paper with ease and simplicity" - Stephen W.

I read your meat chicken book and really wished I had it last year. It has already caused me to re-think and re-design next years plan. - Sherri, Dunville, ON
. . . . . . . . . . . .
Get the plans to build both my Portable Chicken Coops and the heated Broody Boxes in my How to Raise Meat Chickens Combo Pack, which includes my step by step guide to raising meat chickens.




PS: for an even better deal, How to Raise Meat Chickens is included for FREE when you upgrade to my Complete Start Farming Pack

---