May2020 - the Complete Start Farming Pack on sale for $37 $10!
Picture this: making more money from your small property.

I won't kid you, farming is real work! We've been doing this for almost two decades, and there were times when it seemed there was more work to do than time to do it.

And sometimes, there was too much month left at the end of the money!

But, hard work doesn't have to be dumb work! After a couple decades of doing this, we finally figured out a few ways to work smarter!

See, I'm an inquisitive kind of guy, I love research and figuring out problems - most of my suit-and-tie work experience was as a computer programmer and business consultant.
I also happen to be an award-winning small farmer. Those areas of experience are more related than you might think.
In 2007 Suzie and I won the Premier's Award for Agri-Food Innovation for our small farm marketing and management model.
We explained to the award judges how we were able to plan and work and market our farm to put more money in our pocket. They liked it a lot ($5,000 worth in fact).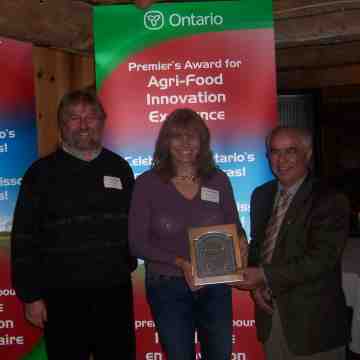 A nice plaque and a $5,000 cheque for our small farm model
So how did I find an answer to increasing farm income without (too much) more work?

Here's a hint: you need to get all your farm enterprises working together to minimize your work and maximize your income.

This is how we work at New Terra Farm; our four main enterprises - the Bootstrap organic market garden, our meat bird flock, our pigs on pasture, and our Bootstrap Greenhouse - all work together to actually improve our garden and our pastures, as well as our cash flow.

And, because our garden customers already know us (and love our fresh, delicious veggies), they are eager to buy our free-range organic pork and chicken. Most years, all our pork and chicken is 'spoken for' before we even raise it! No more sales work required. I'm not crazy about being a salesman, so anything that makes that part easier is a good thing!

Using the methods in my books, you can raise healthy, nutritious pork and chicken in humane conditions, in just minutes a day. This means you still have time to work your garden, and can even farm part-time while you keep your 'day job'
Imagine layering multiple farm enterprises to make more money

If you want to find out how to efficiently start-up and manage a small mixed organic farm, take advantage of this special offer. My "Farm in a Box" Complete Start Farming Pack contains my three best small farm business books, PLUS, new for 2019, plans to build my three Bootstrap Greenhouses, AND a bunch of bonuses!
May 2020: Save even more on the whole bundle. Just $10.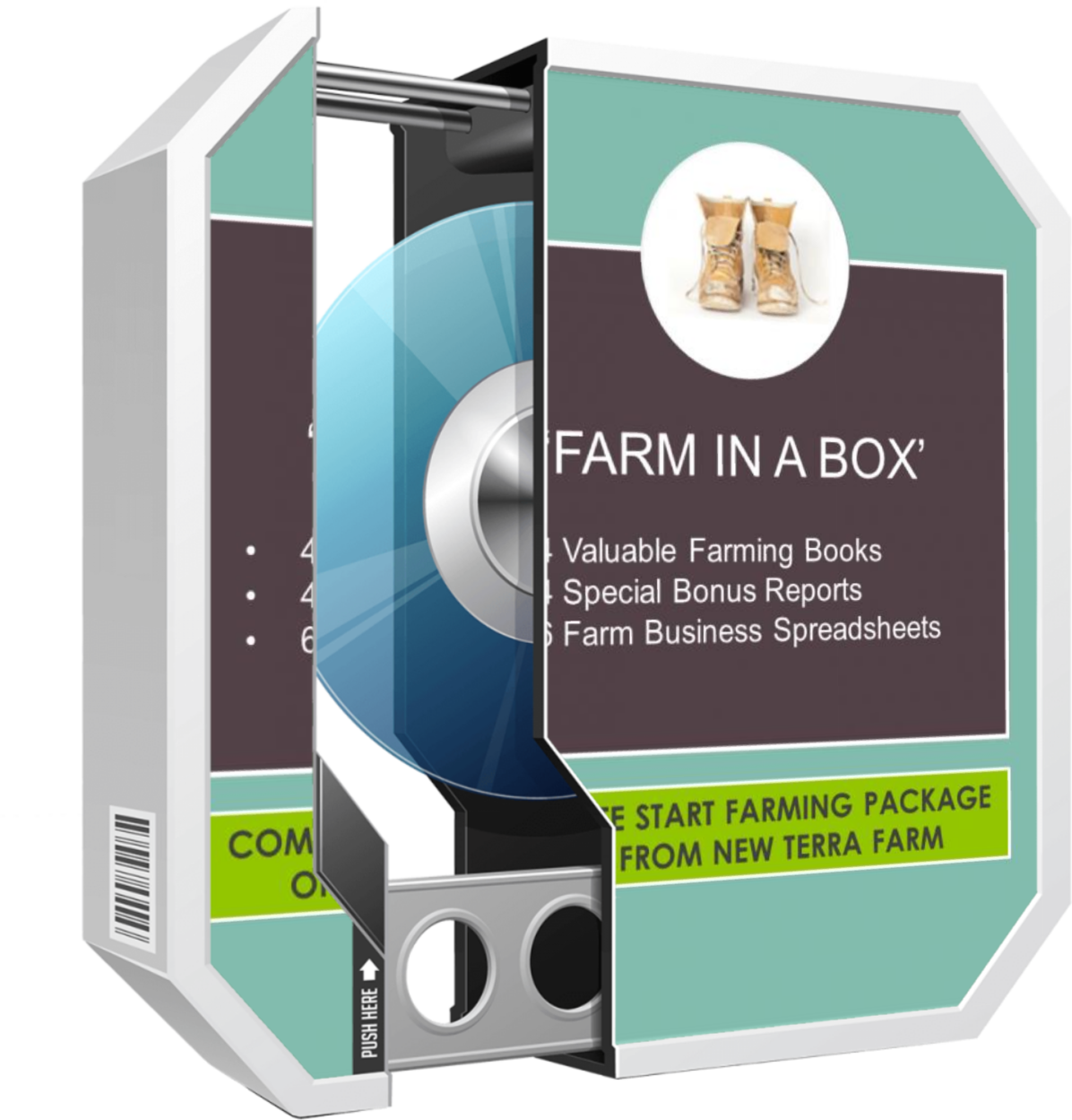 Includes EVERY Bootstrap Book and ALL the software
14

separate valuable resources to help you work smarter
---
EVERYTHING you see below is included in the Start Farming Pack - it's a Farm in a Box . . .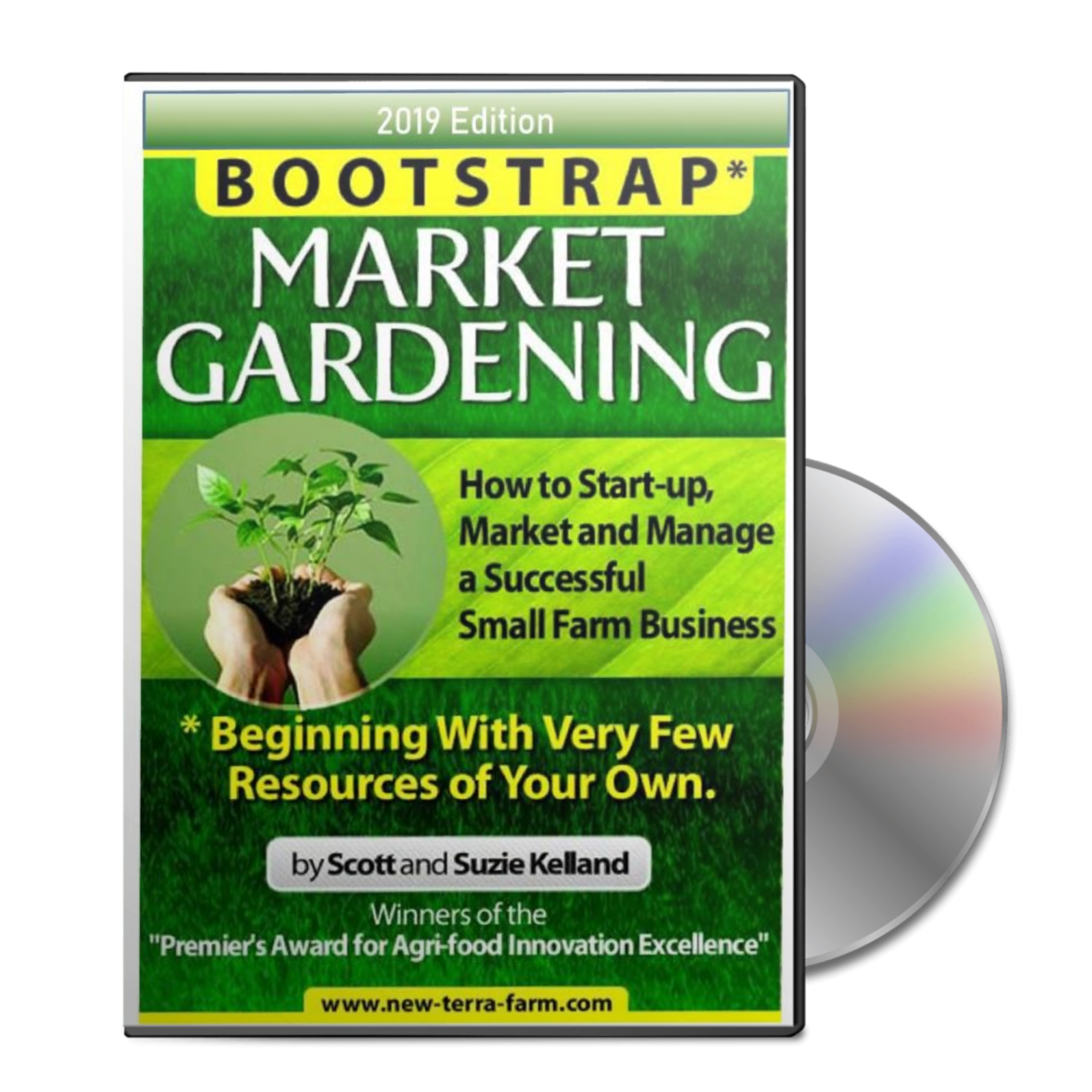 Book and software sells separately for $17.
This is the book that started it all, now in a 2019 edition! Hundreds of people have used Bootstrap Market Gardening to help launch their own small farm business.
You get Bootstrap Market Gardening plus my bonus software, the Bootstrap Garden Planner.

These are the same tools I use every year to manage my garden and my business.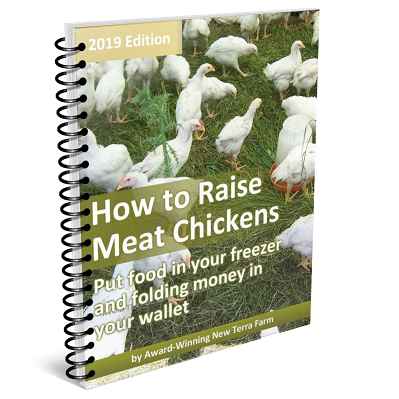 Sells separately for $17
Bootstrap Birdies! This is the 2019 edition of How to Raise Meat Chickens, now with TWO bonus chicken coop plans:
the original Movable Coop, and;

the New Terra Farm Hoop Coop. 
.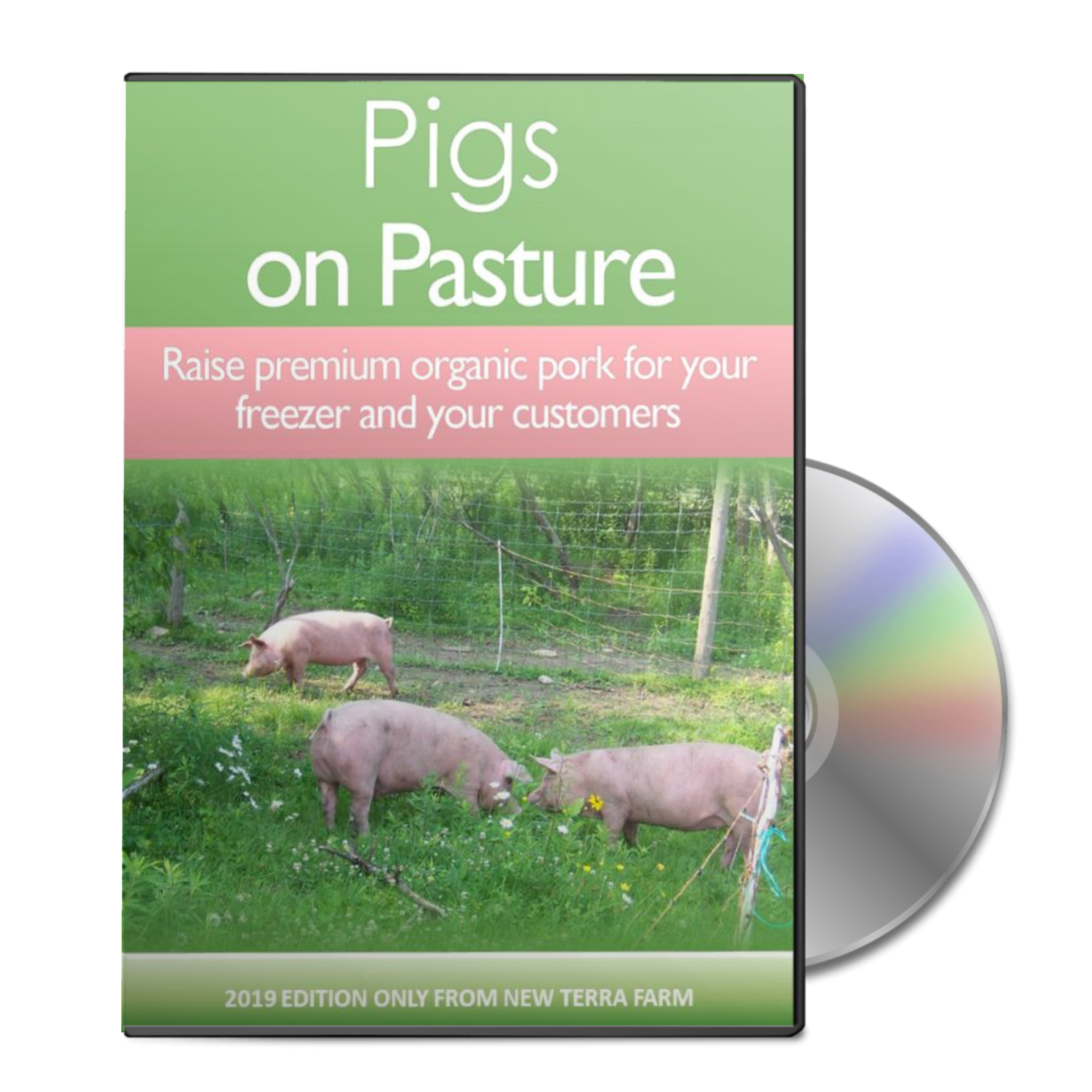 Book and software sells separately for $13
Bootstrap Bacon!  Raising pigs is a great complement to your market garden. Piggies will root up the soil and clean up garden waste, turning old veggies into delicious organic PREMIUM PORK.
My 2019 edition also includes my fabulous Porkulator spreadsheet. I couldn't find a tool to help me calculate costs and profits for my pastured piggies, so I had to create one.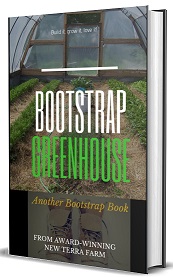 Sells separately for $17
My latest Bootstrap Book! I wrote this is 2019 to show how ANYBODY can build and manage a small greenhouse, quickly and cheaply.
You get plans for my THREE greenhouse designs, with photos and instructions. PLUS two bonus reports!

This looks awesome, but what will it

cost

me?

So to sum it up, here's what I've shown you so far:
My four Bootstrap Books;
Four bonus reports
Plus two valuable spreadsheets
To help you plan and manage your small farm enterprise. 
But that's not all. . ..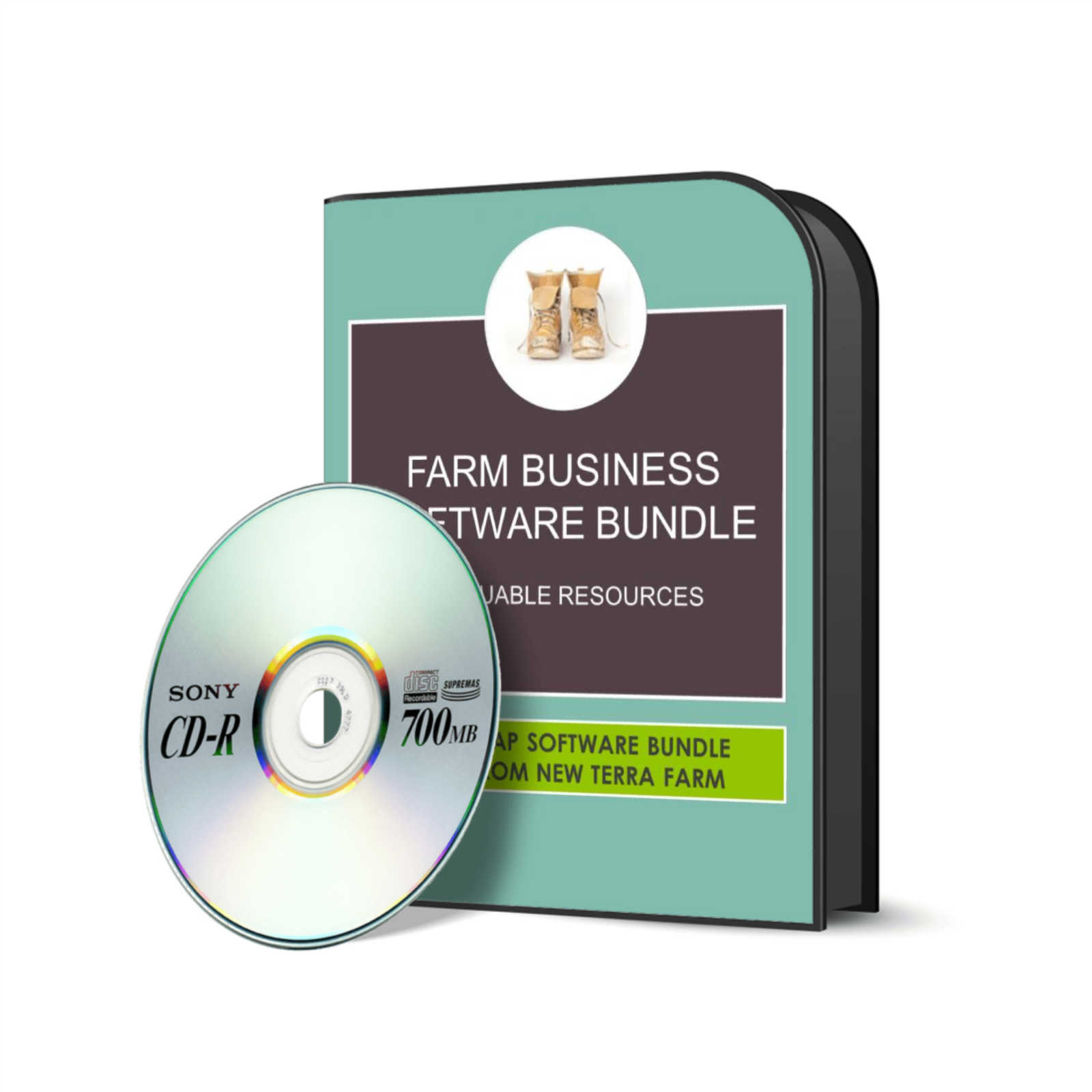 4 MORE valuable resources only from New Terra Farm
Here's a little EXTRA bonus. When I taught the Bootstrap Boot Camp Success Plan course to a group of new farmers and growers, I developed 4 additional pieces of software to help them manage their farm businesses. 
In the Business Software Bundle you get the following valuable items:
The Farm Budget Planner

The Harvest Schedule and Value Calculator

The Gross Sales Calculator

The Projected income and Expense Calculator
This software bundle sells separately for $13, but I'm including it in the Complete Start Farming pack as an added special bonus.
This brings the total value of this deal to over $70, but you still pay only $37 $10 to get the Complete Pack.

When you click on the 'add to cart' button below you will receive a download link for ALL the books, plans, software, and bonuses. You can start reading and planning your own small farm dream right away, and save 50%.


---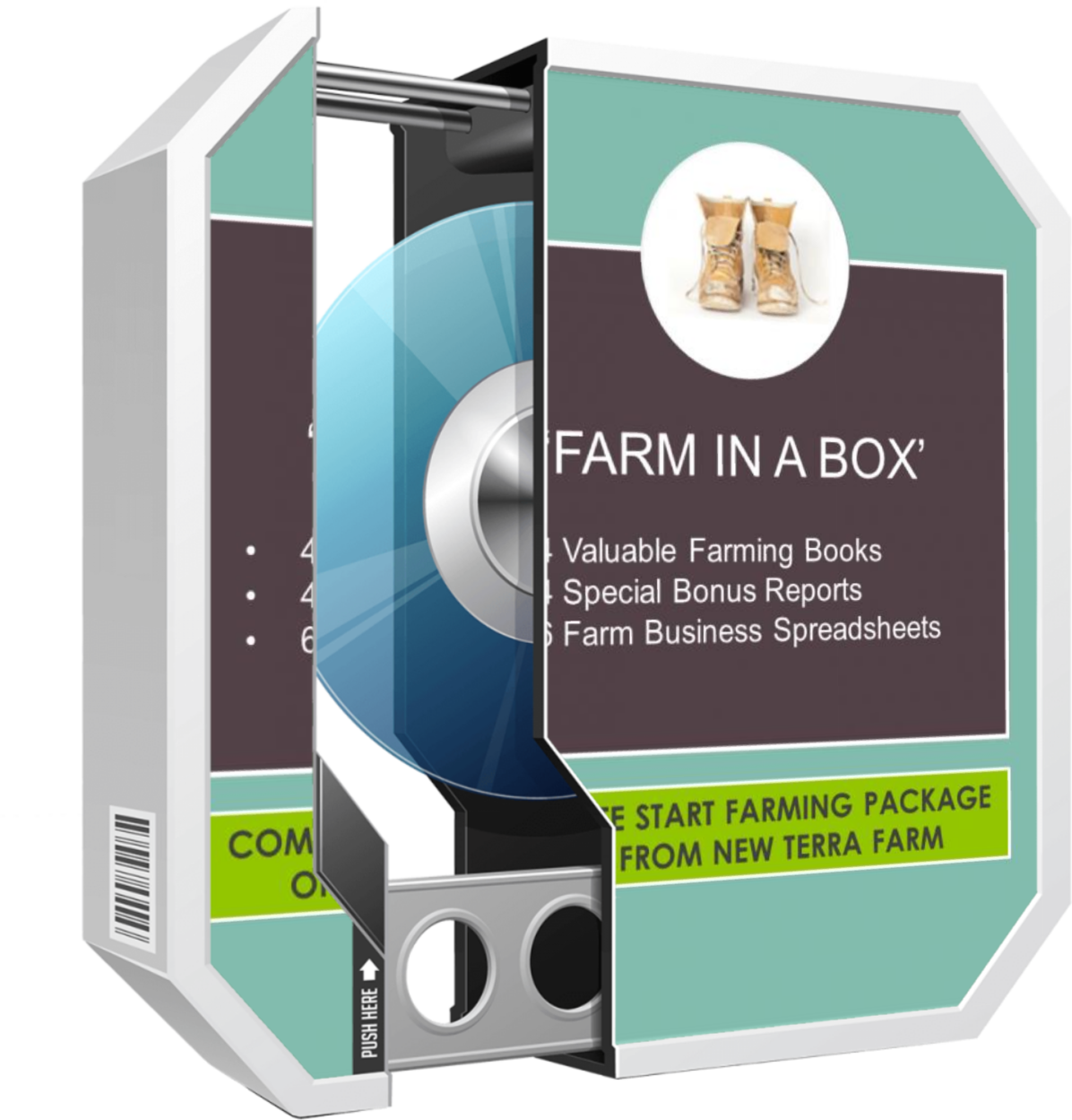 ONLY from New Terra Farm
I call this amazing package my 'Farm in a Box'. You get:
4 farming books
4 special Bonus Reports
6 farm business spreadsheets
All for just $37 $10

NOW Get ALL 14 New Terra Farm books and valuable software for just $10 via instant download. That's about what you would pay for a couple Big Macs! Click on 'Add to Cart' to get started!


I want ALL THE FREE BONUSES, including the 6 specially-developed farm business spreadsheets and I understand I have a full year to get started on my own small farm business.

Let's do it!