How to Start* a Successful Market Gardening Business
*even starting with few resources of your own!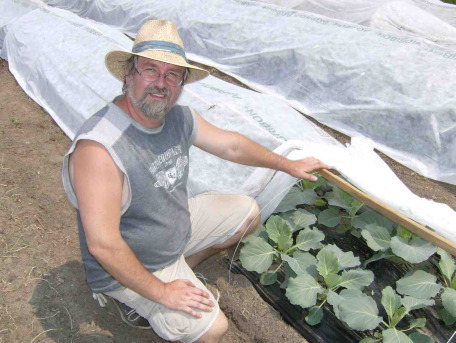 Hi, I'm Scott Kelland. My wife Suzie and I own New Terra Farm near Ottawa, Ontario. Over the past 15 years, I have helped hundreds of people learn how to create a successful, sustainable market gardening business on their small farm.

I want to tell you a little bit of our story, and show you something that could save you time, money, and work when you start market gardening for profit.

First, if you are a big farmer, this page probably doesn't apply to you. Big farmers have lots of land and equipment to do just about whatever they want on their farms.

But . . . what about the rest of us? What about the people (like me) who don't have a huge farm, who don't have a huge budget, and don't have a lot of equipment? What do we do to make a living on our small farms? What market grower methods will work on a small property?

And, what about this 'farm income crisis' we keep hearing about? Is this a good time to start market gardening? How will we be able to make enough money on our small farm?

These were the questions we had to answer for ourselves when we were just beginning growing for market.


Why you should read this L-O-N-G page
If you are one of those people, with a small property of perhaps one or five or twenty-five acres, I ask you to bear with me for a minute or two; the story is a bit long, but I want you to have all the information you need to decide if what I have to offer is right for you.

By the way, here's one way to tell if you should keep reading:


---
Check all the boxes that apply to you:
---
Personally, I checked off 5 out of 5; How about you?
If you are still reading this, you probably checked a few of those boxes, and we probably have a few things in common.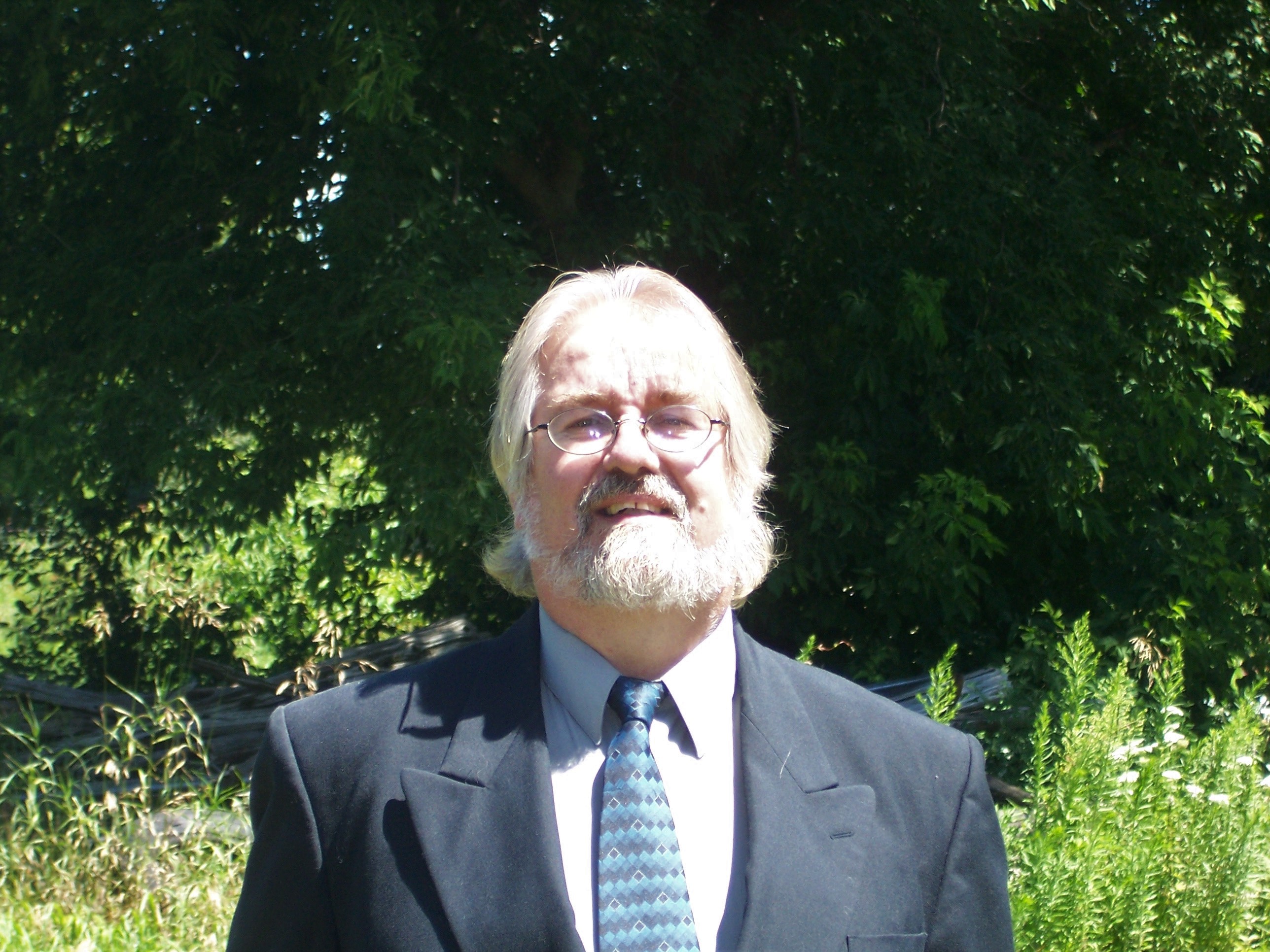 I don't think I was cut out to be a suit and tie guy


I used to work in the city but wanted a different life. You're probably living in the country right now, or seriously thinking about making the move.

And like me, you might be wondering, 'how can I make a good living doing something I love?'

Here's how I figured out my answers: by nature, I'm a researcher. I'm always trying to find the truth behind the 'accepted wisdom'. I was trained as a computer programmer, and in my city life I worked as a management consultant specializing in business planning and performance measurement and improvement.

So I like to find out the 'real story', and I like to come up with solutions to problems that other people have said can't be solved.

And I'm not afraid to go against the 'conventional wisdom' and ruffle a few feathers, if I believe I have a 'better answer'. For example, I DON"T BELIEVE that farmer's markets are the best solution for farmers!

There is a better marketing model, to make more money with less trouble: keep reading to find out what it is.

So, Suzie and I made the move to New Terra Farm, and then spent the next few years learning what works (and doesn't work) to make money on a small farm.

We explored a number of farm businesses, had some successes, but hadn't really found the right niche. But we persevered, kept trying new things, and (eventually) found the thing that best suited us and our small property:

We started a Community Supported Agriculture (CSA) market garden.


I find out about 'No-Money-Down' Market Gardening
This turned out to be a good choice; we were able to
start small
, and learn and
grow the business
as we went along. I kept doing other work as we grew the garden business, then gradually transitioned over to full-time market gardening for money.
Our market garden had an encouraging start: in our first year, we sold about
$9,000
from our little organic plot; we also sold another
$4,000
worth of meats and eggs to our garden customers, from our flock of free-range animals. That was pretty good for what was essentially a
part-time summer job
. It proved to us the concept would work!
HINT HINT got a teenager or two looking for summer work? I know one young lady who paid for two semesters at college by starting a CSA market garden!
And, remember that
'not a lot of resources'
bit? Well, we managed to find a way to start up our business for
less than 300 bucks
(and I put that on my credit card!)
We found customers that
paid us in advance
for a season's worth of fresh, delicious veggies. And, with my
first sale
to a customer (long before I had grown any vegetables) I got more than that initial $300 back!
You've heard of 'no-money-down' real estate; this was
No-Money-Down Market Gardening!
To sum up, that first garden paid for our greenhouse, our equipment, our seeds and supplies; we even hired a part-time helper for the busy pick days days, and we still made money.

Things kept getting better: in year 2, we tripled our business. Year 3 we doubled that again. About then we decided to call our approach Bootstrap Market Gardening!

By the way, that first garden, the one that made us $9,000 part-time in our first summer? It was only about 6,000 square feet (1/7 of an acre). My back yard when I lived in the city of Whitby was about that size.

And the Year Three garden? That one was still less than 1 full acre. So we proved it was possible to have a thriving business on very little land.

<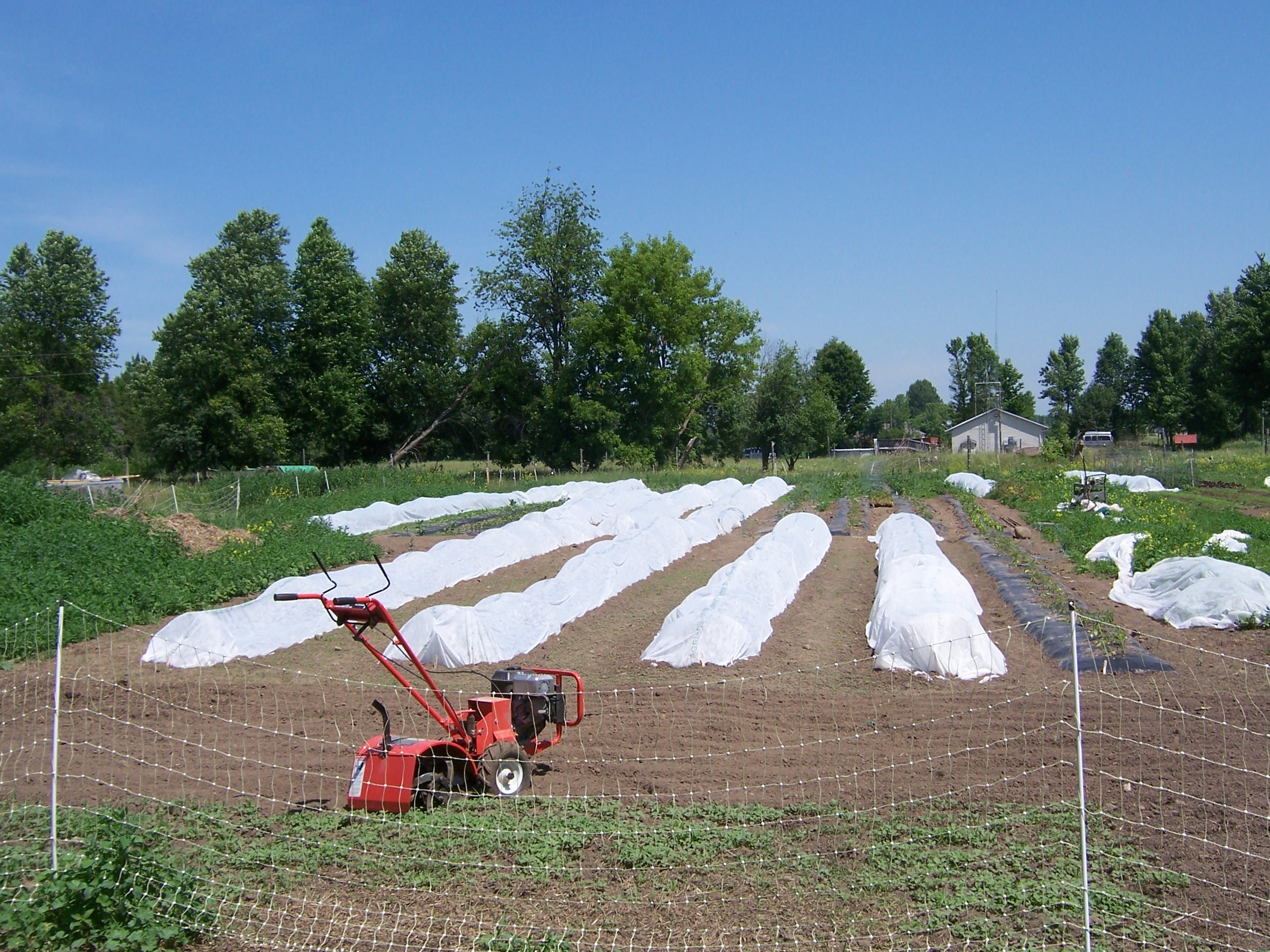 The big sunny garden at New Terra Farm

So, to get back to our tale, we were pretty happy with our gardening success.

Our garden and our income grew as our experience increased; we hired a couple farm workers in the summer, to help with the work load.

We were making money doing something we loved, and we had enough help that we still had time to enjoy the country life. We weren't harming the environment by introducing noxious chemical, and we were maintaining our garden fertility by natural means. We were making a right living.

We thought "this gig just couldn't get any better!".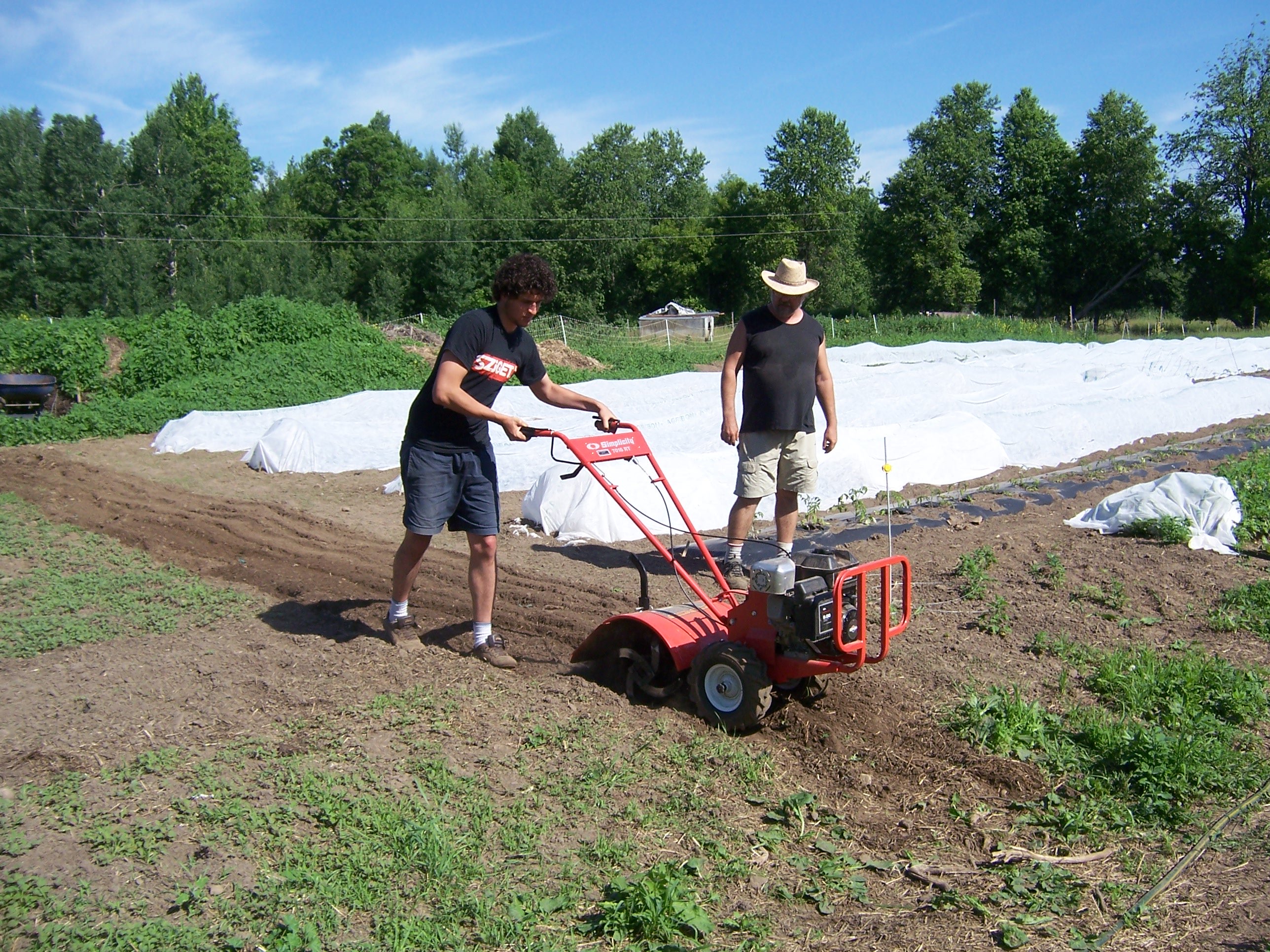 Hands-on training for the farm help


Then something REALLY COOL happened . . .
Then a few years ago, something really cool happened: we won the
Premier's Award for Agri-food Innovation Excellence for our "innovative approach to organic market gardening".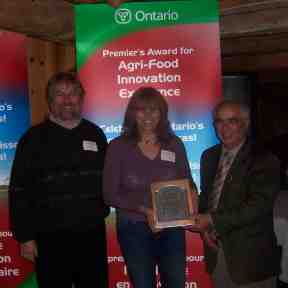 Scott and Suzie accept the Premier's Award


This is what the Premier of Ontario had to say about our Bootstrap Market Gardening approach:


---
"Our government recognizes and deeply values the vital contributions that the hard-working men and women of the agriculture and food industry make to our rural communities. . .

I applaud your unique and innovative approach to organic market gardening".

Dalton McGuinty
Premier of Ontario
March 8 2007
---
(By the way, notice in the picture who grabbed the award; Suzie got her hands on it and never let go. I, however, grabbed the $5000 cheque that came with it!)


I don't share this with you to boast, but to give you a concrete example of the success our approach to this business has brought us.

OK, so how did a couple of 'newbie' farmers win this award? (There were 255 farms in the running for this award, by the way.)

When we applied for the Innovation Award, we explained all we had done to start-up, market and manage a successful market garden business, following our 4-step formula, and lo and behold, the judges thought that was valuable information, and we won!


Winning the award gave us the final 'push' we needed to decide to write a book about our experience. We wanted to give other small property owners the benefit of the things we had learned. This is how Bootstrap Market Gardening and our 4-step Market Gardening Success Formula came about.

Now, you might be wondering, 'How is this book any different from others I have seen'?

It's true there are lots of books out there about growing a garden; in fact I own a lot of them.

But, what we are talking about here is learning how to grow a business; a sustainable, profitable business on your small piece of property.


Keep reading, we're just about there (whew!)
Let me ask you a question (or three): First, would you start any business without a plan? You wouldn't start a business without knowing how to raise some start-up money, right? Successful businesses start with a plan.

You wouldn't start a business without some idea of the cashflow you can generate, and therefore the money you could make to justify your time and effort, right? Successful businesses figure these things out before they launch.

And you wouldn't (or certainly shouldn't) start a business without knowing how and where to find customers.

Successful businesses have a marketing plan

You remember I told you that I worked in planning and performance measurement in my 'city life'. This turned out to be a big advantage when I started my market garden.

I knew how to plan my market garden business to make a profit. I knew how to find money to get started (hint: my customers PAID me to start my garden!) I knew how to create a marketing system to find customers. And (since I had some experience as a computer programmer) I could build some software tools to help me do all that.


---
This is the 'magic'
in my 4-step Market Garden Success Formula; I will SHOW you how to:
PLAN your garden business,
MARKET your garden business,
MANAGE your garden business,
and then, with Planning, Marketing and Management in place start PRODUCTION for your garden business!
---
Here's a sample of what you will learn in Bootstrap Market Gardening
:
What are the trends making our 'Bootstrap' approach a successful business model?
How to get paid in advance to start your business with no money down.
The 4-Step Market Garden Success Formula that assures your success
PLANNING: How much produce do you need to grow?
MARKETING: How to find customers
What do you say to prospective customers to 'close the sale'?
How to estimate your start-up costs
MANAGEMENT: How to find space for your garden even if you don't own a farm
How to plan garden production
How to manage your garden efficiently
PRODUCTION: How to grow many popular vegetables like a 'pro'
Laying out your garden for efficiency
How to harvest your crops and prepare them for your customers
Setting up a packaging area for your harvest


AND, most important, why CSA IS THE WAY to be successful as a market gardener today!
Here's the truth: there's never been a better time to start market gardening!
If you've read this far, you probably already know that demand for fresh organic local produce is growing by leaps and bounds (some sources say by 20% or more annually.)

And you have probably realized this really is a business you can start from scratch, even while keeping your current job (that's exactly what I did, by the way.)

You can plan your garden work around your other commitments; and get the benefits of owning your own business. If you are ready to get started but not sure how - we can help.!

We have 'been there'; we made mistakes but we learned, and now we want to share this valuable knowledge and experience with you, to help you save:


as you build your own market garden business.
By the way, you may have heard the saying that "good judgment comes from experience; and experience comes from bad judgment"!
Take advantage of our hard-earned experience, because we know the mistakes you can avoid - and the steps you MUST TAKE to be a success.
Farmer's Forum Recognizes New Terra Farm
In a recent front-page article, Farmer's Forum had this to say about our small farm:

---
"An innovative direct-selling business, in which clients pledge to support a farm's operation by purchasing its produce and meat, is proving a success for New Terra Farm owner Scott Kelland".

Darren Matt,
reporter,
Farmer's Forum

---
I honestly believe our techniques can be used by anybody to build a successful - i.e.
profitable
- market garden business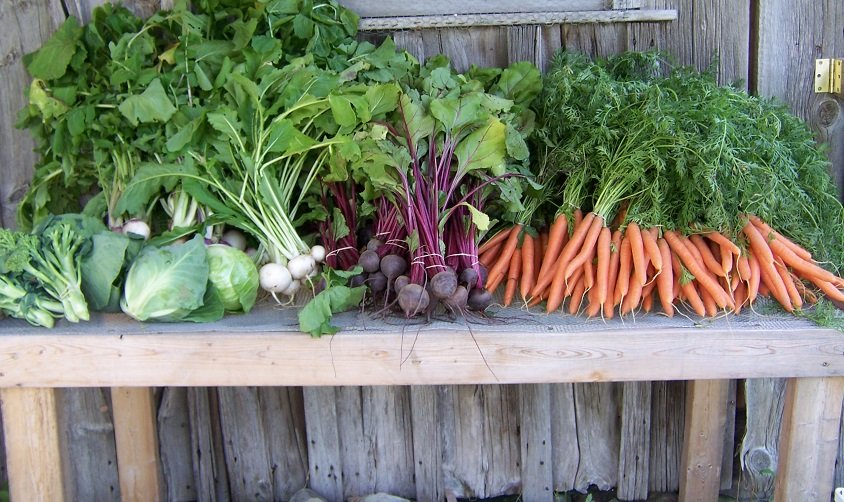 Picture your customers' happy faces when you show up with a basketful of fresh natural produce each week, grown in your own bountiful garden.

As well as making a nice living, you get the satisfaction of providing healthy food to appreciative customers. We often have customers thank us for doing what we do and growing the way we do.

I've often said, this is the best job I ever had; and you can create this for yourself, too. Read on to find out how.


Just exactly what is this 'Bootstrap' Approach?
>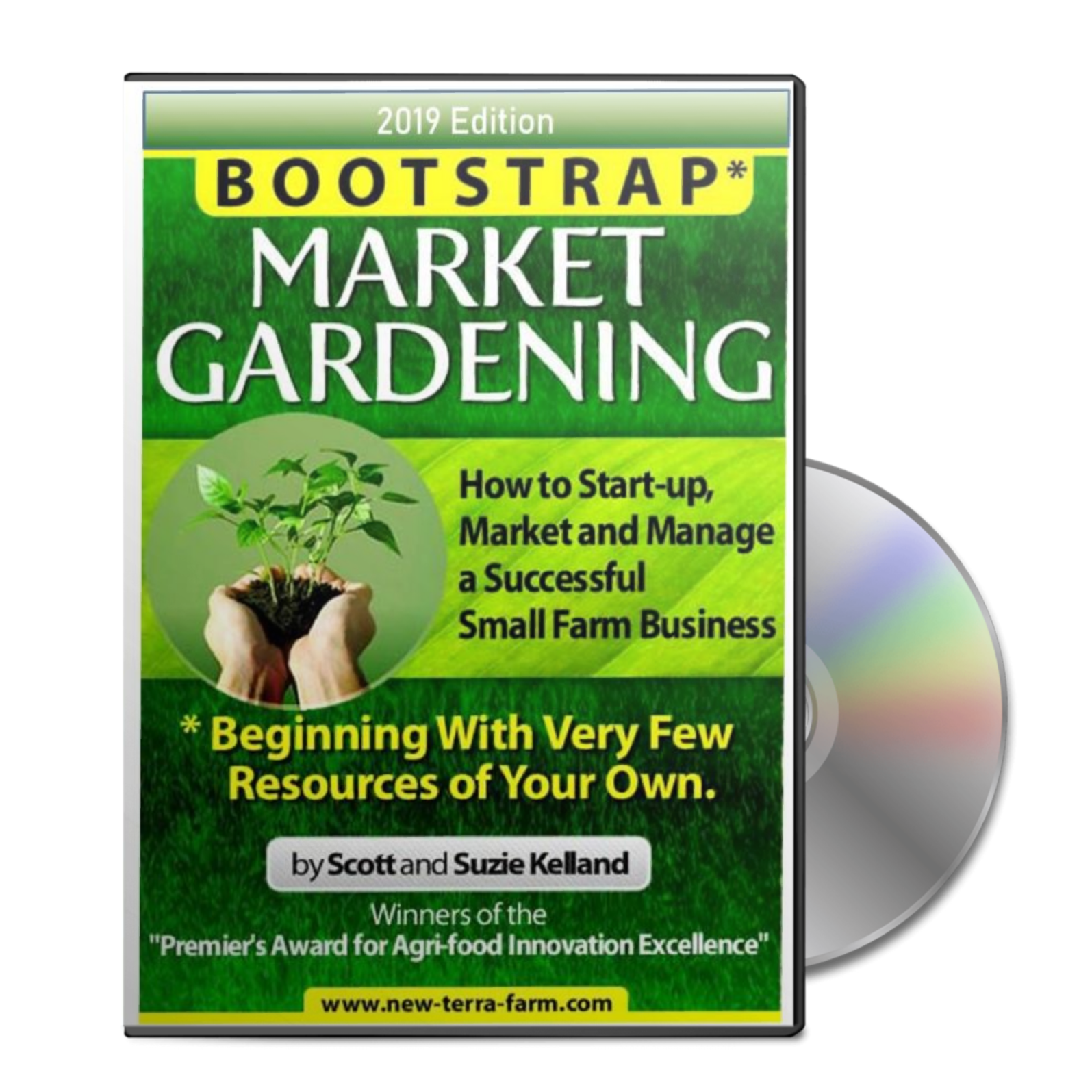 Bootstrap Market Gardening Book AND Software just $10

Its a method to start-up, market and manage an organic market garden following my 4-Step Formula that I believe will be of benefit to anyone who wants to make a living on a small farm.

i think my method is for everybody because:
** you can start up business on a shoestring budget; in fact you can even get paid to start up your business!
** you can grow as big as you like - from a part-time second income to a full-time 6-figure income
** you can start up even if you don't own a farm yet!
** you will have a guaranteed cash flow
** you will have the satisfaction of making a living on your own terms
And, when you are ready to 'hang it up', you will have a business that can be sold to help fund your retirement.


Is this really possible for anyone?
I believe it is absolutely possible for anyone (with the 'drive' to do it) to build a successful 'Bootstrap Market Garden'.
Want some proof? Well, I have to keep hiring new farm help every year because once they learn from us, they go on to start their own Bootstrap Gardens!

That's right, our farm helpers from 2 seasons ago, and also those from last season, have gone on to start their own successful market gardens using our Bootstrap approach

(and we couldn't be prouder of them, by the way, the country needs more organic growers).

My Bootstrap Model and the 4-Step Formula gave us and them many advantages:
* a way to predict demand for their produce
* a way to plan production to meet that demand
* a way to set their own price for their produce to guarantee a profit!
The results:
we were profitable from year 1

customers came to us looking for our veggies - in fact we had to put many of them on a waiting list because we couldn't keep up with the demand!

we tripled our business in year 2 (and doubled that again in year 3.)

we are on the path to a full-time small farm business that will provide a good living (and eventually help us retire!)
Now get the Bootstrap Book and Bonus Software

The Bootstrap Garden Planner 2019 Version



I created this software tool to take the 'guesswork' out of planning your garden crops. The Bootstrap Garden Planner will tell you:
how much of each crop you have to grow, on a week by week basis, to meet your customer demand
when you need to start the plants
when you can expect to harvest them
how much each crop will yield
how many garden beds/rows you will need for each crop
how much space your garden will take


If you have a small property, you can't afford to waste space. The Garden Planner will help you figure out exactly what you should grow to satisfy your customers.
I'm including this bonus software to make sure you will receive full value for your money. I want you to have the critical information and business tools you need to start your own successful Bootstrap Garden.

Please understand, my bonuses are not 'throw-away' junk that we downloaded from the Internet. Every software tool was developed here at New Terra Farm by me, and this is the ONLY PLACE you can get them.


Get the Bootstrap Market Gardening book and Garden Planner Sofwtare for just $10!

What do beginning market gardeners have to say about 'The Bootstrap Market Gardening Pack'?
"I pounded through the book this weekend. All I can say is 'job well done', the planning spreadsheet alone was worth the price of admission!

Steve W, Cincinnati


"Dan and I found your ebook inspiring and helpful. In fact, it took us from "hmmm...this might be for us" to selling five garden shares 3 weeks later!

We are 3 weeks or so from wrapping up year one and looking forward to year two and 25-30 shares!
Thanks so much for your helpful programs that make planning our business almost a breeze.
Sincerely,
Dan and Jenn Spaans
Itty Bitty Acres

Here's a secret (shhh!)
We beat a bunch of other farmers to win our award. BUT . . . we didn't grow any better, or work any harder in our garden; we just figured out a better way to plan, market and manage our garden, to make sure we got paid better for our work!

Now, here's the good news: you can do what we did, and follow our 4-Step Market Garden Formula to encourage the success of your garden. You can find out how in "Bootstrap Market Gardening".
Common sense alert: Just reading a book will not make you a successful market gardener!
Here's the truth:
The market gardening business is real work; just reading a book will not make you successful. You have to apply your brains, your motivation, and (yes)
your hard work
to take the lessons and the tools I will give you and apply them.
You will get out of market gardening what you put into it;
(but that's a good thing, right ;-)
OK, but what if I buy the book and it's not right for me?
Well, you wouldn't buy ANY product without a
money-back guarantee
, right?

Here's my personal guarantee: buy Bootstrap Market Gardening and study it and the bonus software for up to one full year. If you aren't absolutely excited and already planning your own organic market garden, or are unsatisfied for any reason, I'll return your payment, no questions asked.


p.s. You won't find anybody else offering a one full year money-back guarantee for a book about market gardening.

So why am I making this offer? Because I want to make sure you have enough time to actually USE the book to plan and start-up your own organic market garden, and I'm pretty sure you will be excited and delighted with what you learn.


Get the Bootstrap Market Gardening Pack right away via instant download
When you order my Bootstrap Market Gardening Pack you get it right away via instant download. No waiting for a physical book to be shipped. You can start reading and planning your own Bootstrap Garden right away.

Payment is handled securely by Paypal, the most trusted company in e-commerce. You will automatically receive a secure download link, through a trusted 3rd party. No waiting for your friendly neighbourhood farmer to trudge to the post office with your package.

Even if you order Bootstrap Market Gardening at 2 in the morning, you will receive it immediately.
Save $4,990 just by clicking 'add to cart'

The Premier of Ontario thought this information was worth $5000; that's the amount of the Innovation Award we received for our 4-Step Formula.

But he's a politician, and you know how those guys throw money around. You can get the Bootstrap Market Gardening Pack from us for quite a bit less (whew!)

I'm committed to helping new growers get off the ground (or maybe 'ín the ground' would be more appropriate!), so I've set the price to what I believe just about anyone can afford.

If you would like to make an investment in your future as a successful market gardener, you can get the Bootstrap Market Gardening Pack for just $10.

That's about what you would pay for a couple Big Mac meals. I think you will get more value from this useful, practical information to build your farm business.

Hundreds of people with a desire to have a successful small farm business (probably just like you) have bought "Bootstrap Market Gardening" and started down the path to their own small farm dream.

And some of them believe the bonus alone is worth the price.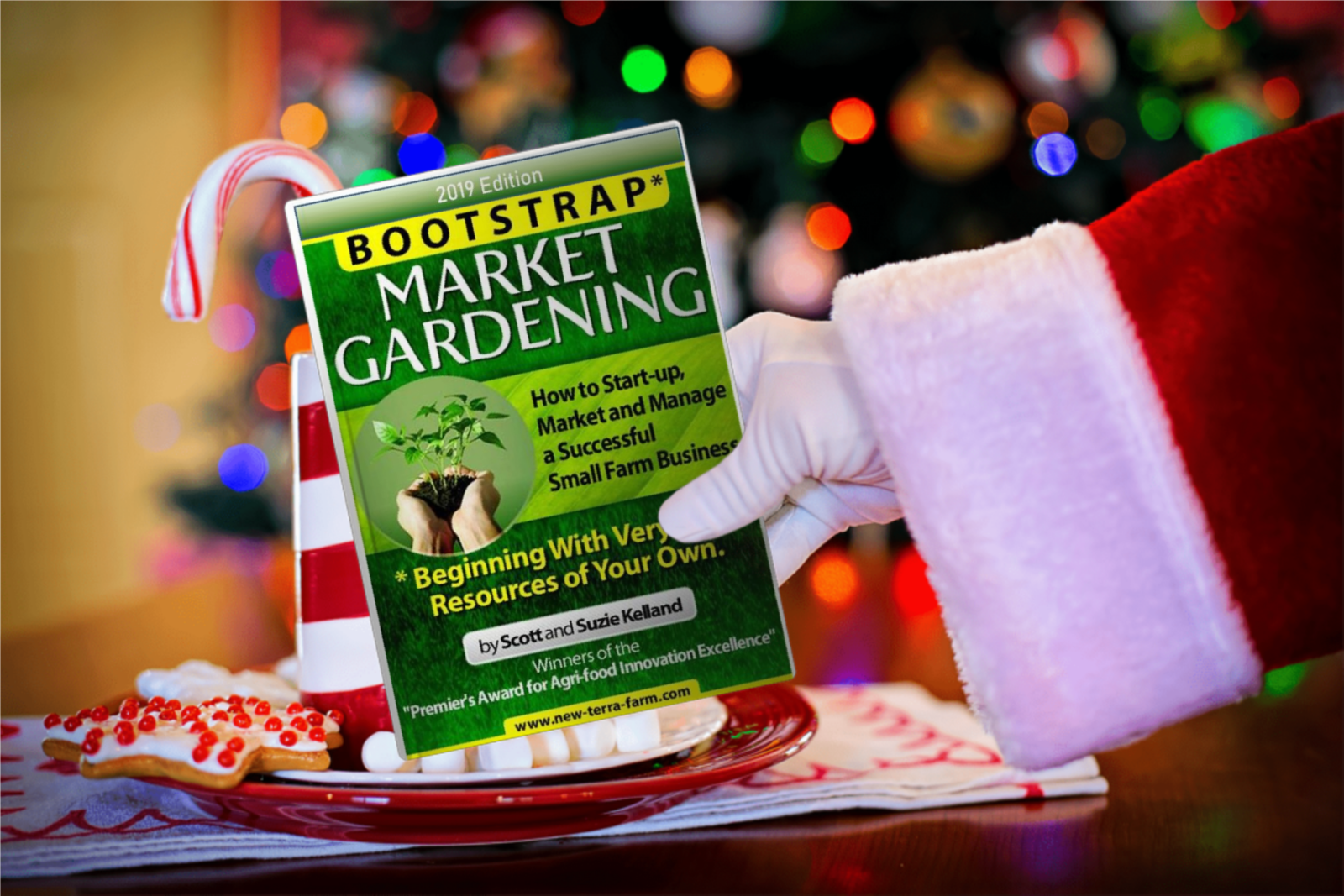 Give yourself or a loved one the gift of a head-start on building your dream market gardening business


Of course, you don't NEED to buy Bootstrap Market Gardening to become a successful market gardener. But if you want a 'heads-up' about what it really takes to make money gardening, you might choose to anyway.


Bootstrap Market Gardening Pack is an e-book. When your purchase is complete you will receive a secure link to download the book including the bonus software right away; you can get started with your own Bootstrap Market Garden right now, no waiting for a physical book to be shipped.
---