Want to raise natural and organic vegetables and meats but not sure where to start?



If you are a new or soon-to-be organic grower, you are in the right place!

If you wonder what's in the food you eat
And food scares make you queasy
Grow natural and organic vegetables and meat
New Terra Natural Food makes it easy!

So, who are we (and why are we perpetrating bad poetry)? New Terra Farm is a small family-owned business located near Merrickville, Ontario. We grow a lot of our own veggies and meats, with limited quantities for sale.
Trust us, we grow-it better than we po-et!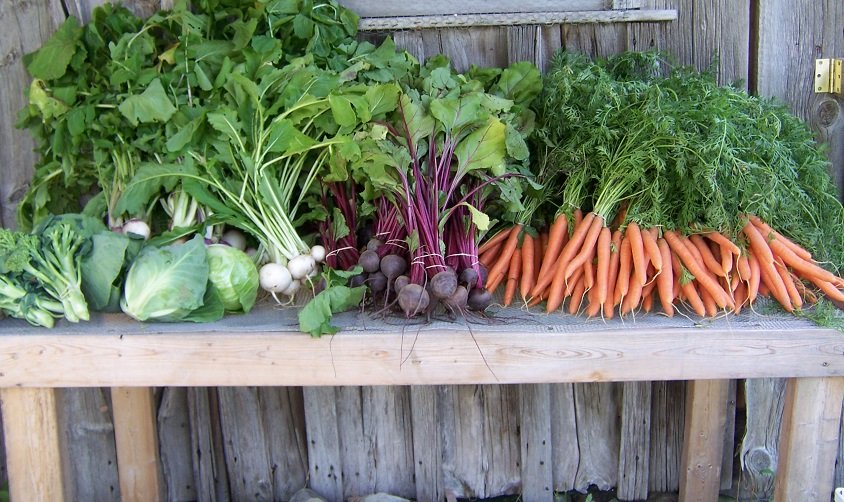 Why we do what we do - GREAT FOOD!
DATELINE January 2023: I just updated and expanded my popular Bootstrap Market Gardening book.
Based on live training I've done for colleges, universities and community business organizations, I developed 9 new Training Modules to guide the new or soon-to-be market gardener in starting-up, marketing, and managing a successful market garden business.

This course compresses what we've learned about growing food and running multiple businesses in more than 20 years at New Terra Farm.
I think we have all come to realize the only real security is what you can build for yourself.
My book is a good place to start. You can see the new and improved Bootstrap Market Gardening Course here.

---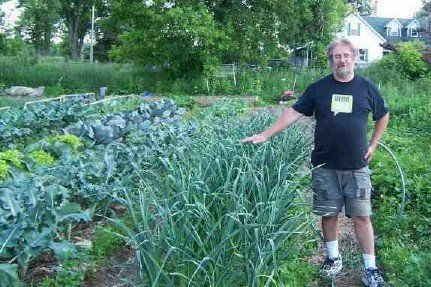 I love my garden!
Our guiding philosophy . .

.

Natural is better! Foods grown organically have more of the good stuff (vitamins, minerals and other factors that promote good health) and less of the bad stuff (i.e. herbicides and pesticides) in them. If you are as concerned as we are about what's in the food you eat, then go natural! Get more information about this topic (some very scary!) via the links and reports on our Organic Advantage page.
Farm grown is better! Purchasing directly from organic farms and farmers' markets helps guarantee fresh produce. Farmers' markets and home delivery food basket programs (also known as Community Supported Agriculture or CSA) are a great source of natural and organic food for your family.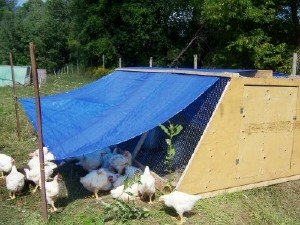 We day-range our poultry on pasture - NO confinement
Pasture-raised is better! There is growing evidence to show that raising animals on pasture is better for the animal, better for the farmer, better for the environment and produces food that is better for the consumer. Find out more on our Organic Farming and Animals Welfare page.
Local is better! Current statistics show that over 85% of natural and organic food eaten by Canadians comes from outside the country. It takes 1500 calories of petrochemical energy to get 1 calorie of food energy to Canada from California. That is the definition of 'not sustainable'!
Buy local, get great food, support your local grower and save the environment, all at the same time! Look for local, Ontario, or Canadian sources (preferably in that order) for natural foods and organic packaged and prepared foods as well.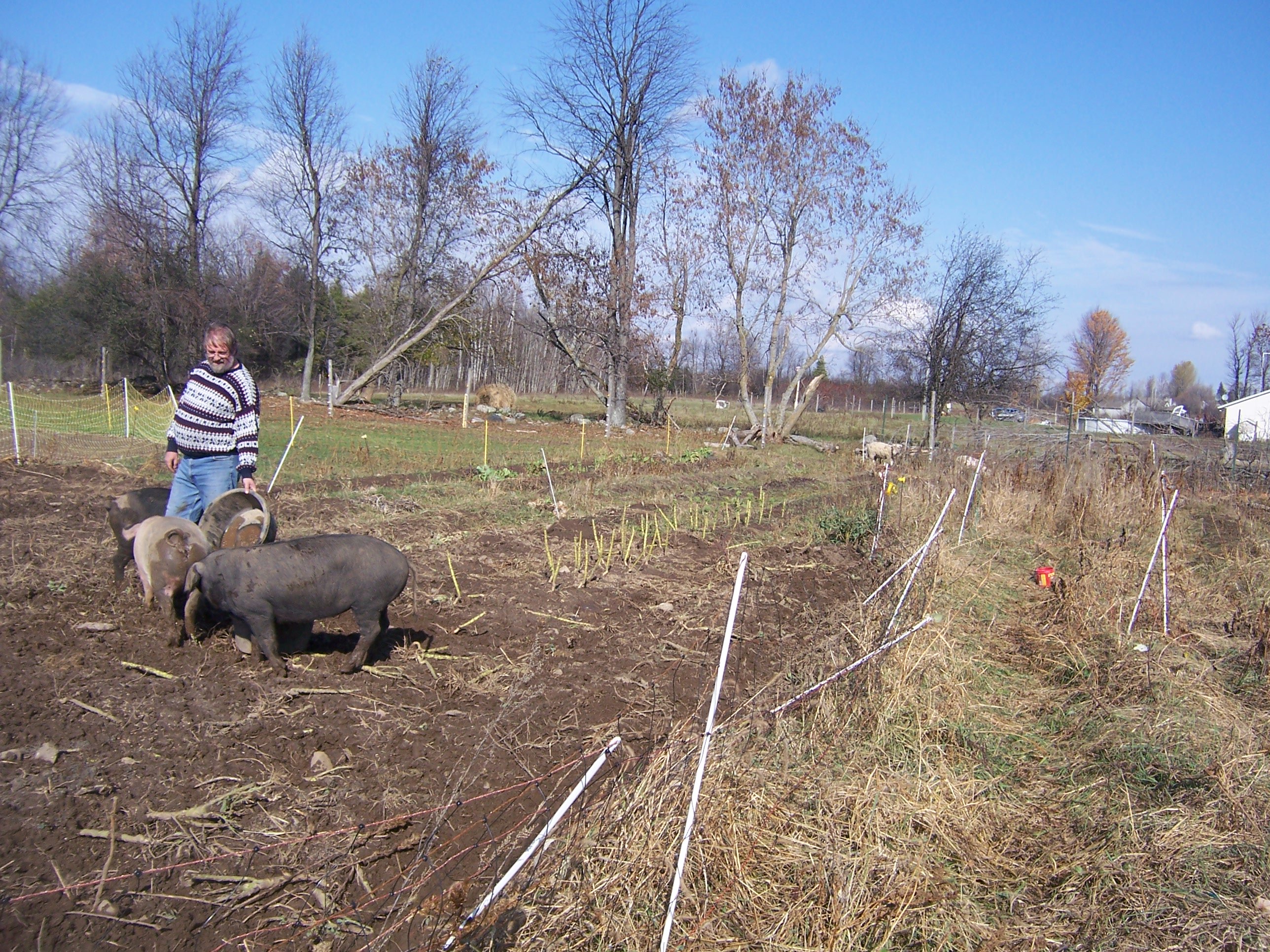 Our piggies help clean up our garden
Now what, oh wise yet humble farmer/poet?
You can follow the links to find LOTS of information sources and resources for growing natural and organic food for you and your family, or your market.  You'll find information about growing, cooking, preserving and enjoying good food that's also good for you.
And, a whole LOT of information about the business of growing for market!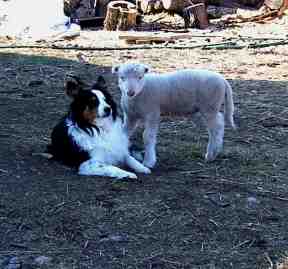 Dogs and lambs living together - MASS HYSTERIA!
---
New Terra Farm Receives Agri-Food Innovation Award!

New Terra Farm received the Premier's Award for Agri-food Innovation Excellence for our innovative small farm marketing and management model. Find out more about the award on our New Terra Farm page, or Contact da Farm for details.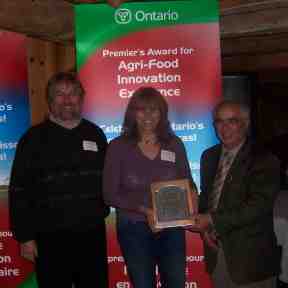 Suzie immediately grabbed the plaque, wouldn't let go
The award is just one reason we believe that there's never been a better time to be a market gardener! Demand for fresh, natural and organic food is soaring: the market in North America is growing by at least 20% annually.
If you are a small farmer (or are thinking about starting a market garden), don't miss finding out more about about our prize-winning market gardening model and take home some lessons from our efforts to launch a successful small farm (without having to spend a fortune.)
Hey, they gave us the award, we must have done something right!
My Latest Bootstrap Book - also just in time for 2023!
Man, 2021 SUCKED! Suzie and I had it a lot better than many folks, since the farm has always fed us and provided some extra income. 
I think a lot of people had their eyes opened, and have come to realize the importance of building some resiliency into their lives. 
In any extended emergency, Job #1 is to feed yourself and your family. I just finished my latest Bootstrap Book (this is number 5 in the series), the Bootstrap Survival Garden.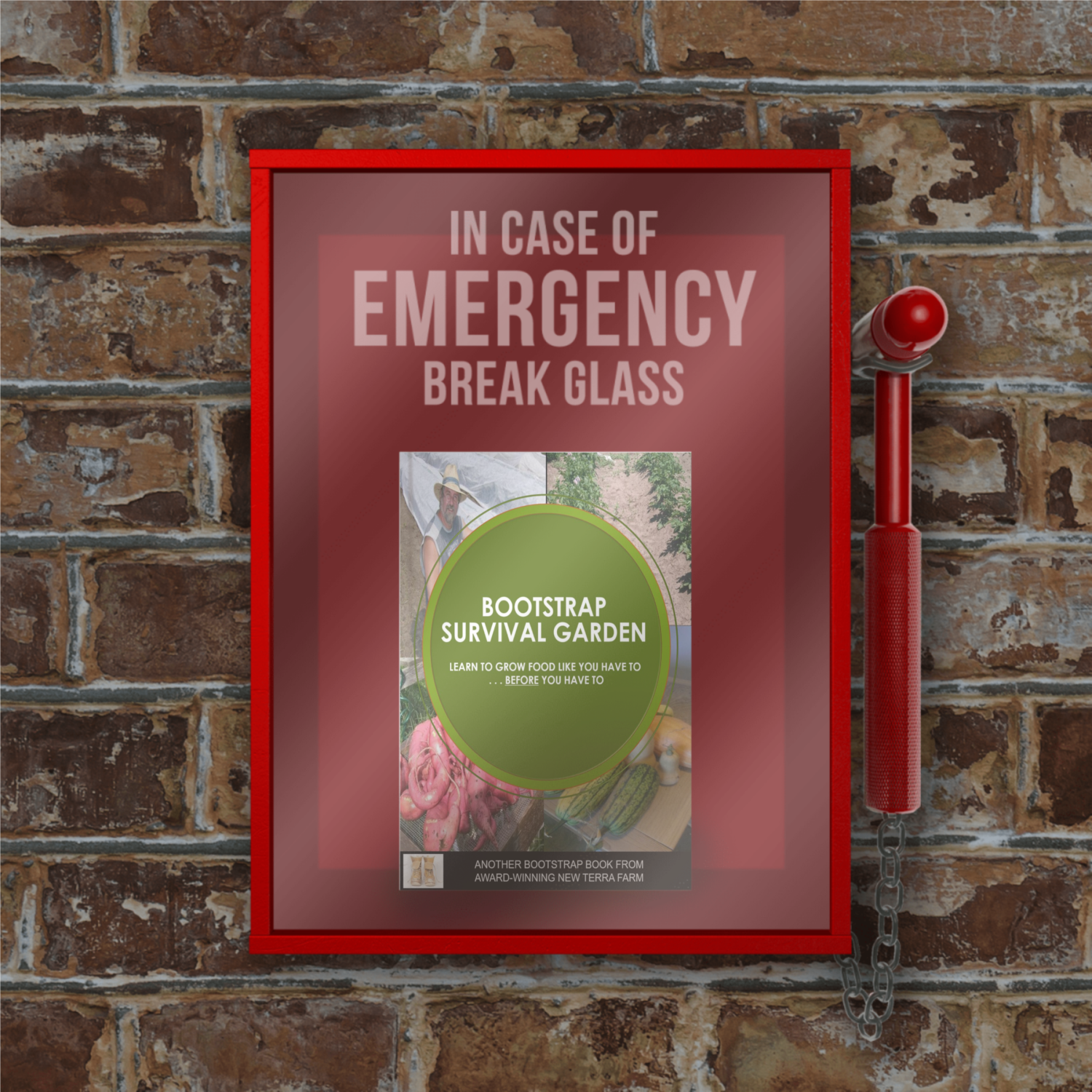 This book explains in great detail how to grow a sustainable food supply even if you have access to only a small parcel of land. 
But don't wait for the emergency to  break out. Like the book says, 'learn how to grow food like you have to, before you have to'!
---
DISCLAIMER
This site made with 100% recycled electrons. No animals were harmed in any of the photos (a couple didn't make it past Thanksgiving, though)


Award-winning farmer, author and speaker Scott Kelland
Special Report - Grow the 10 most profitable vegetables using the tools and techniques of pro gardeners
An on-going series of survival food supply reviews of emergency food buckets, emergency food kits, and short- and long-term food supplies
Start-up, market and manage a successful organic market garden with my Bootstrap Market Gardening Book
Like some guidance getting your new farm started? Get the advice you need from the New Terra Farm small farm coach
Learn how to raise chickens, pigs, an organic market garden and more with my Complete Start Farming Pack
Practical farm training from award-winning New Terra Farm
If you have a hankerin' for country living, my best value Homesteader Book Bundle is a great resouirce.
Learn to grow food like you have to before you have to. Start a Bootstrap Survival Garden
How to raise chickens to put food in your freezer and folding money in your wallet
Raising pigs on pasture for your freezer and your customers
Build your Bootstrap Grreenhouse with step by step instructions from New Terra Farm
Farm software created by New Terra Farm
Small Farm Marketing is more about the message than the media
Growing a super salad garden is easier than you think
Download my free business plan template and get your small farm business on track
Get free stuff from from New Terra Farm
A dozen free digital tools including web software, office suite, and graphical design
Our free market gardening guide could have helped this beginning market gardener avoid a costly mistake.
A witty collection of country fresh humor, farm fun of the finest kind
With our organic food delivery program New Terra Farm will bring the farm to you.
Scott and Suzie teel our story of creatingNew Terra Farm
Reach out and touch da farm!
A review of Solo Build it the powerful and popular online business building program from Sitesell.com
I've got a lot of books in my library. Here's a selection of the best gardening books selected by New Terra farm
Raising chickens is a great business for small land owners. Learn how to raise chickens organically for your freezer and your customers.
Here are a few chicken coop ideas and simple chicken coop plans for the backyard or small farm
What do you need to know about chicken coop construction to successfully build your own chciken coop?
Get the latest ramblings from New Terra Farm
Tips for building successful farm websites that get the clicks and help your sales
Find out what's going on in the organic food industry. Get the news and views from New Terra Farm
Practical market gardening tips, articles, books, links and resources from award-winning New Terra Farm
Find out the right way to start market gardening using our award-winning bootstrap market gardening model
Raising pigs on pasture is a great way to put meat in your freezer and money in your wallet.
Learn how to farm from award-winning New Terra Farm. If you seriously want to make money on your small farm, start here!
A nutrition garden model can literally double the nutritional benefit of your backyard garden
Award winning farm explores micro-farming for profit in the Great White North
My favorite online business idea is that of infopreneur. The web makes selling information products easy.
Sustainable organic farming will be the farming model that will feed communities after Peak Oil
Can you have a successful farming business on a one acre farm? Get this free plan from New Terra Farm
Vegetable farming for profit is different from growing your home garden. Here's some things you need to know.
You can have a profitable, sustainable business even on a 5 acre farm. Here's how , , ,
Community Supported Agriculture is a powerful model with benefits for market gardeners and customers.
Is homesteading today still possible? Here's some answers from a practical perspective
Growing a high income market garden requires careful crop selection. Here's how!
Why we REALLY NEED more small farms to feed the world
Some points and priorities for your small farm survival plan
Why small growers should build a greenhouse to protect their crops and their season
Get the latest on TNT-Buds Inc
A homestead garden is a key step in self-sufficiency
Here's the secret to starting a market garden business. You have to treat it like a BUSINESS
The 5 P's of growing your organic vegetable garden
A practical approach to price your farm products to make a profit
Why you need a food storage and survival plan for the parlous times ahead
Cheap survival food ideas and a few recipes that are actually practical and useful
There's a lot of interest in the question 'what is micro farming'. There is more to microfarming than just the size of the farm. Learn what MICRO really means
If you have 25 acres or 5 acres or even less than 1 acre, organic chicken farming can put food in your freezer and money in your wallet.
In this article, we'll cover the best long-term survival foods that will keep you nourished and sustained in the face of adversity.
The micro-farm equipment I consider the essential implements for sustainable and profitable small-scale farming
Lots of hype about micro farms as the farm of the future in the news these days. I've got a different take on the topic
There are obvious and some not-so-obvious factors to consider when answering the question 'Should I buy a farm'
Increasing food insecurity and economic instability have many wondering how to learn to farm, for a secure, healthy lifestyle and contribution to thecommunity
My Bear Essentials Survival food review will tell you why this is one of my top choices for your emergency food supply
Build a lean-to greenhouse quicker and cheaper than you might think
I've built a few hoop houses. My hoop house kit review will give you the benefit of that experience
How to raise a pig on pasture for the new farmer. Grow delicious premium pork for your freezer and your customers
raise the roof sale on ALL books
What you need to know about how to start a farm on the right footing for profitability and sustainability