Maybe You Have A Small Property
(And Maybe A

Small

Budget)...

Can You Still Launch a Successful - i.e. PROFITABLE - Market Garden Business?

YES! You Can Go From 'Zero' To 'PAYING CUSTOMERS' In 60 Days (Or Less) Even On A Small Piece Of Land!

HERE'S THE KEY: Market gardening isn't just about planting seeds; it's about launching a  business.
There are lots of gardening books out there, but it's hard to find good information about starting a successful market garden BUSINESS.
It seems that gardeners don't write about business, and business guys don't know or care about small enterprises like a market garden.
So it's not surprising if you are still looking for a way to launch a successful business on your small property.
And you have probably heard some business guy say that "95% of new businesses fail in the first 5 years".
That doesn't sound like great odds, right?
But picture this for a second...
You have a thriving business. You actually have customers on a waiting list to buy from you.
You get to decide how much money you want to make every year, and you have systems for planning and marketing and management that will get you there.
You remember when you started, you didn't have a lot of money to launch a business.

And you weren't sure you had the skills to pull it off.

Then you found a business model that showed how your customers could fund your start-up.

So you took the leap and launched your business.
Man that first year was exciting!
Getting up every morning with a solid plan to build your dream business.
Meeting customers and having them tell you how much they enjoyed your products.
You had a lot to deal with in Year 1, but you had a plan to help you through it.
You worked hard and it paid off.
You made a profit and your business grew again in Year 2.
And it's still growing. You are making a right living doing something you enjoy.
Does that sound too good to be true?
IT'S ACTUALLY MY STORY.

A couple years after we bought New Terra Farm I was looking for a way to make more money on my small property. After a lot of reading and research I settled on a business model that promised to fulfill my small farm dreams.
This model showed me how I could 'bootstrap' my business without a lot of cash money up front.
It showed me how I could basically lock-in my customers.
And it provided the ability to start at a level I could manage as a 'newbie', then grow as big as I desired as I gained experience. My first market garden was about 1/4 acre. A couple years later we had grown to feed more than 90 families each week,

I bet you want to know what this 'secret model' is right?

Here's the 'Secret Sauce': Community Supported Agriculture (CSA) is the BEST Model for the Small Grower!
CSA solves many start-up problems.  In the Community Supported Agriculture model customers subscribe to your market garden , paying in advance to receive a share of vegetables each week throughout the growing season.
You can have cash in your pocket in 60 days from 'start'!

This advance payment let's you BOOTSTRAP your garden i.e. start up without a lot of cash of your own. (When I figured this out, I was actually able to start my business with just $300 for some promotional flyers - and I put that on a credit card!)
So now you have a 'cash cushion' to get you through that busy start-up phase.

Here's something else most business books don't  tell you: CSA gardens typically have the highest net income of all garden types. You can keep more of your sales dollar with CSA.
And, (very important to a new grower) you can start small and grow as you learn! My first garden was less than a quarter-acre in size.
Over time the garden got bigger, and we subsequently grew to serve more than 90 families. 
This concept is easy enough to grasp.  But... you still need to know 'the details' of what you are doing, or failure is still a possibility.
If you haven't figured out enough of those 'details'  yet to give you confidence you can start a successful market garden business,  it's not your fault.
Like I said, nobody seems to think about the small operator who just wants to make a living on their piece of land.

That's why  I set out to write the market garden business book I wish I had when I started. In this course you will discover effective business strategies tailored to your farm. Learn to create a strong customer base, price your produce for profit, and manage your financial growth.
It's my way of helping to grow the new growers the world desperately needs.

Start-up, Market and Manage A Successful Market Garden Business, Even Starting With Few Resources Of Your Own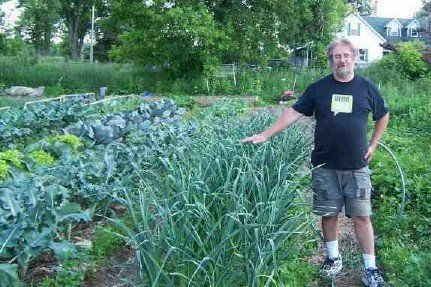 I LOVE my CSA Market Garden!
Are you looking to become a small farmer but don't know where to begin? Or maybe you've already started but are struggling to make it profitable?
No matter where you are in your journey, my 'Bootstrap Market Gardening' course can help you create a successful and sustainable market garden literally 'from the ground up'.
This course is the ultimate guide for new and soon-to-be small farmers, offering a 4-step process for planning, marketing, management, and operation of a profitable market garden.
With 'Bootstrap Market Gardening', you'll learn the secrets to creating a thriving business with minimal start-up costs, so you can focus on what really matters: growing and harvesting delicious, healthy produce.
I've packed this course with practical advice, step-by-step guidance, and insider knowledge, gained from 20 years of experience at award-winning New Terra Farm.
This comprehensive guide will equip you with everything you need to know to succeed in the highly competitive world of market gardening. And, there are BONUSES in this complete training package.
You could totally pull this off with the right guide, right?

The Whole Thing Can be Explained in 4 Simple Steps

Launching any business is a serious undertaking.  Remember that '95% of businesses fail within the first five years' statistic.
But here's the thing: That failure is usually caused by not understanding the 4 essential elements of business success that I'll  explain just down the page.

I've assembled a step-by-step guide that can empower anyone to:
Build a business on their own terms

Start part-time and build to a full-time income

Make a right living on your small property

Enjoy the peace of mind that comes with taking control of your financial future
YOU CAN DO THIS TOO - WITH MY STEP-BY-STEP GUIDE

You can have your plan to start-up, market, and manage your market garden business laid out and ready to launch quicker and easier than you might think. Even if you are a beginner without a lot of growing or business experience.
Hundreds of people have bought this material and used it to build a real market garden business of their own. 

So I'm convinced anyone who wants to build some financial freedom can benefit greatly from this course.

Explained: My 4-Step System for Market Garden Success
The basic idea is simple, and can be applied to just about any business - but you might be surprised at the businesses that never figure this out. My 'Bootstrap Market Gardening' success system can be laid out in 4 steps:
1. PLANNING is the fun part: you decide how much money you want to make from your market garden, and how many customers you need to make that happen;

2. MARKETING is reaching out and finding those customers and telling them what you have to offer and inviting them to buy. TIP: there is an easy, non-sleazy way to get your customers to sign up. And, they pay you in advance for the season!

3. MANAGEMENT means answer a few questions about how you will run your market garden business. How much space will you need, and where to find it? How will you organize garden work? TIP: you can find space for your garden even if you don't own a farm.
4. PRODUCTION means lying out your garden efficiently and growing, harvesting and processing your delicious veggies for appreciative customers.
This is key: if you want to be a successful market gardener ... then planning, marketing and management are just as important as growing great veggies!
When it's set out like this, it's pretty easy to see the system I'm suggesting for you. In fact, the whole concept fits on one page ( just like this ).
Read on and you will understand why I said there is no course like it, built 'from the ground up' just for the new or soon-to-be market gardener!
There are Lots of Gardening Books Out There ... This is a Book about RAPIDLY LAUNCHING a Successful Gardening Business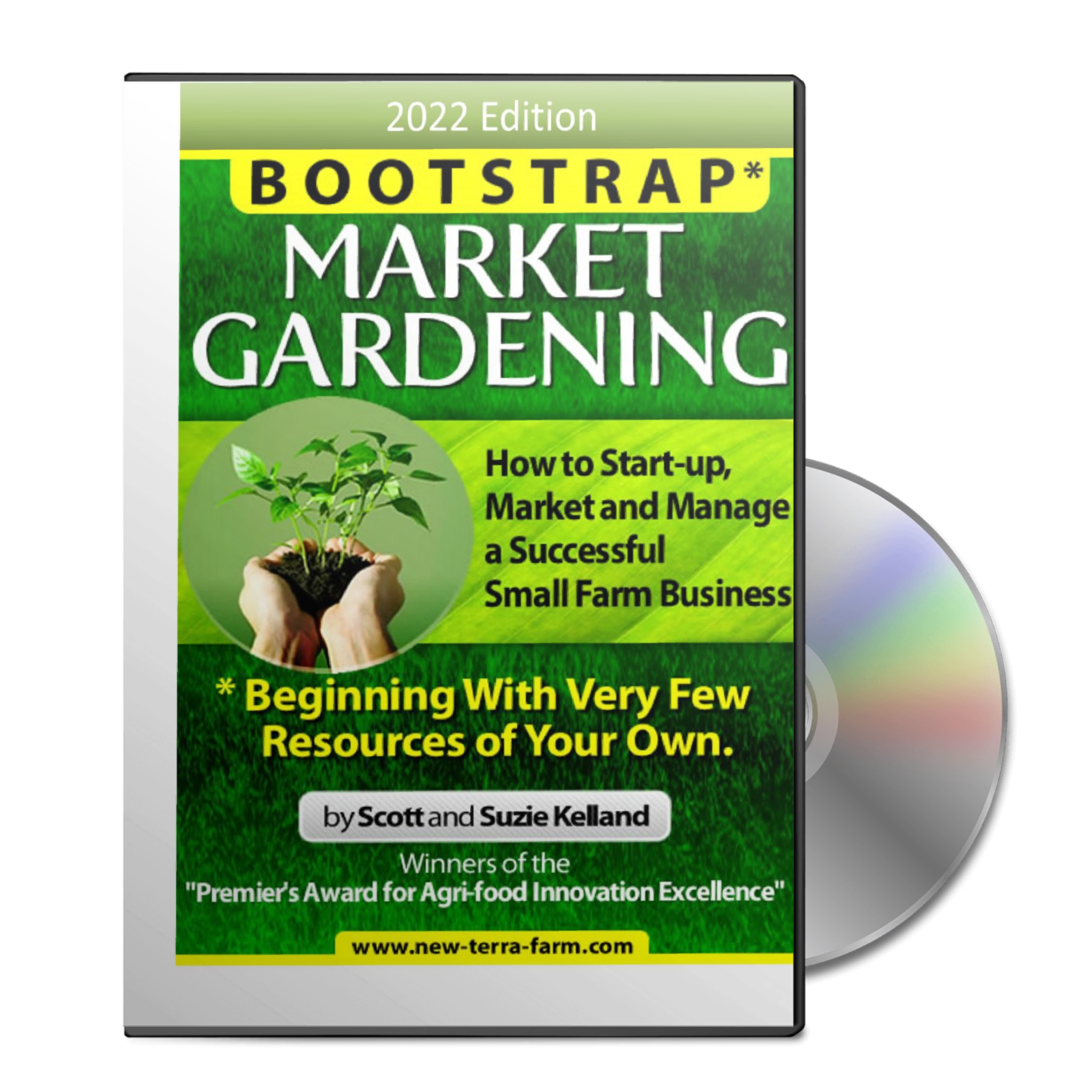 Your practical step by step guide to start-up, market and manage a successful CSA market garden
Times are tough for a lot of people right now. Many businesses have closed, or operating under restrictions. 
Through no fault of their own, people are out of work or underemployed. Maybe you are one of them. 
I  get it. Why do you think I HAD to find  way to make some money on my farm?

But there is a silver lining. Adversity can create opportunity.
This can be a great time to start a business on your small property, growing great food for appreciative customers.
If you have doubts that RIGHT NOW is a great time to start a market gardening business, you just have to remember one very important thing:
No matter what, people need to eat!
In the next few minutes I'll share with you how I came to build a real business on my small property. And how I did it without a lot of money or resources of my own to start.
You can even start part-time and make a great 'side hustle' income.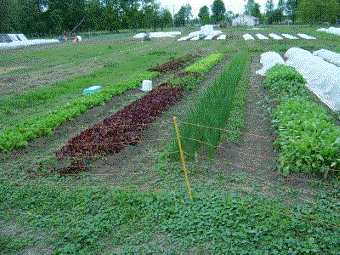 Here's where I work. My 'commute' is about 150 yards due north from the farmhouse.
I Wasn't Kidding About the 'Award-Winning Farm' Bit

...

Way back when we launched our first  Bootstrap CSA Market Garden, the Ministry of Agriculture in Ontario was running a contest for innovative farming ideas.
Suzie talked me into writing about our business model for this contest. The contest judges decided we had something valuable in this model and lo and behold, we won! 
You can see in the snapshot below that Suzie grabbed the award plaque, because she said it was her idea. I snagged the $5,000 prize check; - )
There were 255 farms in the running for a prize, by the way.
I'm sharing this not to brag (much ) but rather so you the idea that a couple of 'newbies' could create and apply a successful, repeatable model to put more money in our pocket from our market garden. 
If a forty-something couple who were NOT born farmers could do this, you can too!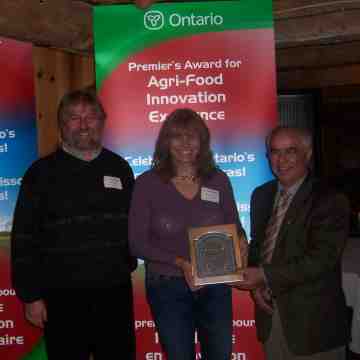 Along the way, 'Bootstrap Market Gardening' also won us the $5,000 Premier's Award for Agri-Food innovation.
Market Gardening Success Depends On The Right System!

There is more to a successful market garden business that just being a good grower:
You need to learn how to find customers.

You need to learn how to set goals and plan priorities.

You need to learn how to manage cash flow. 

And you need to be able to do all that while still keeping your garden in full production throughout the season.
I learned this stuff over a couple of decades of experience both on the farm and in the business world.
Yes I was that 'business guy'. And my area of practice was designing and improving systems. I used that expertise on my own farm.

And I've written 'Bootstrap Market Gardening' to give you a head start on this learning curve!
Because, let's face it, where else are you going to find this practical and useful information to help you start the business of your dreams on your small property?

What's Unique About 'Bootstrap Market Gardening'?
'Bootstrap Market Gardening' is not some 'theoretical' model. 
I'm only sharing with you what I've actually done. I know this will work for you too... if you apply your own brains and motivation.
This course was built by me based on more than 20 years' experience as an award-winning organic farmer and a business consultant specializing in building and improving business processes. This course brings together what I've learned and practiced in both those fields over the last couple decades.
I guarantee you won't find this practical information, designed specifically for market gardeners, anywhere else. 
I can show you, step-by-step how to start-up, market, and manage a successful market garden business, even on a very small property (and a very small budget!).
But you don't have to take my word for it. Check it out for yourself. Take your time to go through the material, up to 12 months if you like.
If you feel that 'Bootstrap Market Gardening' is not what you expected, you can use the '100% No Questions Asked Guarantee'.
I'll refund your money in full without asking any questions. Just send me an email, and I will be happy to refund your money immediately.
More than 2,000 people have bought my books and courses to help them ACHIEVE their small farm dreams. Here's what some of them had to say...

"Very clearly written and thorough" - Steve G.
"Fantastic reading, and it'll be really helpful when we start up our farm! - Katie W.

"Very well written. It seems that you have that gift of being able to transpose your thoughts onto paper with ease and simplicity" - Stephen W.

I read your book and really wished I had it last year. It has already caused me to re-think and re-design next years plan. - Sherri, Dunville, ON
"Dan and I found your book inspirational and helpful. In fact, it took us from "hmmm ... this might be for us" to selling five garden shares 3 weeks later! We are 3 weeks or so from wrapping up year one and looking forward to year two and 25-30 shares! Thanks so much for your helpful programs that make planning our business almost and breeze. 
Dan and Jenn S.
Itty Bitty Acres
Now Get the COMPLETE 'Bootstrap Market Garden' Bundle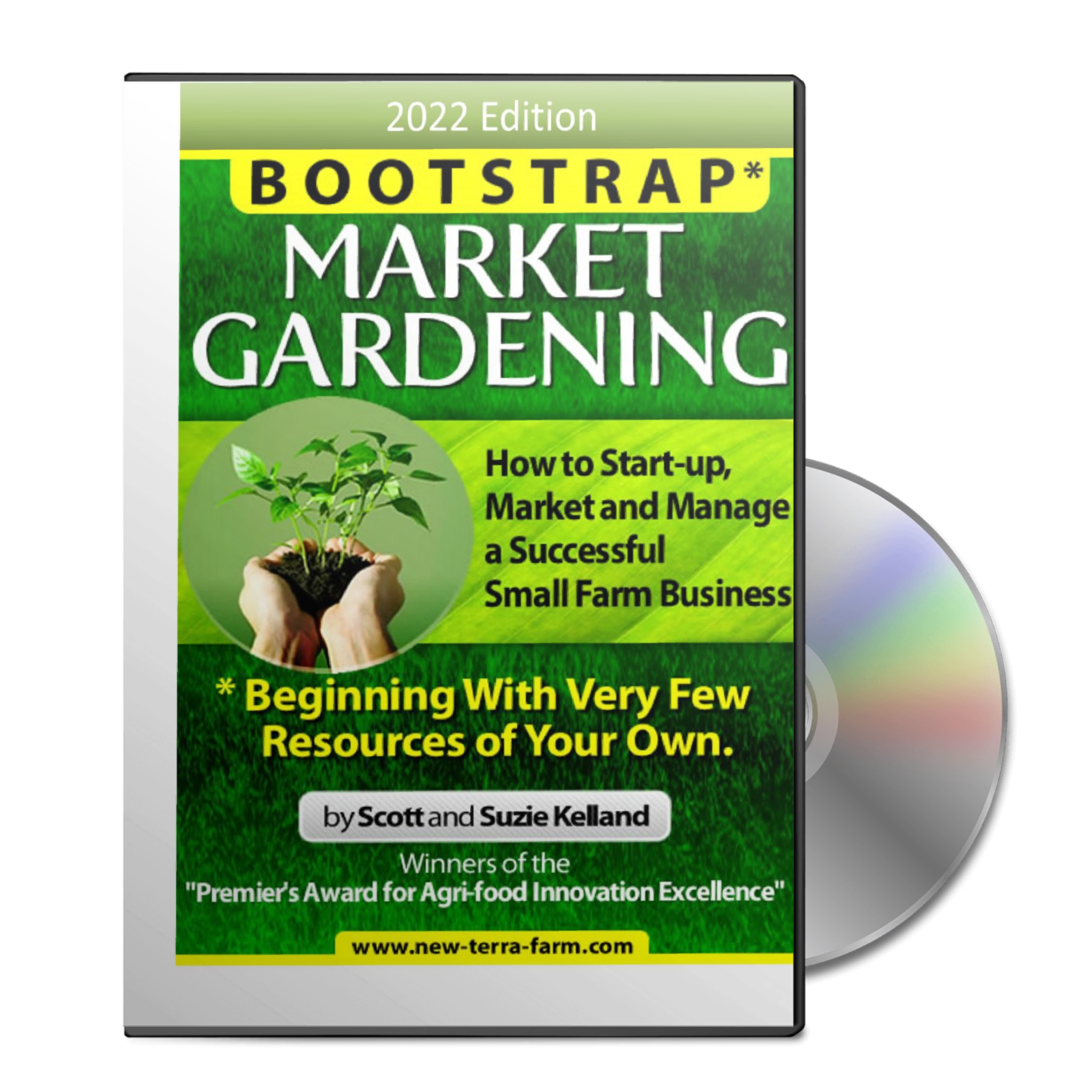 Crammed full of real-world practical advice you can use to launch your own market garden business.
The Bootstrap Market Gardening Book 2022 Edition. This is your 'course textbook', it lays out for you, step-by-step, how to start-up, market and manage an organic market garden based on CSA principles.
This book has helped hundreds of new and soon-to-be market gardeners learn how to launch their own successful small farm business.
The best part is, you can start part-time and build a great 'side hustle' income - I know a young lady who paid for college in the fall by running her own CSA market garden through the summer
Or build up your experience over time to make a good full-time living on your small property.


I've Made 'Bootstrap Market Gardening' EVEN BETTER. You can

Accelerate Your Results with my NINE NEW Training Workbooks AND Software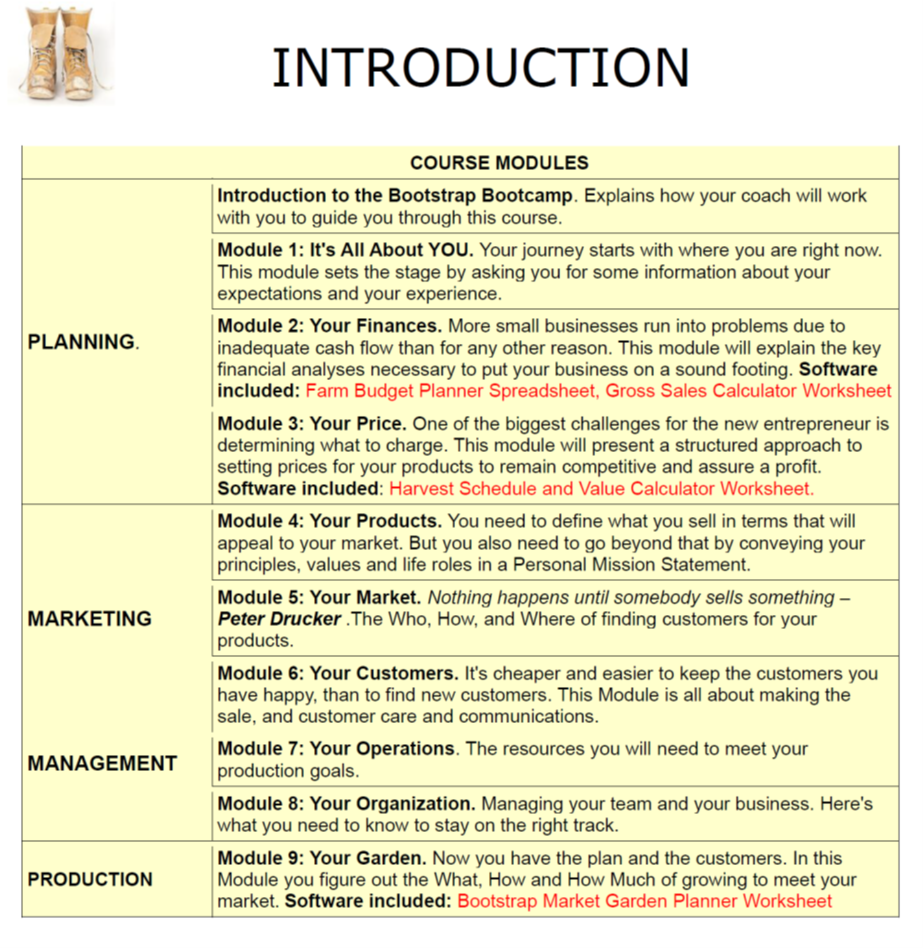 Introduction to the Bootstrap Market Gardening Course Modules.

I've added  9 custom-written workbooks that expand on the material in the book.
More than 100 pages of additional information, exercises, examples and worksheets designed to help you plan, market, manage and put into operation your own market garden business.
These are totally unique and only available from New Terra Farm!

You also get specially-designed farm planning and management software, written by me, to make running your market garden and my farm business easier.
Okay, what's in the Bonus Software Pack?
4 custom-designed farm planning and calculating spreadsheets are included, to help you figure out pricing and income and expenses, and to plan garden production.
These valuable resources were designed and built by me, and I use them every season to help me plan and manage my market garden.
Here's what's in this software bundle:
1. The Bootstrap Market Garden Planner
2. The Gross Sales Calculator
3. The Harvest Schedule and Value Calculator
4. The Farm Budget and Cash Flow Estimator

NEW BONUS CONTENT!


"GROW THE TOP TEN MOST

PROFITABLE

VEGETABLES"!

Are you a small farmer or market gardener looking for proven strategies to maximize your profits? Then "GROW THE TOP TEN " is the resource you need to elevate your productivity and transform your garden into a lucrative venture.
With "GROW THE TOP TEN" you will gain a solid understanding of the tools and techniques necessary to step-up your gardening practices and grow the 10 most profitable vegetable crops in your market garden
I designed this Special Report to equip you with the knowledge and skills to optimize your productivity and cultivate thriving crops across the seasons.
But, Can I REALLY Pull This Off, Starting From Scratch?
Q: I don't have much experience in gardening. Can I still start a market garden?
A: Absolutely! 'Bootstrap Market Gardening' is designed for people with little to no experience in gardening or farming. My 4-step system is easy to follow and will guide you through the entire process of starting and running a successful market garden.
Q: How much money do I need to start a market garden?
A: One of the best things about CSA market gardening is that it can be started with minimal investment. 'Bootstrap Market Gardening' will show you how to create a successful business with minimal start-up costs USING OTHER PEOPLE'S MONEY (OPM) , so you can focus on what really matters: growing and harvesting delicious, healthy produce.
Q: How do I market my produce and attract customers?
A: Marketing is a critical part of running a successful market garden, and 'Bootstrap Market Gardening' will show you proven strategies for attracting and retaining customers. We'll help you find the right channels to promote your business and connect with your audience.
Q: How can I ensure my garden is sustainable and environmentally friendly?
A: Sustainability is at the heart of 'Bootstrap Market Gardening'. We'll teach you how to create a healthy and profitable garden that's also kind to the environment. From choosing the right crops to using eco-friendly practices, we'll help you create a thriving garden that you can be proud of.
Making

Money

from Your Garden is a REAL 'Work From Home' Plan

'Bootstrap Market Gardening' is my "master class" on starting up, marketing, and managing a successful market garden, based on CSA principles. Almost two thousand people have bought into this model. 
Because ... this is not just a gardening course. 
This is a SYSTEM designed to help you  build a successful, sustainable market garden business. 
Don't misunderstand: market gardening is real work. 

But if you agree that some hard work is worth the reward, my course can show you how.
Read

'Bootstrap Market Gardening'

  RISK-FREE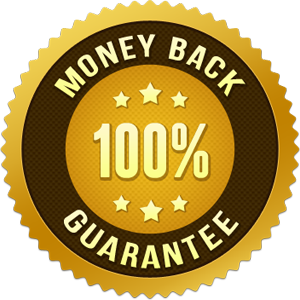 I want you to have all the time you need to read and USE my Bootstrap Market Gardening Course.
That's why I'm going to give you a full 12 months to decide if this is for you.
If for any reason, or no reason at all, you are not 100% satisfied simply send me an email, and I'll refund every penny of your investment . . .No questions asked!
Over more than a decade and more than 2,000 sales, I've been asked for a refund exactly once. Which I promptly and happily issued. So I am pretty confident you will find a lot of value here.
Get All This in Your Premium Package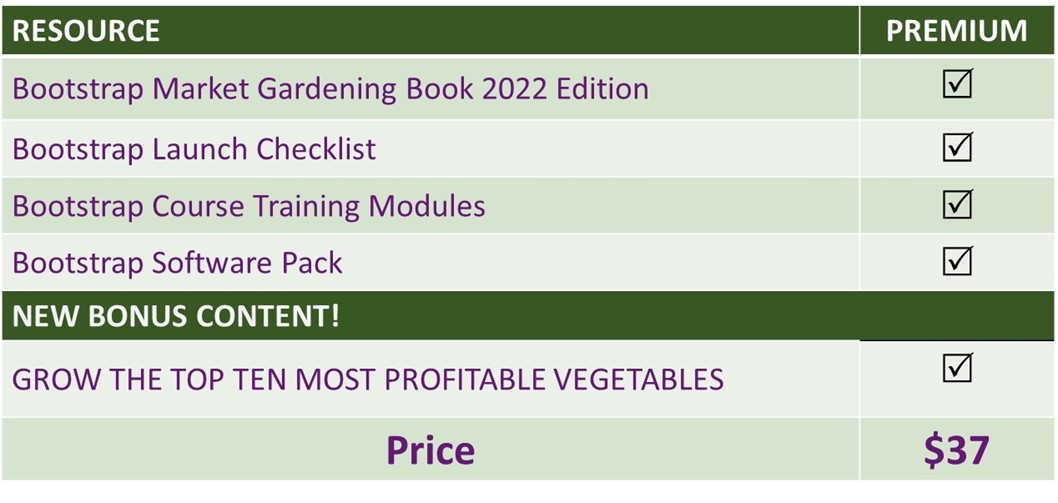 Ready to turn your green thumb into a green business?
Don't miss this chance to embark on a fulfilling journey that combines your passion for gardening with entrepreneurial success. Join the ranks of successful CSA market gardeners who have created thriving businesses and vibrant communities.

Are you willing to invest $37 to learn how to start-up, market and manage a successful market garden business? That's about what you would pay for a shovel at the farm store these days. And I guarantee you will 'dig' my book more!

Claim your copy of 'Bootstrap Market Gardening ' today and receive exclusive access to bonus materials, including planting schedules, marketing templates, and custom-built software.

When you buy my course securely using PayPal or your credit card, you will receive a download link, no waiting for a physical book to be shipped. 
The Premier of Ontario paid us $ 5,000 for valuable information, but you can get it for quite a bit less.  
Click on 'Add to Cart' and get started planning your own successful and profitable market garden business.
Whether you're a complete beginner or an experienced gardener looking to take your skills to the next level, 'Bootstrap Market Gardening' is the ultimate guide to creating a successful and sustainable market garden business.
Don't wait any longer to transform your farming aspirations into a flourishing reality. Join the ranks of successful farmers who have harnessed the power of our proven strategies and time-tested techniques. Embrace the journey, seize the opportunity, and start cultivating your profitable CSA market garden today with 'Bootstrap Market Gardening'!

Remember, your love for gardening has the potential to blossom into a sustainable and profitable venture. Let me guide you every step of the way. Order now risk-free and reap the rewards of your very own flourishing CSA market garden!

OR,  MAYBE YOU WANT AN EVEN BETTER DEAL?