Community Supported Agriculture benefits consumers and farmers
Community Supported Agriculture might be defined as a partnership between farmers and consumers.
The U.S. government farming organization ATTRA (Appropriate Technology Transfer for Rural Areas) has this definition of a CSA on their website:


"Members or shareholders of the farm or garden pledge in advance to cover the anticipated costs of the farm operation and farmer's salary. In return, they receive shares in the farm's bounty throughout the growing season, as well as satisfaction gained from reconnecting to the land.

Members also share in risks, including poor harvest due to unfavourable weather or pests."
It might be easier to say, 'customers subscribe to a farm, paying to receive a share of vegetables each week throughout the growing season'.

However you define it, the key point is that a group of people in the community pay a farmer to grow vegetables for them. And in many cases they pay in advance for the season.
Community Supported Agriculture is a powerful model, letting the farmer use that advance payment to 'bootstrap' farm operations (hey, that sounds familiar!) Yes, award-winning New Terra Farm is based the CSA model.

The farmer receives other advantages with a CSA:
Customers are 'locked in' for the season - once they sign up with a CSA, no other marketing is required;
This 'captive market' may also buy other products that the farmer can provide
No price competition - it doesn't matter what a neighbouring gardener is selling her produce for - your produce is already sold (in advance!)
There are benefits for the consumer as well:
The consumer is assured of a supply of fresh natural veggies, from a known source
The consumer connects back to the real source of food, i.e. the land
The consumer receives the satisfaction of supporting a local sustainable business
So buying from a CSA program is a great way to get good food and support local business. And if you have ever thought about turning your love of gardening into a business, we highly recommend you consider the Community Supported Agriculture model.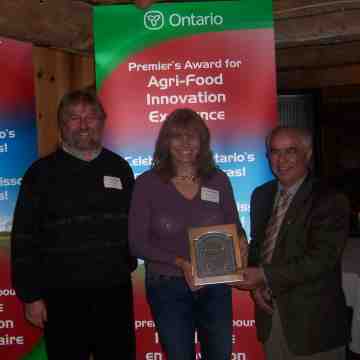 Our CSA model won us the Premier's Award
More about Community Supported Agriculture
It's no secret that I think that Community Supported Agriculture (CSA) is a great model for farmers and communities, so here are 7 CSA success secrets to help make your CSA a winner. CSA success secrets

What does it take to start your own CSA market garden? I put together this Get-Started Checklist to give you an idea to the timing and the tasks if you want to start growing for market with your own CSA. Get your Growing for Market Get-Started Checklist
The current economic situation has made it difficult for even experienced workers to find a job. It's even tougher for youth and students. Why not create your own non-job by starting a Student CSA.
Here are some of the frequently asked questions about CSA (Community Supported Agriculture).
Let's suppose you have a small property(even a big back yard)and you could use some additional part-time income. Creating a small CSA could make you big money.

A multi-farm CSA unites several growers to feed a common community. Is this the way of the future for small farms and small communities?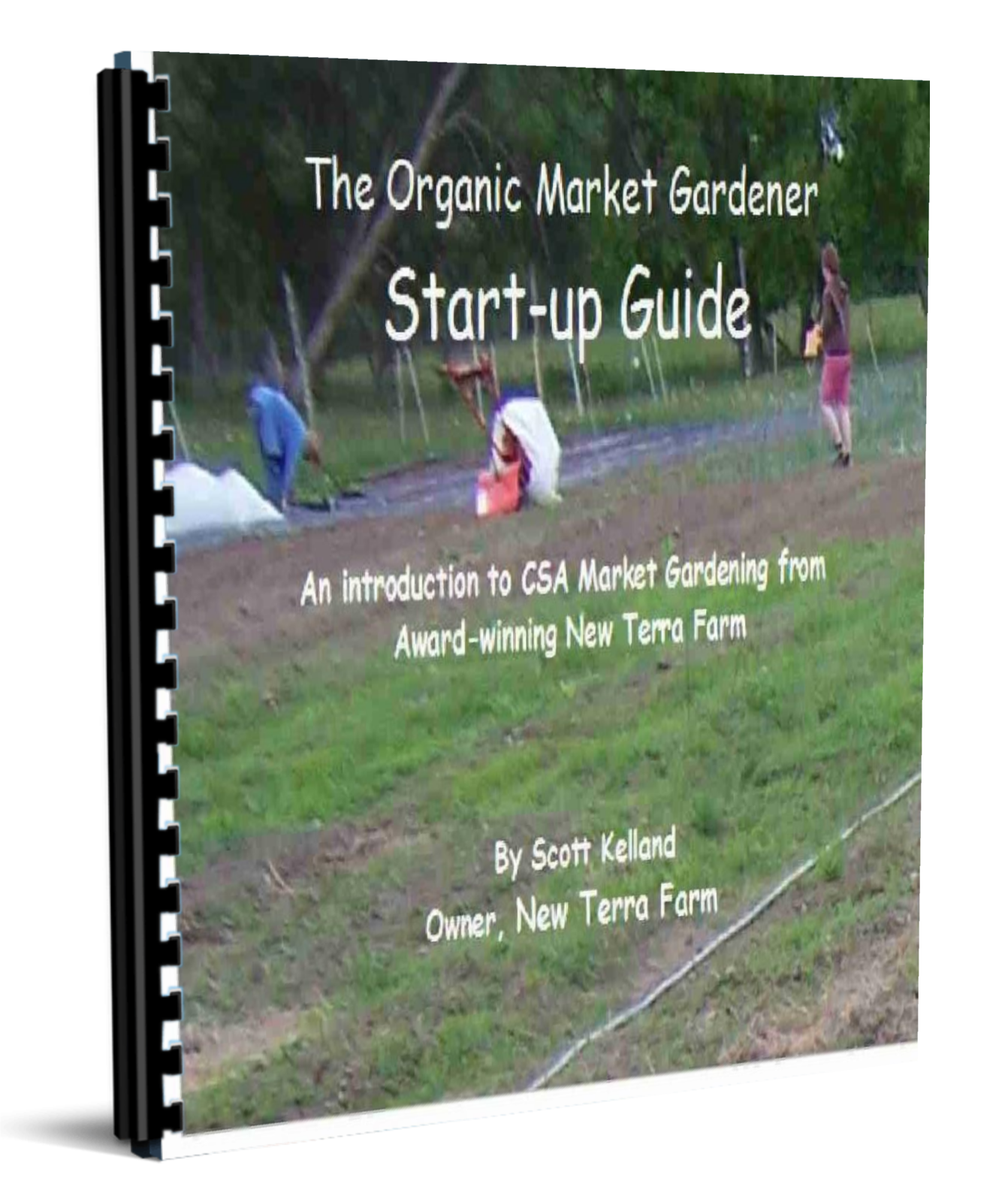 New for 2020: Imagine building a profitable and sustainable CSA market garden  even on a small property.

Enter your email address and your free Organic Market Gardening Start-up Guide will be sent to you right away. 

Best Value Book Bundles from New Terra Farm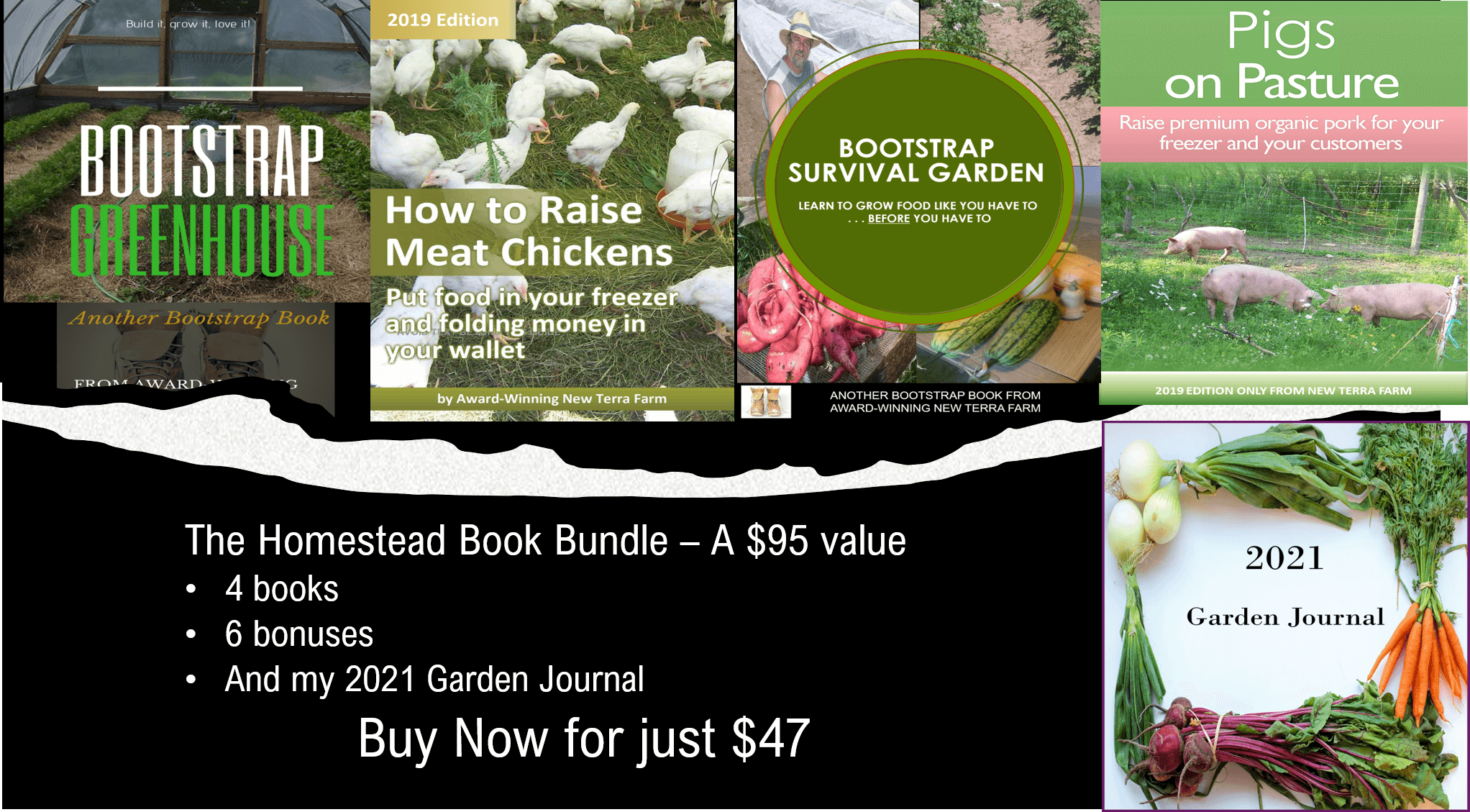 Especially for the new or soon to be homesteader
If you have just moved to your small property, or plan to, my Homestead Book Bundle might be just what you need.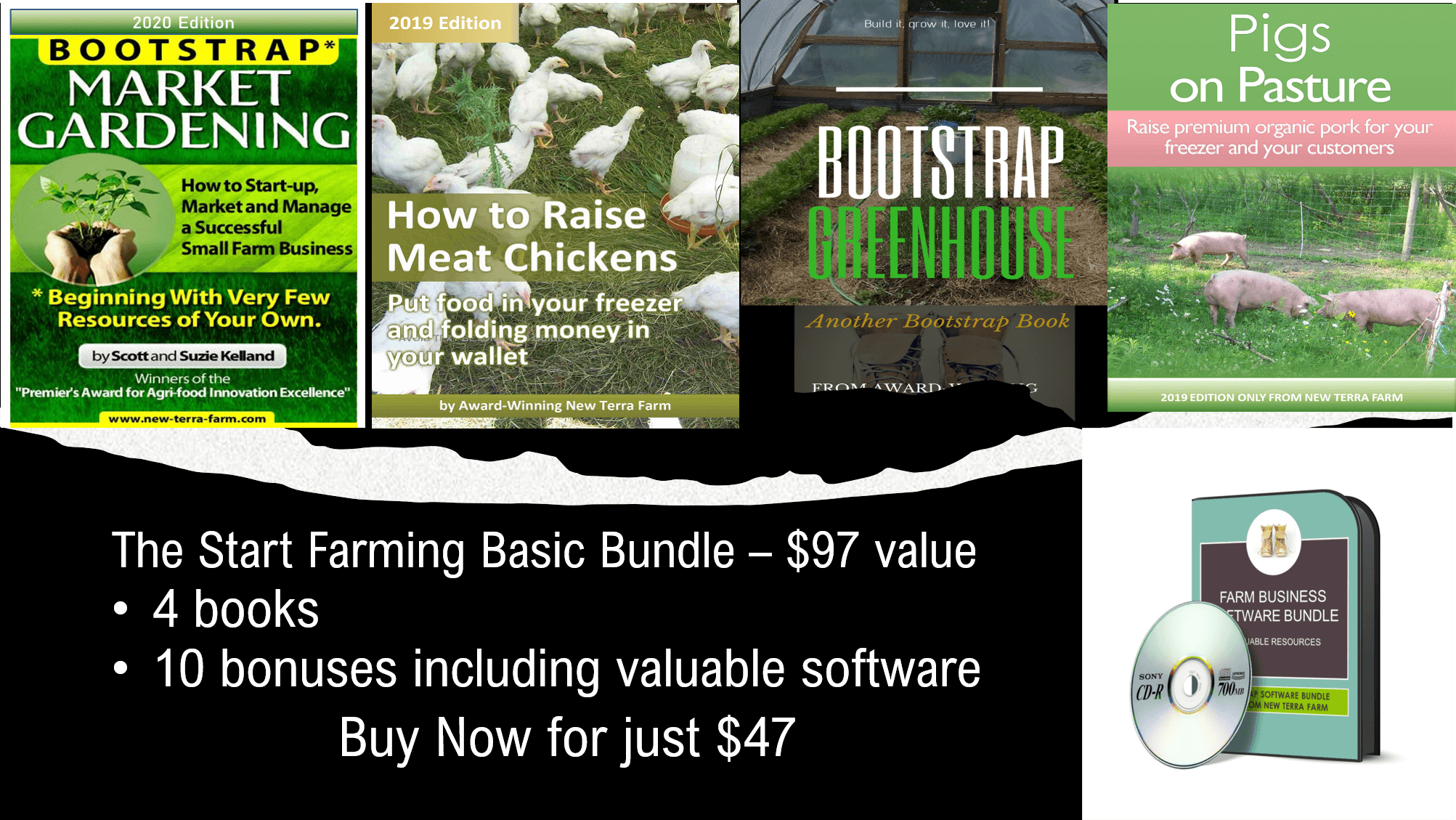 For the new farmer or market gardener...
Best Value Start Farming Book Bundle, only from New Terra Farm
---
Community Supported Agriculture