Would you be interested resources that can show you how to build a business, grow great food, and feed yourself and your hungry customers?

Bootstrap* Books: Straightforward Solutions to Supplement Your Income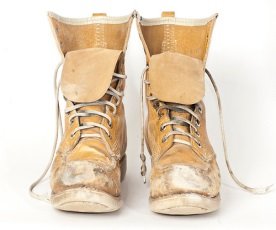 *Bootstrap:  "To promote and develop by use of one's own initiative and work".
I put this page and this deal together specifically for the 'country dweller' who just wants to grow some healthy and nutritious food for themselves and their families. Each of my books will show you how to do that, using the tools and techniques we have developed over 20 years here at New Terra Farm.
In 2007 New Terra Farm won the Premier's Award for our small farm marketing and management model.

Through experimentation and experience (and a few mistakes) we had built an example that anyone could follow to create successful small farm systems .
So we decided to write the books that we wished we had when we started.

Since then, it's been our mission to offer practical gardening and farming training to homesteaders, novice market gardeners, 'wanna-be' farmers and people who are just looking to get some real food security by growing it for themselves. 
One of my favorite authors coined the line 'I don't do advice, I do autobiography'. I like that a lot, so I don't write about anything I don't have personal experience with. That's your assurance that my books are:
1. "real-world" practical, and
2. duplicatable by anyone (with the will to do so)
This page shows four things we 'wanted to get done' over the years. Spend a couple minutes here, you just might find an answer to something you need done.
If you read to the bottom of the page, there's also a special deal for you overachievers that want to get a LOT of things done.
1. I Just Want to Raise a Few Chickens...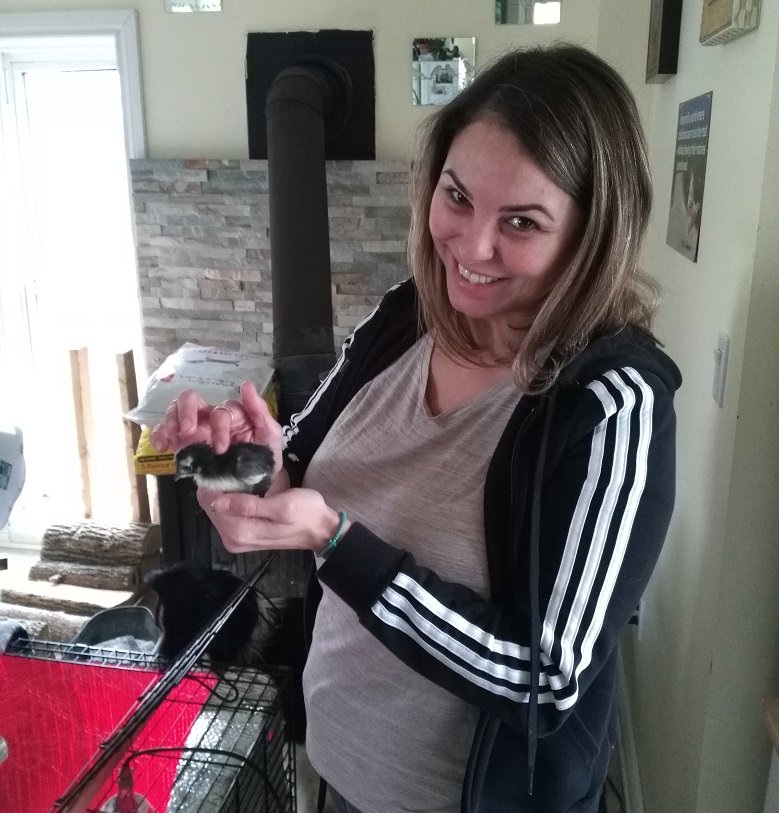 My daughter, in the kitchen, with a chicken. Don't ask.
Bootstrap Birdies!  It's not hard to find information about raising some meat chickens on your small property. The challenge is sorting through the 'information overload' and putting together a system that will reliably grow some birdies for your freezer, with maybe some for sale as well.
We went through that learning curve, and I regret to say we lost a lot of birds before we figured things out. We tried raising meat chickens in a coop we inherited with our property, we tried chicken tractors, we tried raising them in a pen in our big barn. We lost too many birds and the ones that survived did poorly. Counting losses, our chicken probably cost us $10/lb.
Then we hit on the day range model to raise meat birds, and our losses dropped to practically zero. We have filled our freezers ever since.  We also raised some batches for friends and family. We sold as many as we cared to each year, always making enough that our own chicken dinners were free.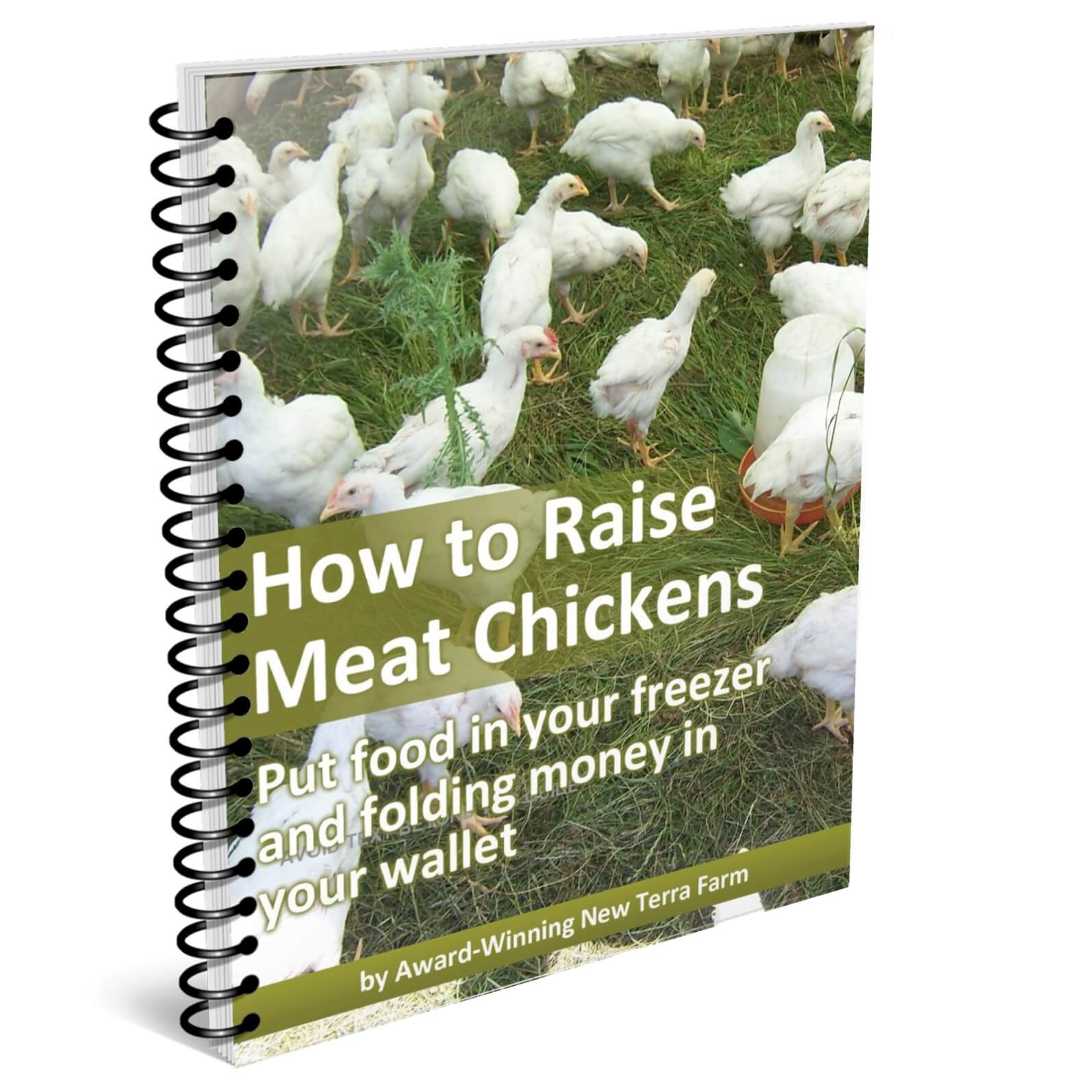 Get the plans for my hoop coop too! $13.50
If you want to raise a few meat birds for yourself, with a good chance of success and without going though our painful learning curve, check out our practical approach to raising meat chickens here.

---
2. I just want to have my own bacon and ham...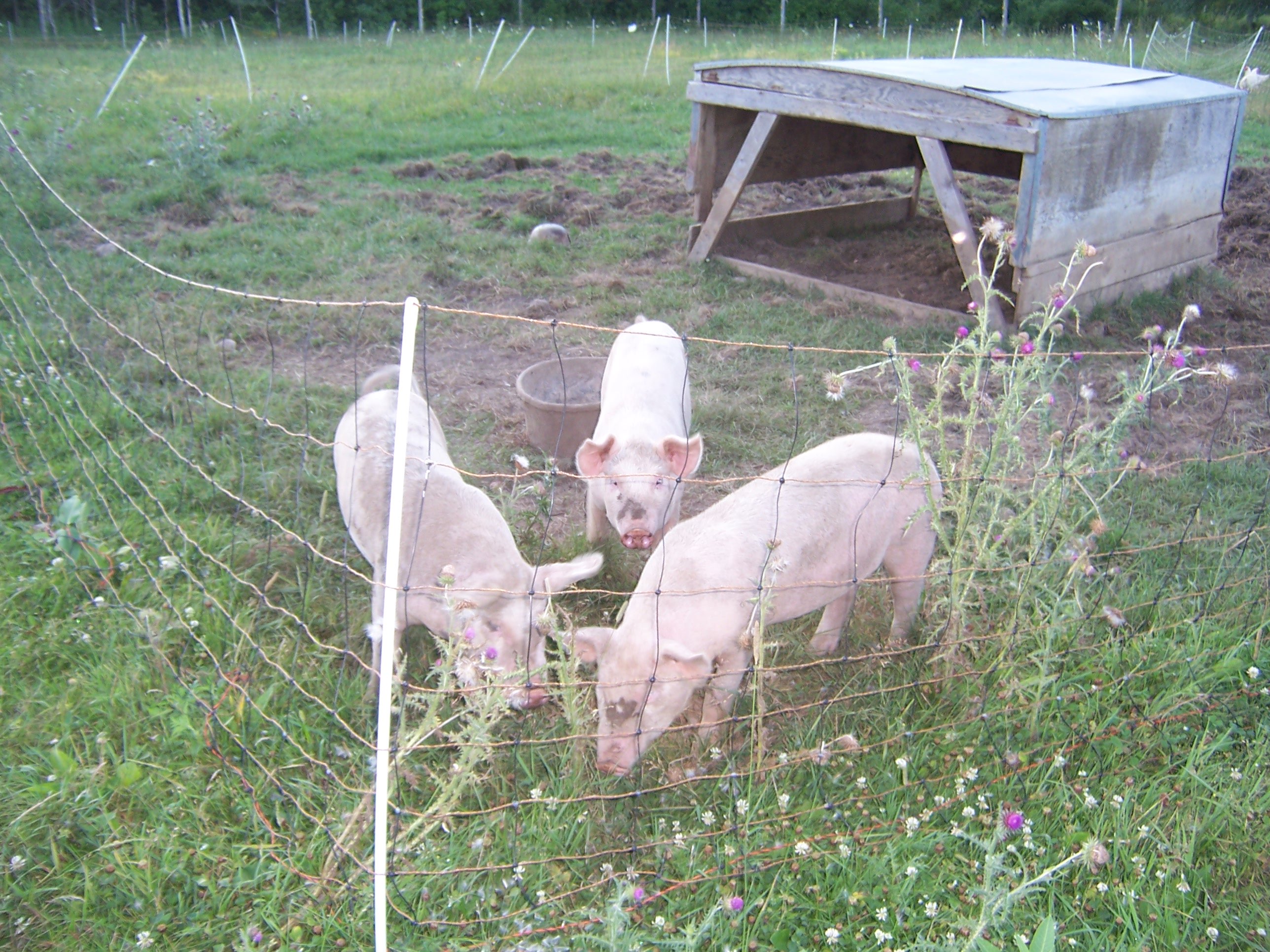 See my fancy 'pigloo'? Costs 2 bucks. Pigs don't care.
It's a lot less common to find good information about raising pastured pork on a small scale. Pigs are harder to handle, and if they get loose they can do some damage. We figured out how to get weaner pigs up to market weight and off to the abattoir mostly by trial and error. The same was true when making up a proper cutting order for the butcher, and figuring out our costs so we could sell some pork to pay for our own.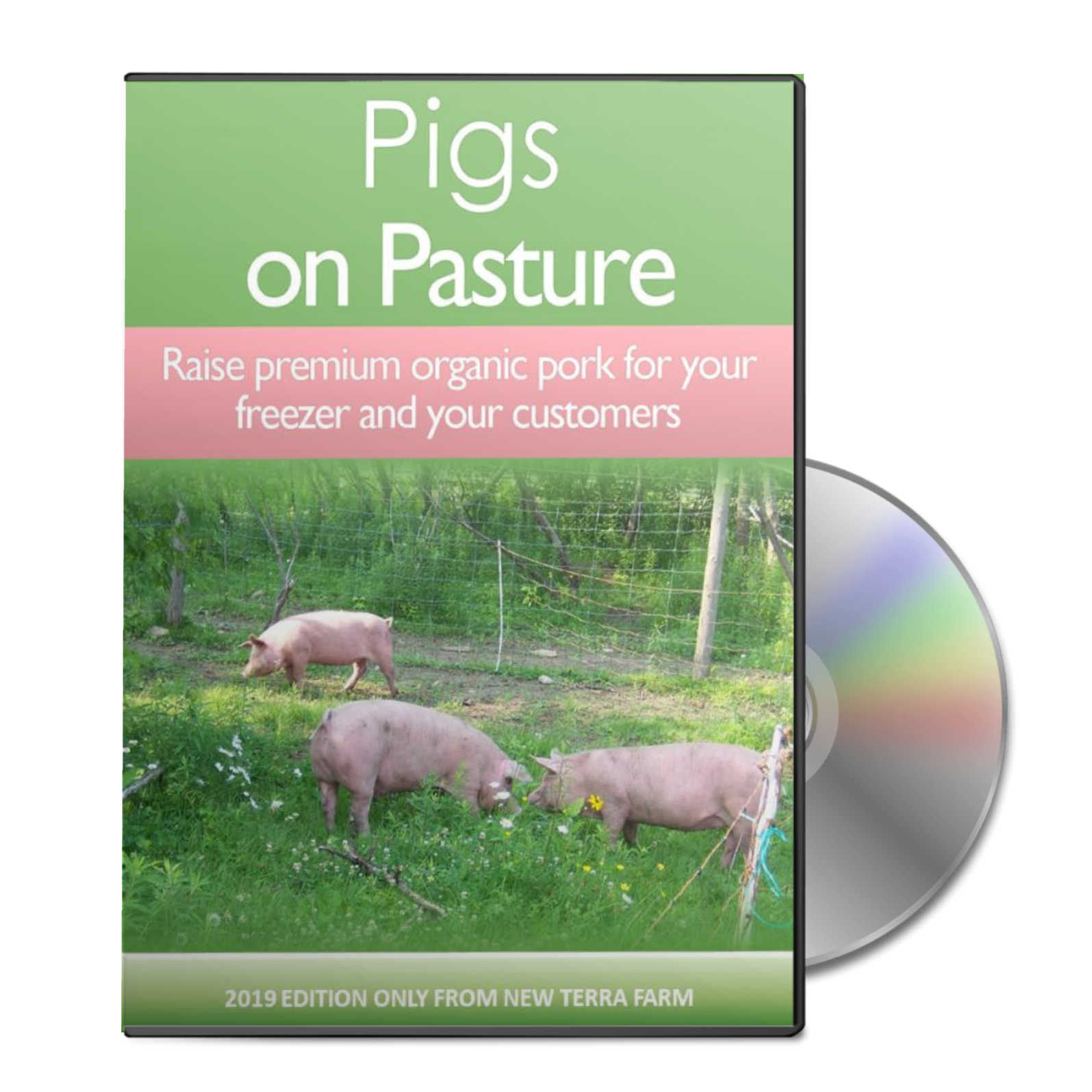 Porkulator' spreadsheet included.$13.50
We put all that together in our Pigs on Pasture book. If you want to raise your own chops, roasts and bacon, this book will show you a good way to make it happen. When you get that book I also give you my 'Porkulator' spreadsheet that we now use to figure out costs and profits for our piggies. 

---
3. I just want a garden that can grow a LOT of food...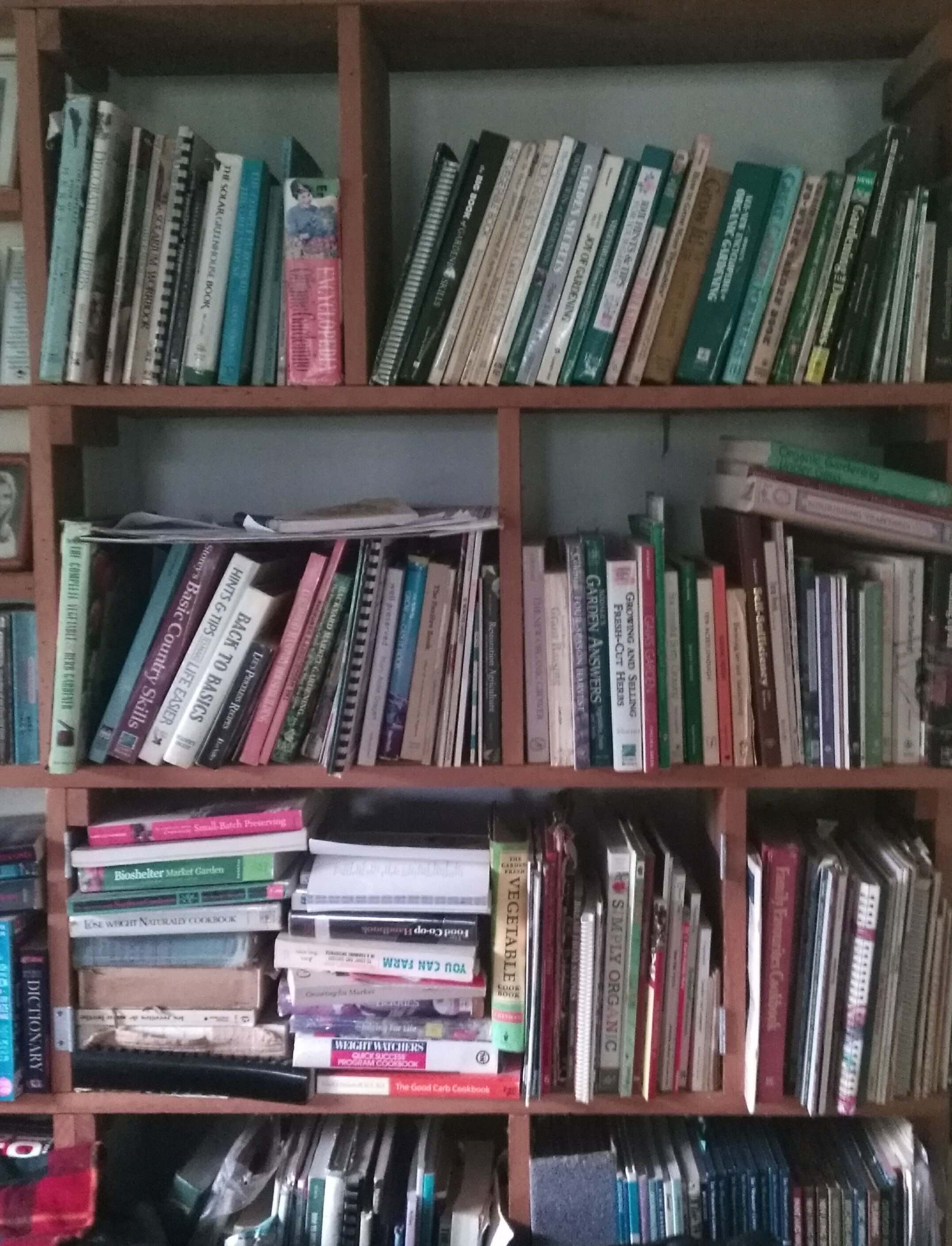 Part of my farming and gardening book collection
I've got about 150 gardening and farming books. I started my collection long before we moved to our farm. I've had a garden everywhere we lived that had a small bit of land I could use. After we moved to New Terra Farm, I got serious about the gardening game. So serious that we eventually started a successful market garden (you can read about that here).
We've downsized the market garden a bit, but I still grow a lot of our food for fresh eating and storage. We have a cold room and 5 freezers. Every year I also can a lot of garden produce. That's a necessity because the eating season is a lot longer than the growing season around here.
Based on this experience I've put together a step-by-step guide to growing a Survival Garden that can provide a significant portion of your calories. I've distilled my library of resources and more than 20 years of growing experience into this book.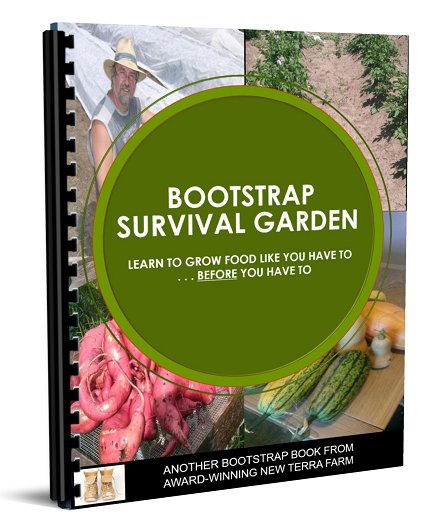 Growing, storing, and replanting to secure your food supply. $16.50
If you are at all concerned about the news of the world these days, you might be interested in getting my Bootstrap Survival Garden book and growing yourself a little insurance.

---
4. I just want a simple, sturdy greenhouse
Like I mentioned before, I can GROW food about 5 months of the year, but I kinda like to EAT all 12 months. It's a habit. Food storage is great and we make a lot of use of our cold room and our freezers, but we also s-t-re-t-c-h the growing season a bit using our home-built greenhouses.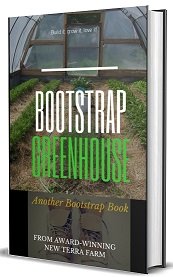 Get plans for the 3 styles of greenhouse I actually built and still use. $16.50
This is where my library came in handy again. I searched through and adapted some designs so that just about anyone can build their own Bootstrap Greenhouse, for a lot less time and money than you might think. I've used these greenhouses for more than 10 years now, they have proved their value.
---
Here's that special deal...
Or maybe you have a couple things you want to get started on. The Bootstrap Book Bundle might be for you...


If you dd up the individual value of the books above they total $60. If you want to take advantage of the best deal I offer on this site, get all 4 of my Bootstrap Books for just $37 . Here's what's in this package deal:
1. How to Raise Meat Chickens + Bonus Book: How to Build my Two Movable Coops
2. Bootstrap Greenhouse with plans to build my 3 greenhouse designs + Bonus: Greenhouse planting and resource guide
3. Bootstrap Survival Garden + Bonus: Survival Garden Plan book
4. Pigs on Pasture + Bonus: my Porkulator software to help you figure out costs and profits
Get all these books and bonuses  for just $37 (you save over 35%).
The New Terra Farm "

Risk-Free

Guarantee"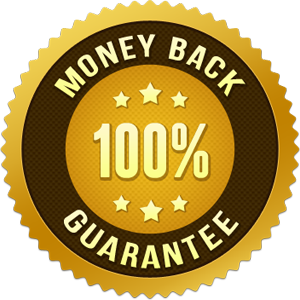 All my books and course are backed by a full 12-month guarantee. if you feel my books did not deliver valuable information, you can return them at any time in the next 12 months for a full refund, no questions asked. Just send me an email and I'll send you your money.

---
p.s. more than two thousand people have bought my books and courses over the last few years. In all that time, one person requested a refund, which I promptly issued. 
Try the book of your choice (or ALL of them) at no risk. When you click on 'Add to Cart' and checkout using your PayPal account or your credit card, you will receive a download link to get your books right away. It's a good time to start planning your next growing season.
Scott Kelland
New Terra Farm
scott<at>new-terra-natural-food.com. Just replace <at> with @ to email me.