If you're not a 'born farmer' how do you figure this farming gig out?
Well, you could learn from my mistakes experience!
Our 'Book Bundles' are PACKED with practical real-world farming and gardening methods, examples and techniques that Suzie and I figured out the hard way.
There's a saying: 'Good judgement comes from experience; Experience comes from bad judgement'!
In 2007 New Terra Farm won the Premier's Award for our small farm marketing and management model. Through experimentation and experience (and a few mistakes) we had built an example that anyone could follow to create a successful small farm business.
So we decided to write the books that we wished we had when we started.

Since then, it's been our mission to offer practical gardening and farming training to homesteaders, novice market gardeners, 'wanna-be' farmers and people who are just looking to create a real garden to get real food security.
Over the years, thousands of people have used our books and courses to help put their garden and farm enterprises on a practical footing.
I don't write about anything we don't have personal experience with. That's your assurance that our books are real-world tested.
All the individual books and training programs offered by New Terra Farm are on this page. And I've combined them in our Best Value Book Bundles. 

It's a pretty long page, but if you take a couple minutes to read it, you might save some money.

If you are in a hurry, use these link to jump to the bundles:
1. The Homesteader Bundle for those wanting to create more food security for themselves and their families;
2. The Start Farming Bundle for those wanting to create multiple streams of income on their small properties;

3. Or jump to the bottom of the page to see the Ultimate Book Bundle

Reminder: Suzie and I were not 'born farmers'. When we started New Terra Farm we were both in our forties, with a background in business management and computers.
But that's good news for you. If a couple of 'newbies' could make a small mixed organic farm work, I think just about anybody (with the will to do so) can.
Read on to see if this information is what you need to take your garden or farm plans to the next level.
1. Save Over 50% With the Homesteader Book Bundle

The tools and skills you need to survive on your homestead today may have changed, but the goal is still the same: be as self-sufficient as you can on your own small property.
And while many 'old-fashioned' methods of gardening, animal husbandry, and home-scale construction are still valid, there are new appropriate technologies that can be applied to make the job easier.

There will always be sufficient work to do on your homestead without making it harder by refusing to use technology when it makes sense. I am a big believer in taking advantage of the technologies while we have them, and at the same time planning for how I would do without them if necessary.
I've put together the books I believe any homesteader should have to become more self-sufficient and solve problems on their small property.
There are 11 separate valuable information resources in the Best Value Bundle for homesteaders. See Below: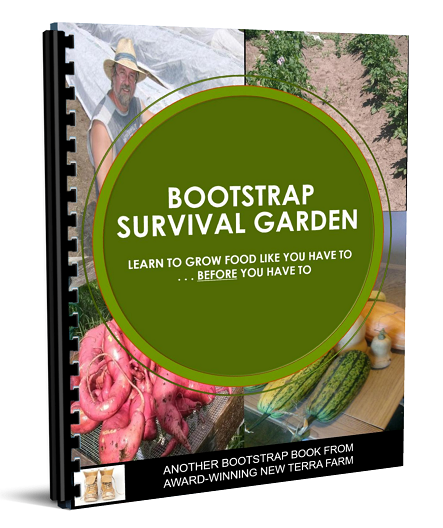 Sells separately for $17
Job #1 is to feed yourself and your family. If you are able to grow a significant portion of your own food, you are that much more likely to survive and thrive in any situation.
Bootstrap Survival Garden is packed full of the practical gardening knowledge we've acquired over 20 years at New Terra farm.
No fluff, just nearly 150 pages of 'in-the-dirt' instruction, pictures, and techniques that the pro's use to grow a super-productive garden year after year.
And includes my Bonus Book 'Bootstrap Survival Garden Plans'. 10 garden layouts in different sizes to accommodate your space and your preferences.
They include crop choices, bed layout and suggestions for crop rotation to maintain soil fertility and keep the harvest coming year after year.
This is farm-tested, real-world practical information that you can take and start planning your next season's Survival Garden right away.
---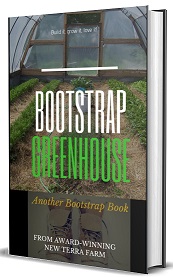 Sells separately for $20
If you are VERY serious about growing good food for yourself and your family, there is no better investment than your own greenhouse.
We have built and currently use three different styles of greenhouses. This book includes plans, pictures, and instructions for all three. I guarantee you can find a place for one (or more) of them at your homestead (or even a big back yard). The smallest one - my Cattle Panel Palace - is just 8 x 12 and can be built in one morning at a cost of $200.
Includes Bonus Books Greenhouse Planting Schedule and Resource Report.
---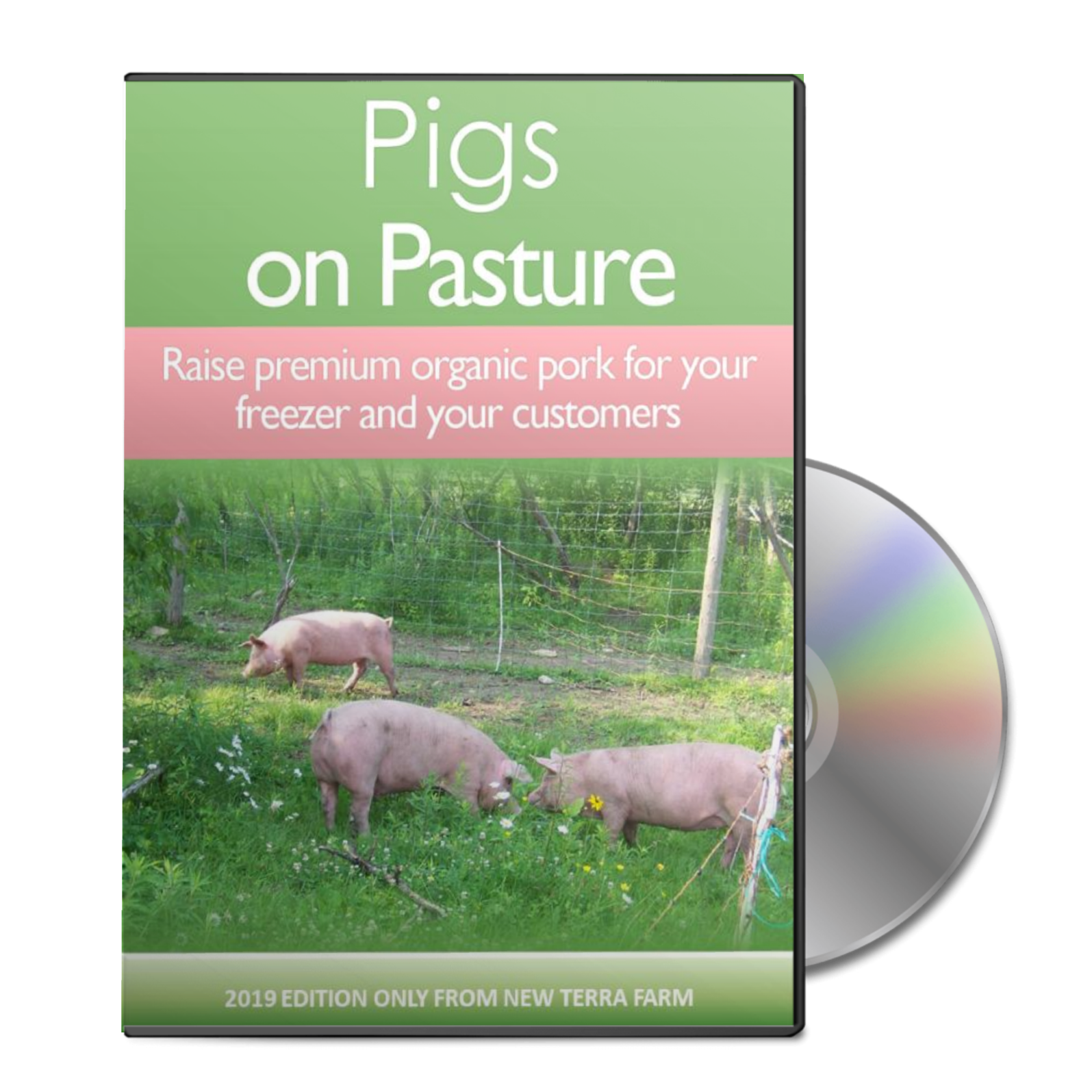 Sells separately for $15
Bootstrap Bacon! At New Terra Farm we have been raising piggies following the methods in this book for more than 10 years. We have raised tons of premium pork for our freezer and our farm customers.

We use our piggies to renovate pasture, prepare land for planting, and for fall cleanup in our garden. Pigs are multi-purpose small homestead livestock, once you have a system to handle them.
Get Pigs on Pasture as part of the Homesteader Bundle and get my Bonus 'Porkulator' software a well.
I built the Porkulator spreadsheet to help me figure out costs and prices for my premium pastured pork. Get it with this bundle and save.

---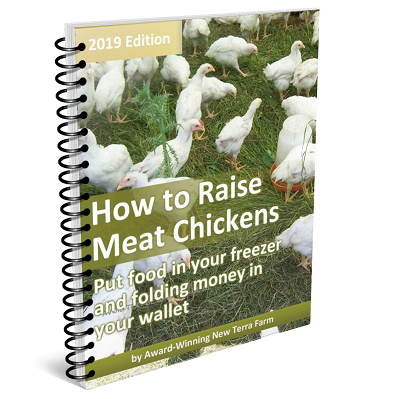 Sells separately for $15
If you have a small property and would like it to work for you chickens are the ideal 'starter' livestock.
This book will show you the secrets of raising meat chickens humanely, organically, and sustainably.
If you want to put some food in your freezer (and maybe some money in your wallet) this book will show you how.
Two Bonus Chicken Coop Plan Books included to help you get started right away raising your own pastured poultry flock.
---
Sells separately for $9
I've kept a garden journal since 1997. There is no better way to keep track of plans, expenses and 'lessons learned' in your garden.
I'm able to write my various farming and gardening books because of two things - keeping a journal and taking LOTS of photos.
This is a PRINTABLE journal (pdf format) with specific pages to record garden plans, important tasks, plants started and harvested, garden expenses, and YOUR lessons learned to make your next garden even better. It's based on the best parts of the many garden journals I've kept over the years. And you can PRINT a many of each page as you need.

Get Them ALL In The Homesteader Book Bundle and Save Over 50%

---
Start A Farm Business- OR THREE - With This Bundle and Save 55%

If you have a small property and have ever wanted to create an income stream from it, this bundle is for you.
We won our Premier's Award because we created a small farm planning, marketing and management model that just about anyone (with the will to put the work in) can follow to create a successful, sustainable business on their small property.
There are 14 separate valuable information resources in the Start Farming Basic Bundle.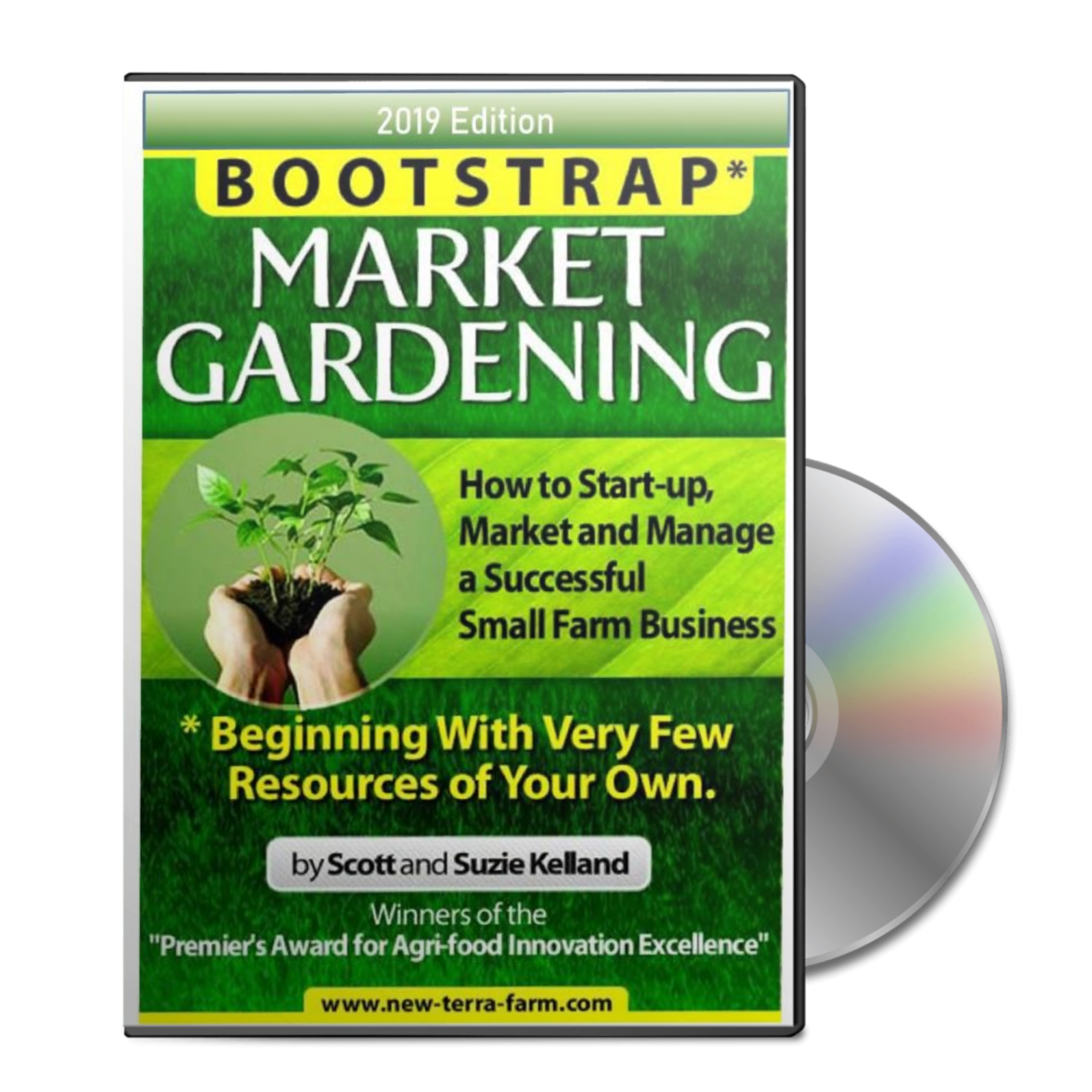 Latest Edition includes new Garden Planner software
Bootstrap Market Gardening is the book that started it all! This was the first book we wrote that explained how to start-up, market and manage a small organic market garden based on CSA principles. Now comes with TWO Bonus Software packages. Sells separately for $20.


---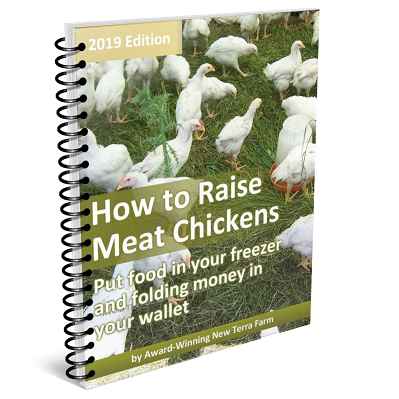 Latest Edition now with TWO bonus Books
How to Raise Meat Chickens was the next book we wrote, to show new farmers a simple and inexpensive way to raise organic pastured poultry. This pack also includes plan for the New Terra Farm Movable Coop (we've built a few of these, they are cheap and simple to make).
And for 2020 we've added the New Terra Farm Hoop Coop bonus book .
These three valuable resources sell separately for $15.

---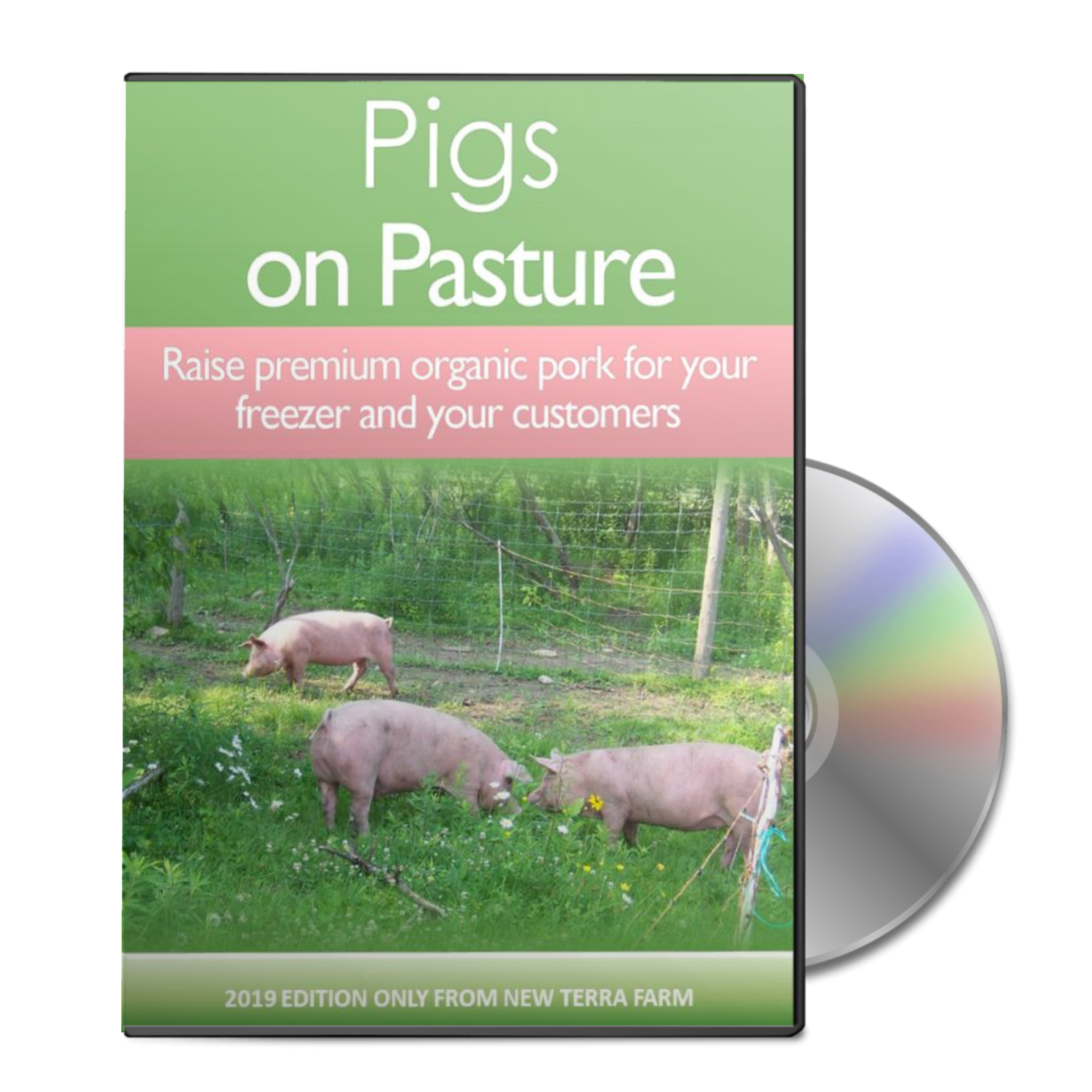 Latest edition of Pigs on Pasture now includes the Porkulator software
Raising pigs on pasture is a great sideline business for a small farm. we use our piggies to prepare ground for planting and to clean up the garden in the fall. And our customers love our premium pastured pork.
AND, get the Porkulator software I wrote to help me figure out costs and profits for my pastured piggies. Book and spreadsheet sell separately for $15 only from New Terra Farm.

---

Build your own Bootstrap Greenhouse. Get the details on building the three styles of greenhouses we constructed and use at New Terra Farm.
Includes bonus Greenhouse Planting Schedule and Resource Report.

The Bootstrap Greenhouse Pack sell separately for $20.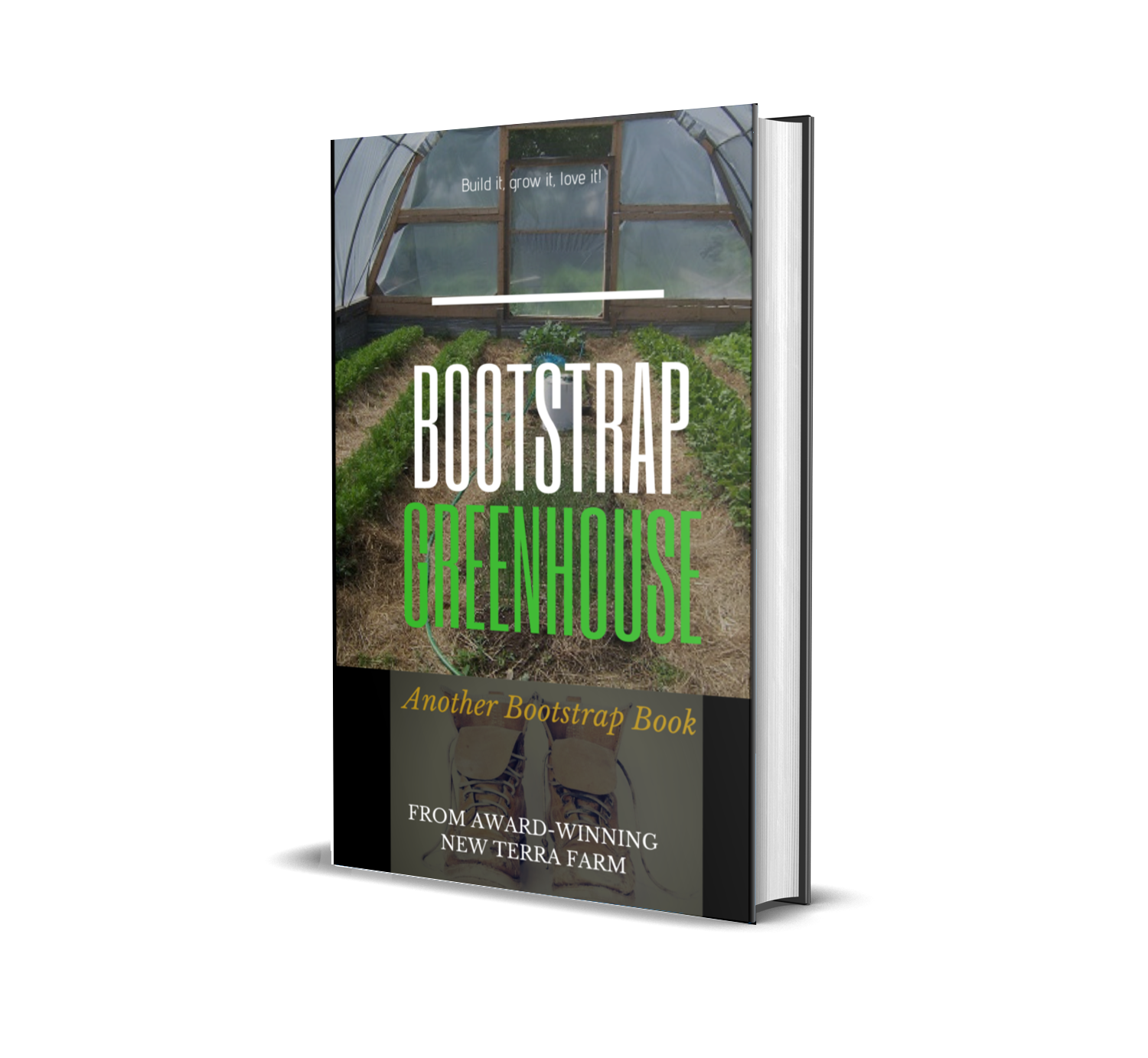 Three greenhouse designs only from New Terra Farm
---
Get them ALL in The Start Farming Basic Bundle
NOW get ALL the New Terra Farm books shown above and save even more.
The Start Farming Basic Bundle includes:
Bootstrap Market Gardening and 2 Bonus spreadsheets


How to Raise Meat Chickens and TWO Bonus Coop Plans

Pigs on Pasture AND bonus Porkulator Software

Bootstrap Greenhouse with plans for my 3 greenhouses, the Greenhouse Planting Schedule, and the Resource Report

AND, I'll include two additional software bonuses as found in my Farm Software Bundle.
That brings the total to 14 valuable information resources, only from New Terra farm.

The items in this special package would sell separately for $85, but with this deal you get the whole bundle for just $37. That's a savings of more than 55%.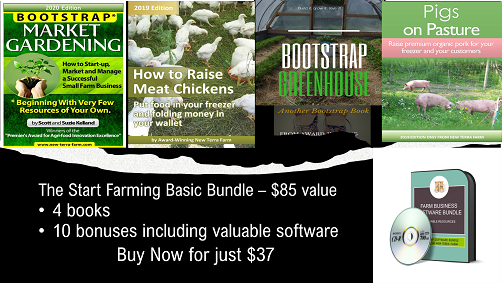 The Start Farming Basic Bundle only from New Terra Farm
---
3. Or

UPGRADE

to the ULTIMATE Book Bundle

This is the whole shootin' match!
Get ALL the books, bonuses and software above in both bundles,
PLUS my unique Bootstrap Boot Camp Success Plan for small farmers and market gardeners

Here's what you get in the Success Plan Home Study Course: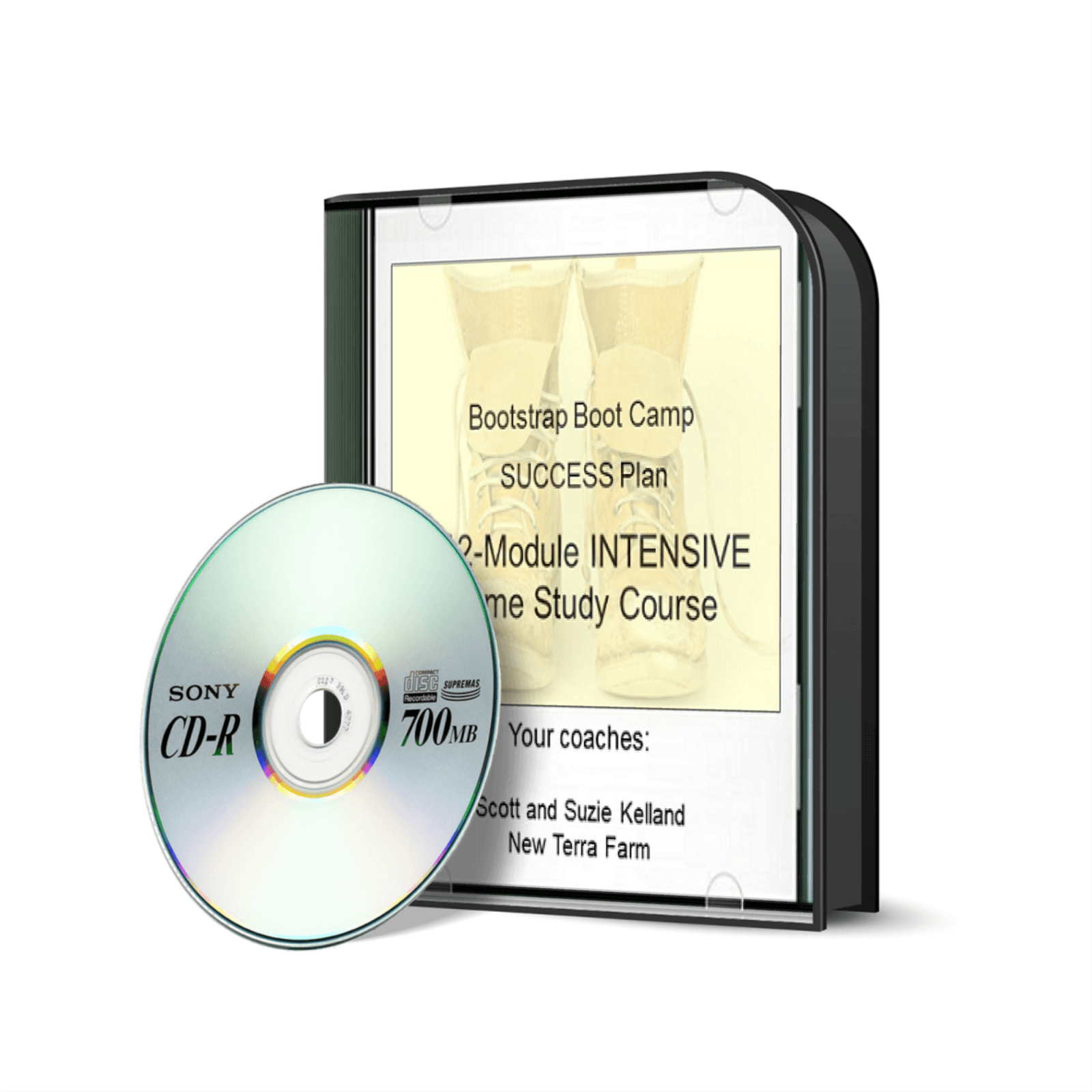 Sells Separately for $47 only from New Terra Farm
12 written course modules, teaching you how to plan, start-up, market and sustain a successful small farm business;
12 worksheets, including questions and 'homework' for you to complete;
5 custom-designed farm planning and calculating spreadsheets

, to help you figure out pricing, income and expenses, and to plan garden production.
Extensive examples of marketing, finance and production from 20 years of operating New Terra Farm
The Bootstrap Boot Camp Business Plan Guide and Workbook

, which pulls together all the information from the course and lets you build a practical plan to guide your operations, or seek financing.
All in all more than 150 pages of targeted guidance and instruction, representing decades of experience and hundreds of hours of writing and research.
This is a great course and I'm very proud that it has helped many new growers and entrepreneurs  build and improve their 'growing' enterprises.
You can check out and get just the Success Plan Course here.
But if you want to take advantage of my ULTIMATE book bundle, check out what I'm offering below.

Get EVERYTHING in the Best Bundle I've Ever Offered

Lets add it all up:
1. The 14 books and bonuses in the Start Farming Basic Bundle sell separately for $85;
2. My 12-module Bootstrap Boot Camp Success Plan Home Study Course (that a bunch of farmers paid me $297 each  for) sells separately for $47.
3. My new Bootstrap Survival Garden Book sells separately for $17
4. And my 2021 Garden Journal sells for $9
That brings the total value of ALL the books, bonuses and valuable software to $158!

But you can get them ALL - in the COMPLETE New Terra Farm Ultimate Book Bundle - for just $77.
That is a savings of more than 50% over the individual cost of these valuable resources.
And it's only available right here, from New Terra farm.

---
Important Note: We can ONLY offer these deals because we deliver our practical farming books to you electronically, via instant secure download. No waiting for a physical book to be shipped.
Try Any Or All Of My Books Completely
Risk-Free!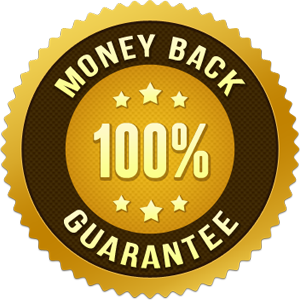 And as always, all my books and course are backed by a full 12-month guarantee. if you feel my books did not deliver valuable information, you can return them at any time in the next 12 months for a full refund, no questions asked. Just send me an email and I'll send you your money.

---
NEW! MAKE A LITTLE SIDE CASH IN 2021 BY PROMOTING NEW TERRA FARM BOOKS. CLICK HERE TO FIND OUT HOW.
---