Are you interested in sustainable and ethical farming practices? Do you want to learn how to raise happy and healthy pigs while also improving the environment around you? If so, then you need to read "Pigs on Pasture"!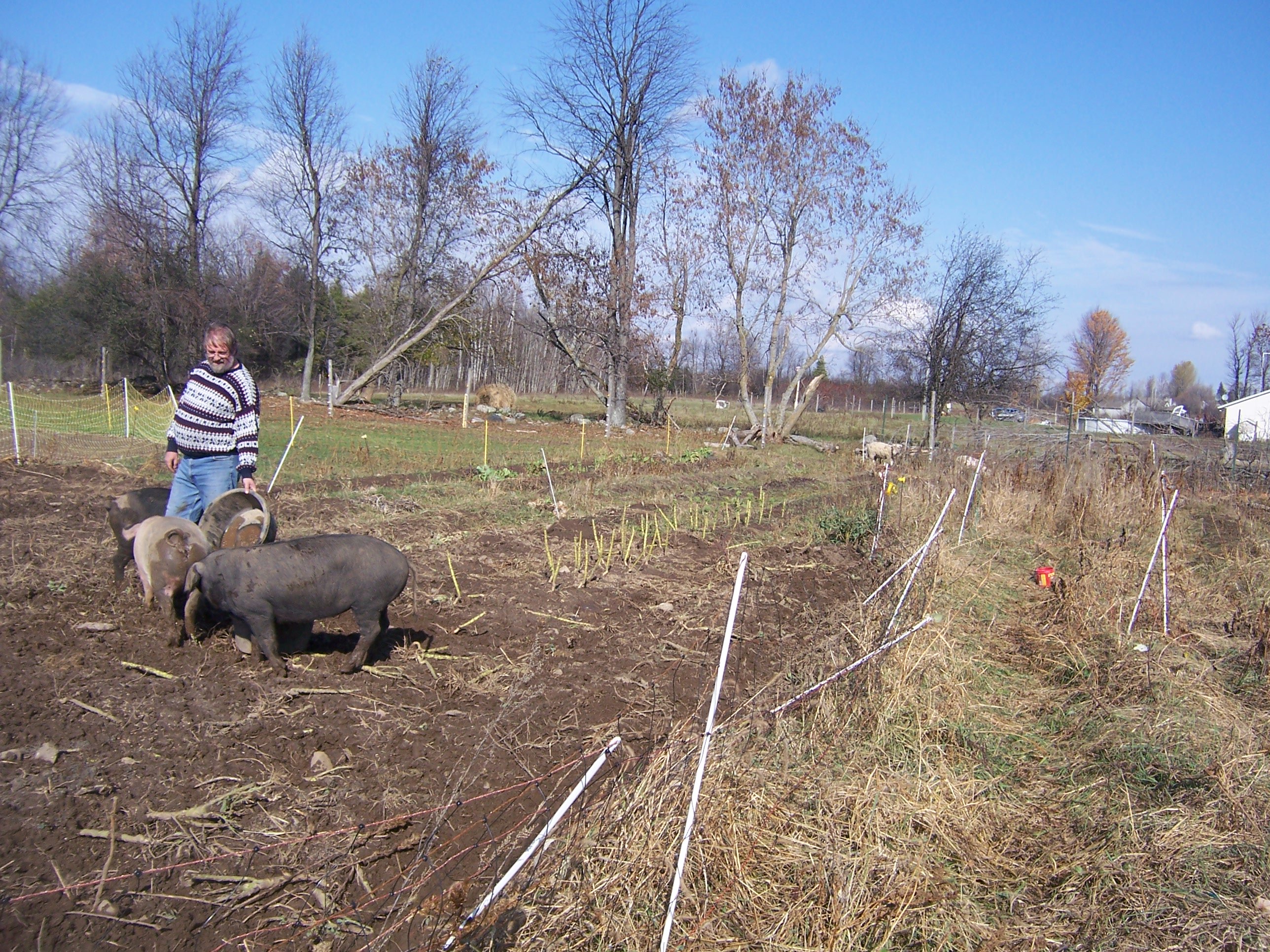 Our pigs help with garden cleanup
Raising pigs on pasture is a great business for the small land owner! With the right system, there is minimum overhead, low labor requirements, and no long-term commitment.

Raising weaner pigs on pasture to finish weight offers a great opportunity for a small farmer to diversify farm income without a huge investment in facilities or time.

At New Terra Farm we have been raising piggies this way for more than 15 years. We have raised tons of premium pork for our freezer and our farm customers.

We use our pigs to renovate pasture, prepare land for planting, and for fall cleanup in our market garden. Pigs are multi-purpose farm livestock, once you have a system to handle them.

The pork produced from pastured pigs is a premium product; we easily sell all we can raise to our CSA customers, at a price we set to guarantee a profit. Once people get a sample of what REAL pork tastes like, they will come back year after year.

Now get "Pigs on Pasture" from New Terra Farm
If you have as little as 1/6 of an acre, you can raise pigs on pasture the New Terra Farm way. Our system lets you produce healthy, organic, and delicious pork:
without a large investment in equipment

without a lot of time or expense

without polluting or damaging your land; in fact we use our pigs to improve our land!
We will show you step-by-step how to raise pigs on pasture to put meat in your freezer (and money in your wallet!) This is a great family business, too. The kids can help out with chores and even raise pastured pork as a summertime job to earn extra money. Our system is easy enough for kids to follow it successfully.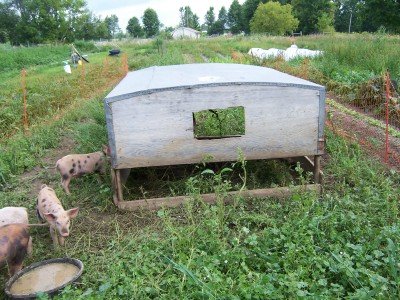 BEFORE: starting on fresh ground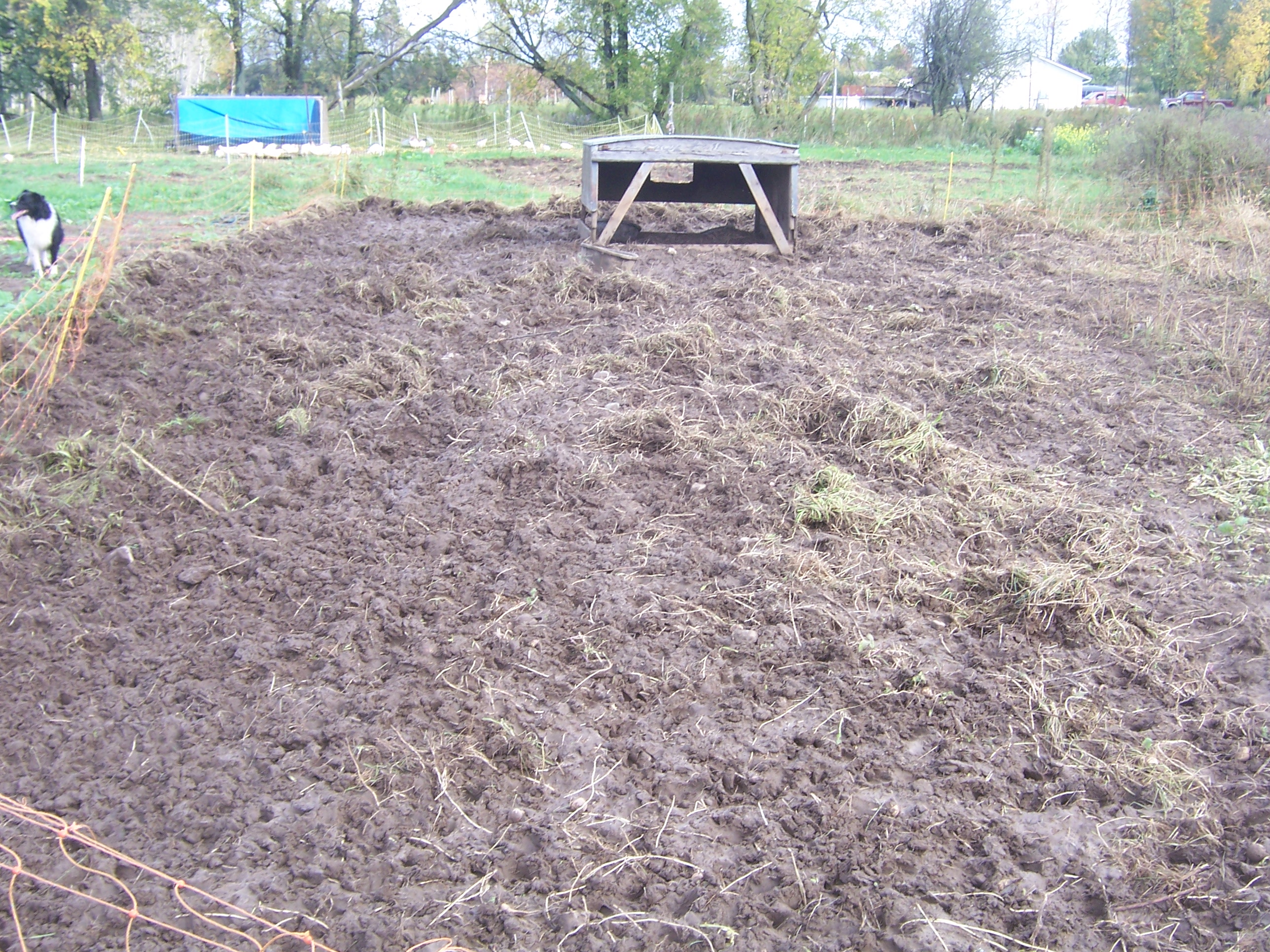 AFTER: pig-prepared planting ground
Not bragging (OK, maybe a little;-) but here's what people have said about my practical farming books and courses...

"Very clearly written and thorough" - Steve G.
"Fantastic reading, and it'll be really helpful when we start up our farm! - Katie W.

"Very well written. It seems that you have that gift of being able to transpose your thoughts onto paper with ease and simplicity" - Stephen W.

I read your meat chicken book and really wished I had it last year. It has already caused me to re-think and re-design next years plan. - Sherri, Dunville, ON
"Dan and I found your book inspirational and helpful. In fact, it took us from "hmmm ... this might be for us" to selling five garden shares 3 weeks later! We are 3 weeks or so from wrapping up year one and looking forward to year two and 25-30 shares! Thanks so much for your helpful programs that make planning our business almost and breeze. 
Dan and Jenn S.
Itty Bitty Acres
What do you get in "Pigs on Pasture"?
We put in everything we have learned in 14 years on raising pigs on pasture here at New Terra Farm. The result is a simple but comprehensive system to market and manage your pastured pigs, sustainably and profitably.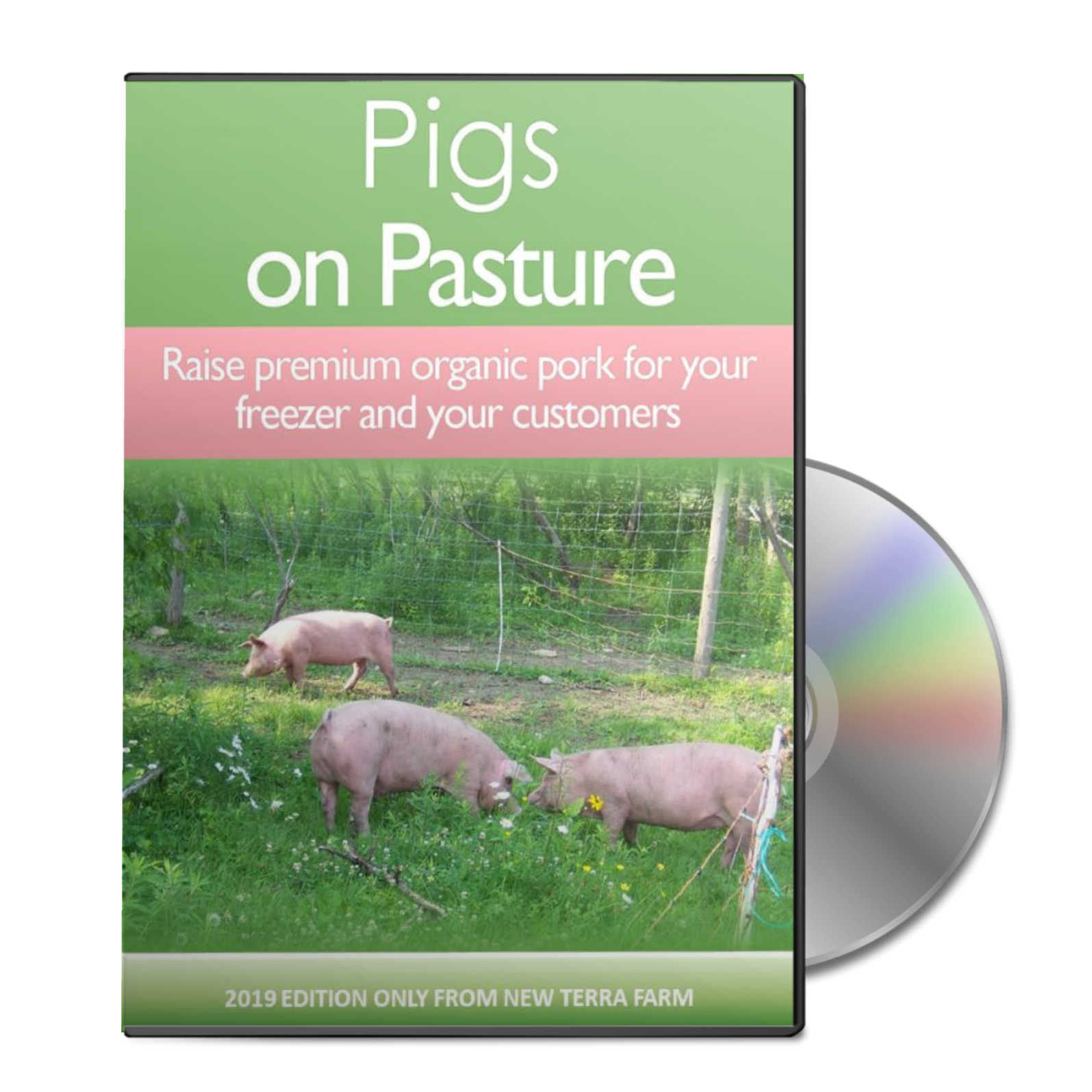 Latest edition includes my Porkulator software
Pigs on pasture is the actual record of the system we have used successfully raise delicious pastured pork for more than a decade.
All the instructions, the photos, and the examples used are from right here New Terra Farm - no theories, just practical pig-raising advice.
Plus my Porkulator software ( see below )
Here's what's in the book:
Introduction: Raising pigs on your small farm

Key Features of our Pastured Pork Model

Getting Started

Planning – How many pigs should you start with?

Pork Raising Production Schedule

Marketing – How will you sell your piggies?
Management – Where to raise your Piggies

Management – Sources and supplies

Find a source for your weaner pigs

Get your equipment and supplies

Management - Find a Feed Supplier

Finding an abattoir

Production - Getting Set Up in the Field

Setting up your electric fence

Production – Bringing home the weaner pigs

Production - Feeding your piggies

Measuring your Pig

Relocating the pigloo and the pen

Troubleshooting Your Piggies

Production – Shipping your Pigs

Using a trap box to load your pigs

Loading pigs with a ramp

Off to the abattoir!

What do you get back from the abattoir?

Pastured Pork-Enomics – Costs and profits

Equipment Costs ( fixed costs )

Weaners, Feed and Supplies ( variable costs )

Calculating your profit

What can you sell your pigs for?

Conclusion

Resource List




Sample Pork Cutting Order Form
.

Successful Business Is All About Understanding Costs and Profits!

That's why I've included my Porkulator spreadsheet to help you figure out costs and profits for your pig herd.
That's my name for the software I wrote to help me figure out yields and prices (and profits) for my pastured girls.
All by itself it is a valuable tool that let's plug in the live weight of a hog, and calculate:
hanging weight;

retail weight;

lbs. yield per cut e.g. how much bacon, ham, and roasts or chops I can expect;

my cost per pound of pork raised;

the prices I should charge to make a profit.

I couldn't find a tool that did all this, so I had to make one!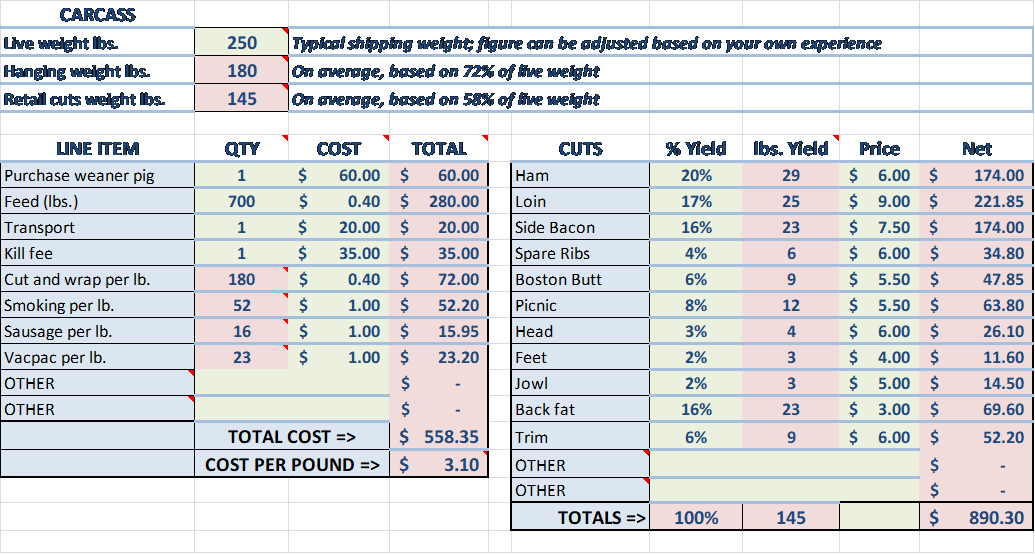 The Porkulator does the math for you
Get The Latest Edition Of Pigs On Pasture AND The Porkulator Software in One Package
Pigs are the ideal livestock for the small landowner. When managed properly, they are easy to care for, and actually improve your country. And if you are a fan of composting, there is no better way to compost kitchen and garden scraps than to put them through your girls!
When you click on 'Add to Cart' you will receive a secure link that will let you download Pigs on Pasture and the Porkulator right away; no waiting for a physical book to be shipped.
Get started right now planning your own pastured piggies for next season!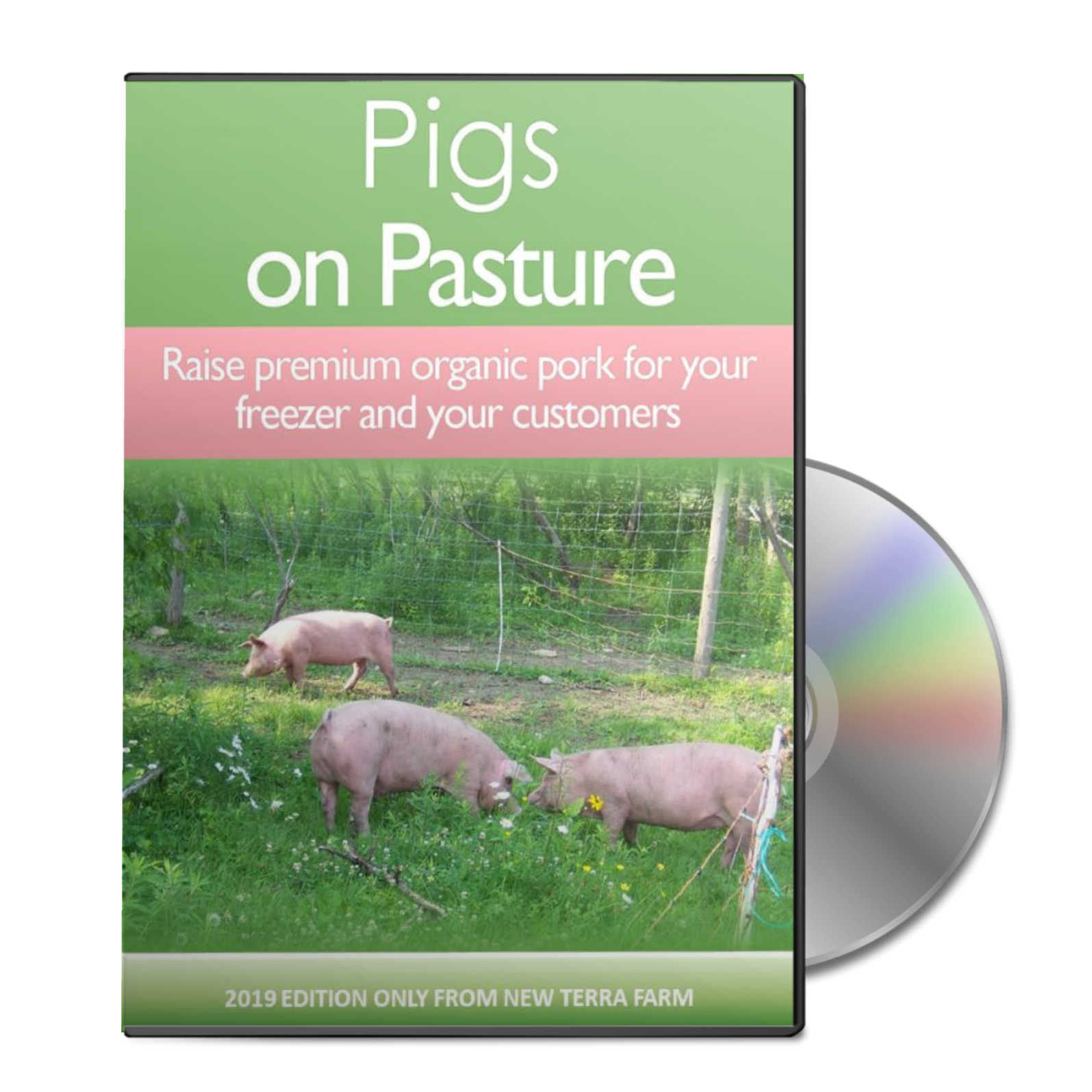 Book and Software just $10 only from New Terra Farm
OR MAYBE YOU WANT AN EVEN BETTER DEAL?