A Homestead Garden Is Key To Self-Sufficiency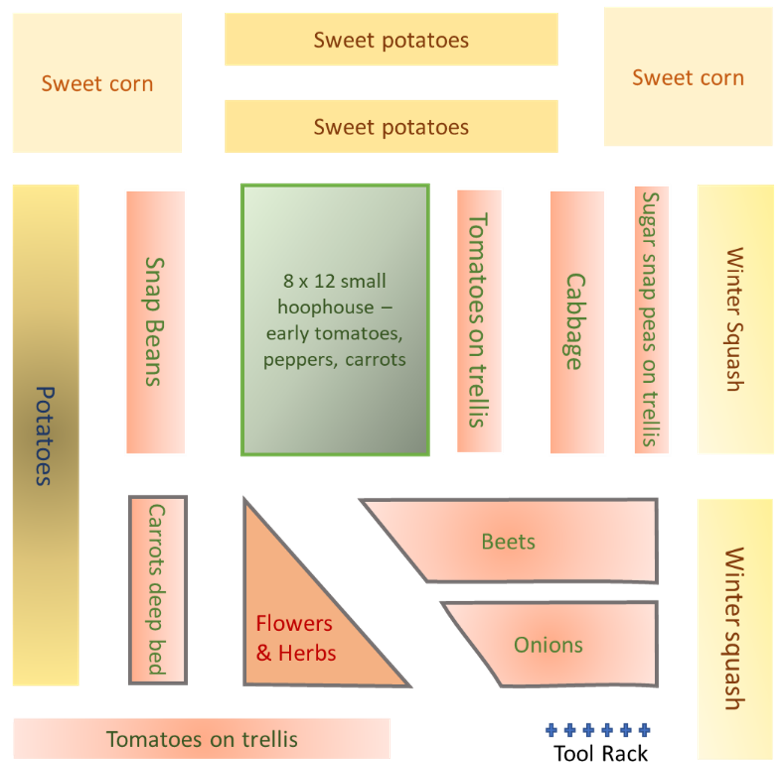 My 2020 homestead garden
My definition of a 'homestead garden' is one that has been planned to provide a significant portion of year-round calories.
This drives a lot of decision making:
How much space do I need?

What crops should I grow?

In a cold climate, how do I extend the 'eating season' past the 'growing season'?
Let's examine each of those questions and I'll tell you how I came to my decisions to build my garden.

Planning Your Homestead Garden

How much space do I need? I would suggest that 1,000 square is the minimum size to produce a worthwhile quantity of food.
The garden pictured up top is 35' x 35'; about 1,200 square feet in all. This includes a small (8' x 12') home-built hoophouse located just about in the centre.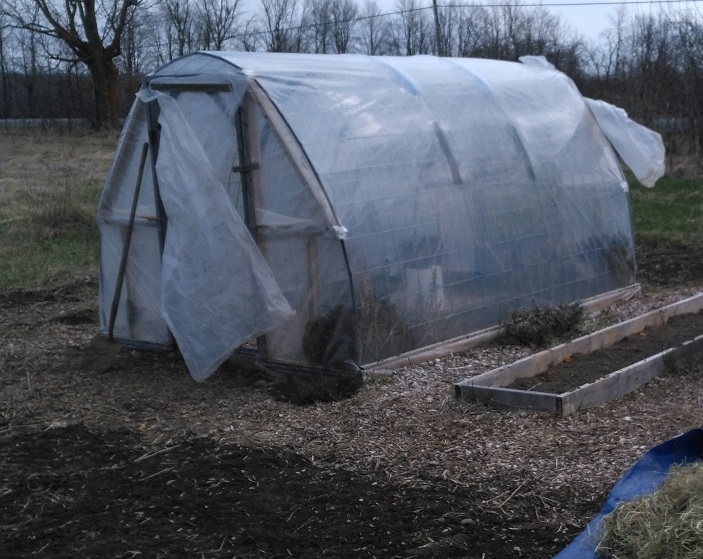 My little Cattle Panel Palace cost less than $200
The Russian dacha gardens were often no larger than this, and collectively they produced most of the fresh food consumed in that country.

A Containerized Homestead Garden

New Terra Farm is blessed with a deep layer of clay-loam topsoil covering much of our property. I have a friend who has a beautiful home on a small creek, but unfortunately it's situated on limestone bedrock.
He has over an acre of property, but it's shaded by trees in most appropriate garden locations.

His solution was pretty ingenious; he built large, waist-high raised beds from lumber he bought at auction. Then he cut enough trees and trimmed others to ensure adequate sunlight.
He used the trimmings to fill the bottom two-thirds of the raised beds, then topped that up with a soil mix he brought in. This practice is known as hügelkultur and is a viable homestead garden option if you don't have a great site and inadequate soil.
He built 20 of these beds (over a couple seasons) and together they provide about 1,000 square feet of prime growing space.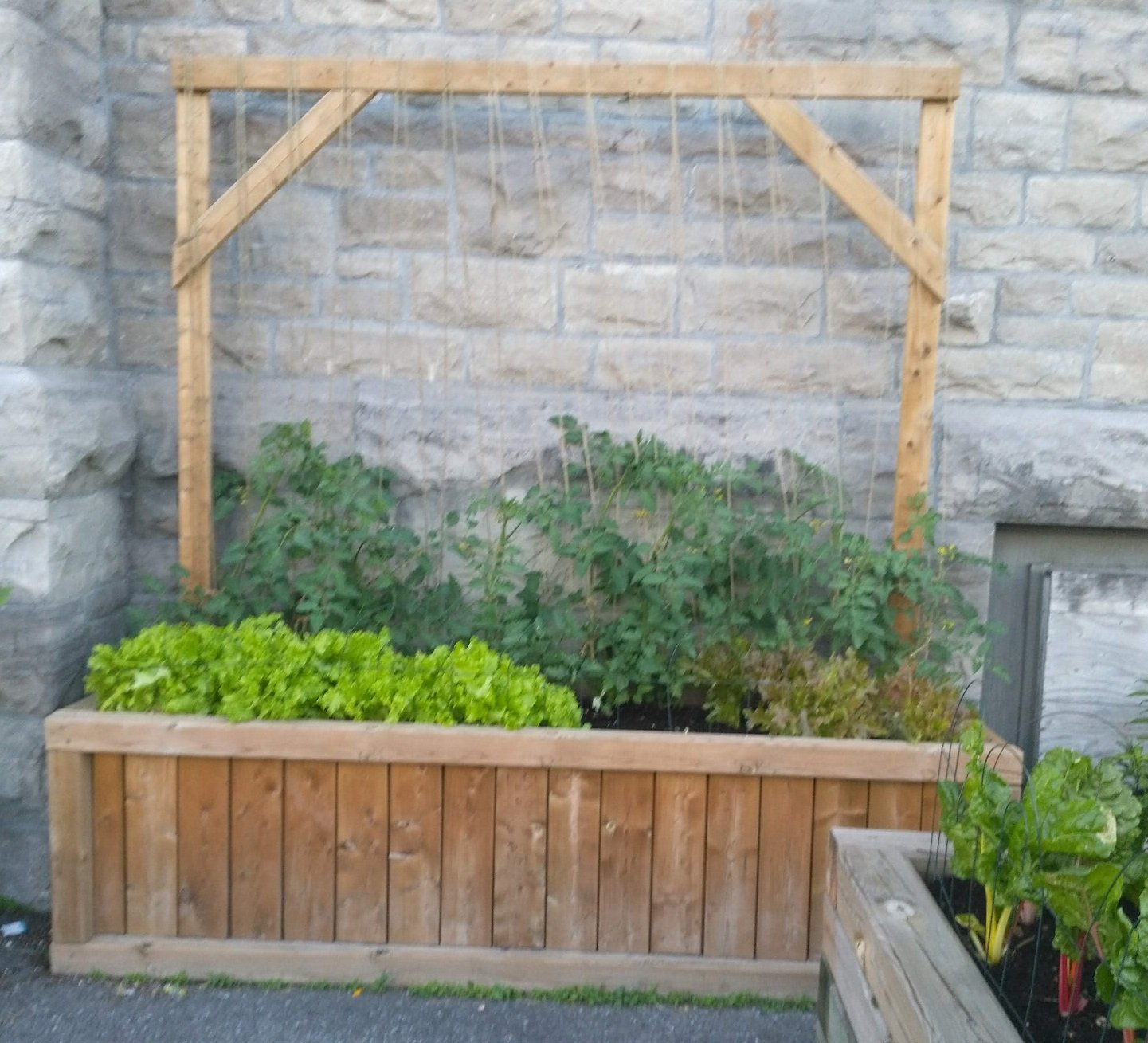 An attractive raised bed design built on pavement
I spotted the raised beds pictured above in front of a church in Ottawa, Ontario. Built right on the paved ground, they face south and benefit from the sheltering north wall and the early warming provided by the sun-soaked pavement.

Note the trellis on the north side of the bed to support vining tomatoes. Lower growing crops are planted in front. The harvest goes to a food bank supported by the church.
You could replicate this on just about any reasonably flat piece of ground you have access to.

What Crops Should I Grow?
If you are serious about providing a big chunk of your calories from your homestead garden, crops like kale will NOT make the cut.
Even if your space is essentially unlimited (I have 52 acres) your TIME is not. So you need to focus on staple food crops that will pay you back for the time invested.
In the garden pictured at top, you can see that about 60% of the garden space is dedicated to crops that provide a lot of calories: potatoes, sweet potatoes, winter squash, corn, and beans.
The remaining crops provide a pretty complete nutritional profile, meaning you could live on just this selection for an extended period.
Another rule is grow what you eat. Suzie and I happen to love all the veggies in that garden. But if you (or your kids), for example don't like beets, don't grow them. Substitute another crop more to your liking.

How Do I Extend the 'Eating Season'?

I've got about 150 days of frost-free growing in my neck of the woods, from about May 10 to October 5 on average.
But like you, I prefer to eat 365 days a year. What to do?

There are two answers to filling that 'hungry gap':
Season extension

Food storage
The Secret To Practical Season Extension

Despite my last frost date of May 10, my garden starts right after I receive my seed catalogues in January. In other words, season extension starts with planning.
I spend some time determining the crop mix and planting schedule that will make maximum use of my space, my time, and my climate. To achieve this I need to start many seeds indoors under lights.

I start the first cold-hardy plants (onions, leeks) under lights in late February or early March. This is followed by cabbage and other brassicas in mid-March. I start tomatoes, peppers and beets towards the end of March.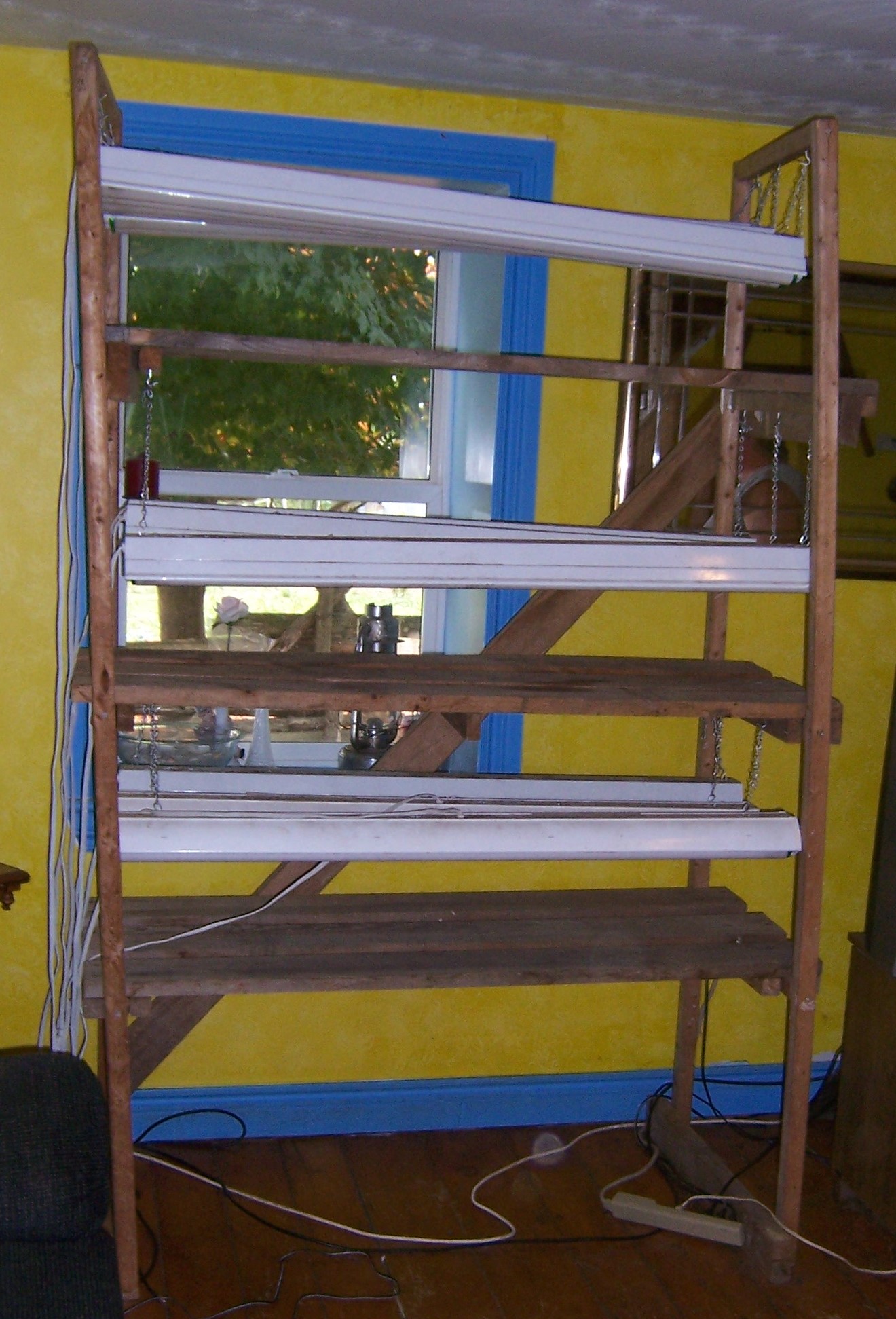 Home built light stand
I built the stand shown above from 2 x 2s and 1 x 6 rough-cut pine. The lights are cheap plug-in shop lights from Home Depot, hung from chains so they can be raised as the plants grow. I placed two lights per shelf. Each shelf will hold 4 planting trays.
This little set-up grew me thousands of transplants over the years and saved me thousands of dollars compared to the cost of buying my transplants.
I can usually get the first hardy transplants in the outdoor garden around mid-April, protected by row cover.
But I have another 'secret weapon' in my season extension arsenal . . .

My 'Bootstrap' Greenhouse

In addition to the little hoophouse shown above, I have two more that I use regularly: a lean-to design, and a larger movable hoophouse-on-rails a la Eliot Coleman.


The best investment for the serious gardener
My hoophouses give me about about a month of grow time on each end of the season. And if I cover cold-hardy crops in the hoophouse with a layer of row cover, I have often harvested fresh food as late as Christmas.

Food Storage - The Other Part Of The Equation

This brings the homestead garden full-circle to where we started; planning.
Food storage closes the gap between growing seasons. But effective food storage starts with crop choice, right at the beginning of the planning cycle.
You'll notice that that all the major food crops in my homestead garden can be readily stored. Potatoes, onions, carrots and beets go into cold storage.
Sweet potatoes and winter squash can be stored in a warm pantry. And tomatoes and peppers are easily frozen or made into sauces and preserves and canned.

And, let's not forget homemade sauerkraut from our cabbages. I always make a few jars in the fall. It's an easy recipe and tastes way better than the store-bought kind.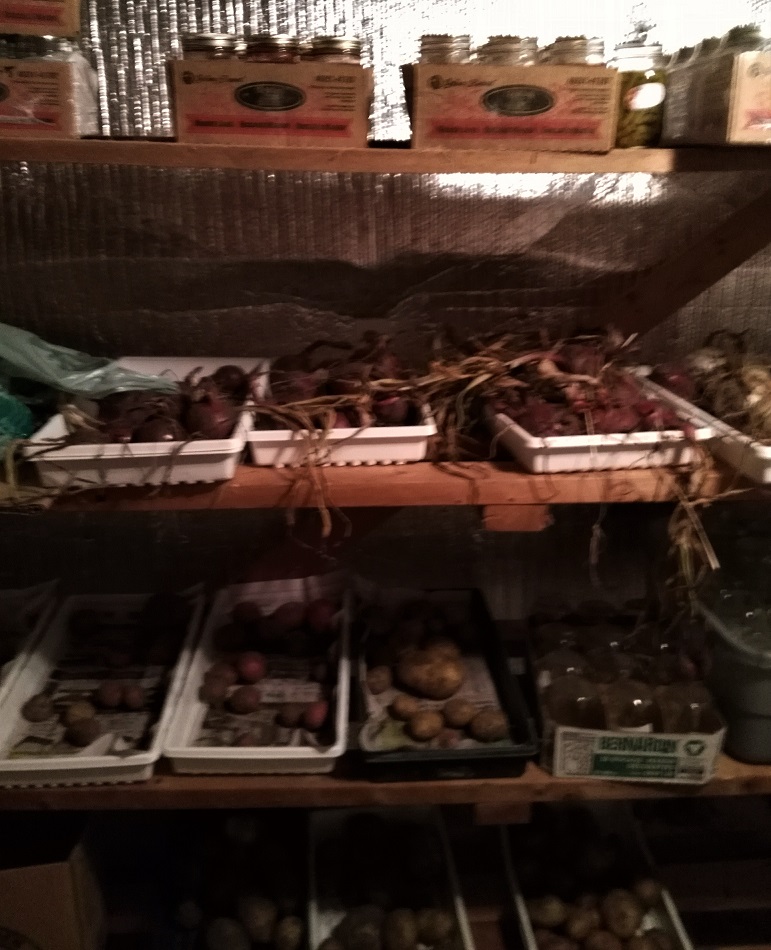 THIS is food security: my cold room
Closing The Loop - Seed Saving

There's another thing to notice about my homestead garden crop choices: each of these crops can be saved and replanted from your own stores.
This is easiest with crops like potatoes, sweet potatoes, squash, peas, beans, tomatoes and peppers. And in fact this crop selection alone would provide lots of calories and a pretty complete nutritional profile.

Wrapping It Up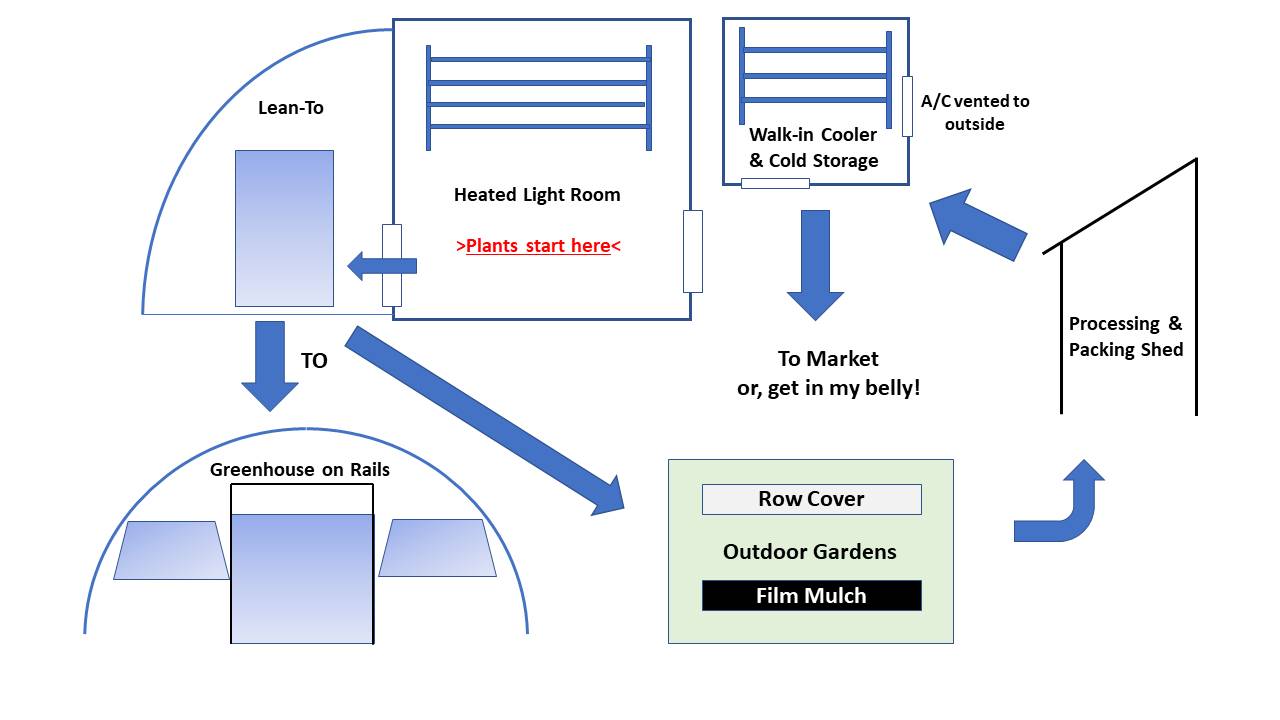 From seed to storage
Here's the complete cycle:
We plan the appropriate crops for calories, nutrition, storability, and replant-ability;
We start seeds under lights, according to our climate and schedule;
We move transplants from the light room to the greenhouse and/or the outdoor garden, usually protected by row cover;
We harvest and process for fresh eating and/or storage;
We save seeds or select the best examples of stored crops for replanting next season.
This model is repeatable by just about anyone, on a larger or smaller scale.

Free One-Acre Farm Plan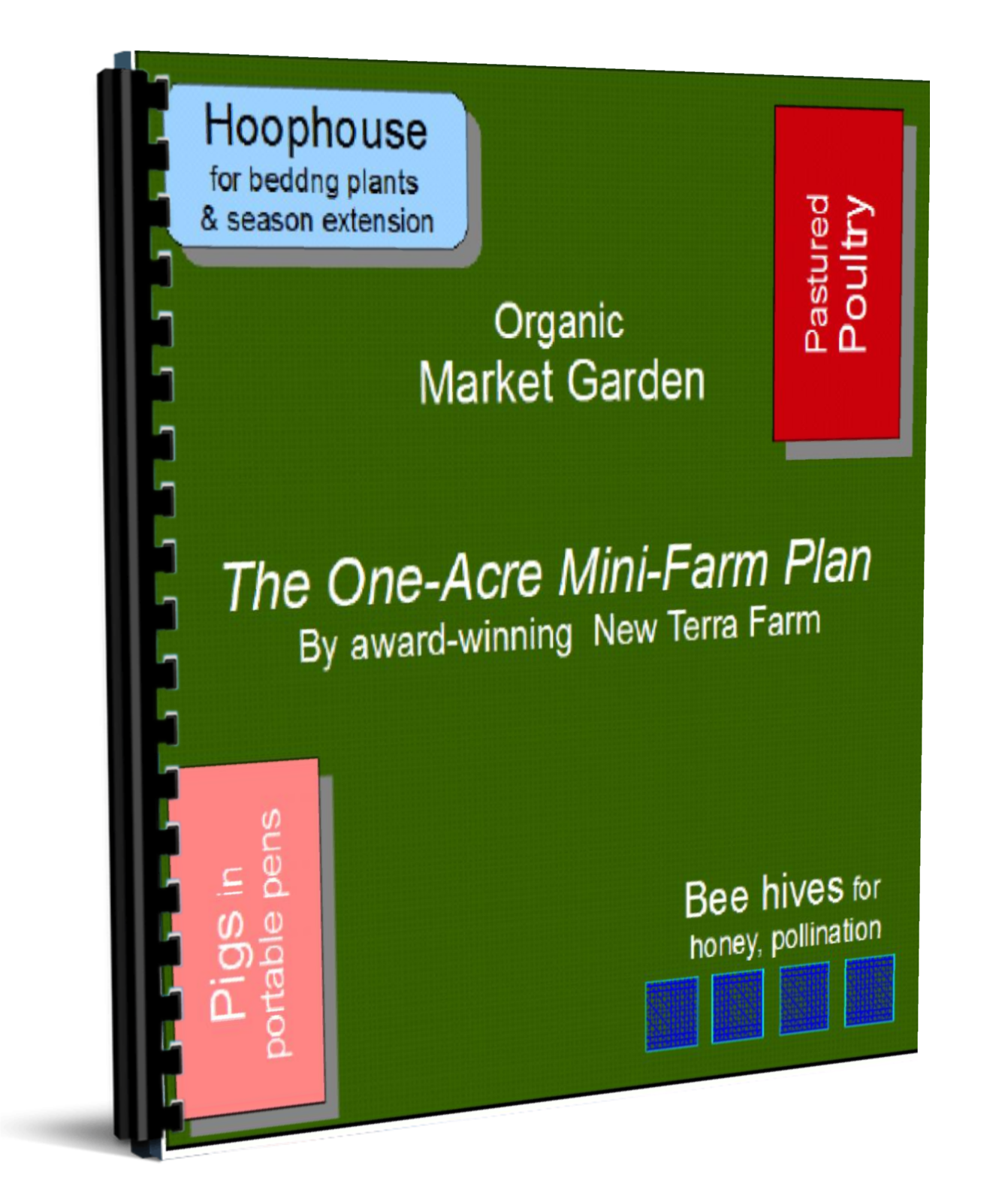 Get my FREE One-Acre Farm Plan and learn how to raise pigs, chickens and more, integrated with an organic market garden, to make more money from your small property.

Imagine building a profitable and sustainable mini-farm even on a small piece of land. Enter an email you can access later and your Mini-Farm Plan will be sent to you right away.

The BEST WAY to Get my Homestead Books...
Based on 20+ years of gardening and farming experience, I wrote some books that show you practical approaches to gardening and raising small livestock. If you want to fill your freezer and cold storage with your own healthy, nutritious food, and provide some real food security for your family, it might be worth a look here.
I just put together two special book deals:
If you are a new 'country dweller' or homesteader (or soon to be), check out my

Homesteader Book Bundle

If you have ambitions to start a small mixed organic farm of your own, take a look at my

Complete Start Farming Pack
Get a bundle, save a bundle! This is my best deal on these practical farming and gardening books.