A great information resource for the new or "soon-to-be" country dweller...
My Best Value "Homesteader Book Bundle"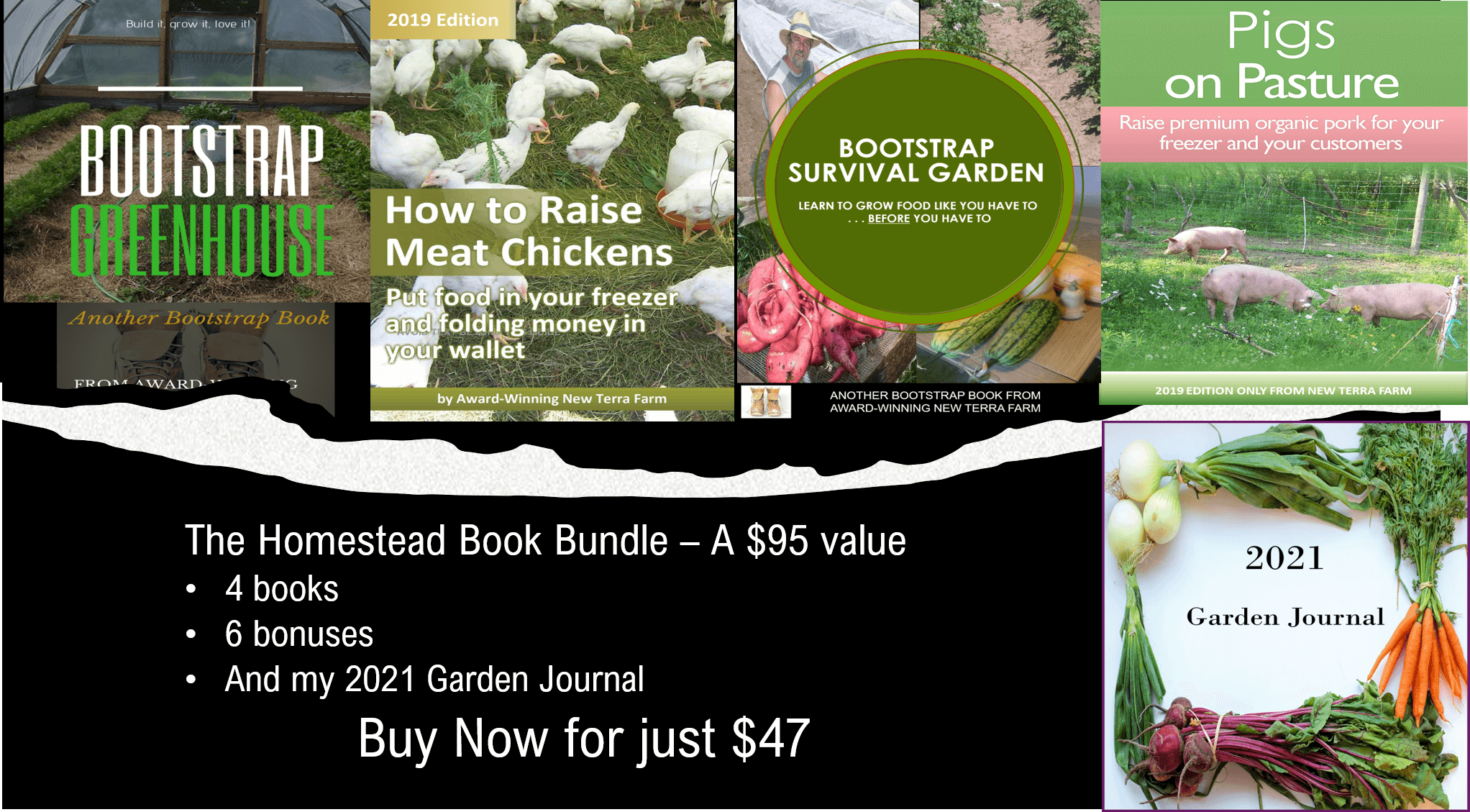 Get growing on your new homestead with my best value book bundle
The tools and skills you need to survive on your homestead today may have changed, but the goal is still the same: be as self-sufficient as you can on your own small property.
And while many 'old-fashioned' methods of gardening, animal husbandry, and home-scale construction are still valid, there are new appropriate technologies that can be applied to make the job easier.

There will always be sufficient work to do on your homestead without making it harder by refusing to use technology when it makes sense.
I am a big believer in taking advantage of the technologies while we have them, and at the same time planning for how I would do without them if necessary.
I've put together the books I believe any homesteader should have to become more self-sufficient and solve problems on their small property.
There are 11 separate valuable information resources in the Best Value Bundle for homesteaders!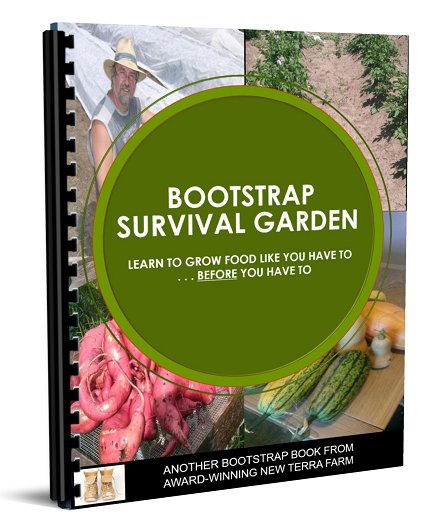 Sells separately for $25
BOOK 1 - Bootstrap Survival Garden.
In an emergency, Job #1 is to feed yourself and your family. If you are able to grow a significant portion of your own food, you are that much more likely to survive and thrive in any situation.
Bootstrap Survival Garden is packed full of the practical gardening knowledge we've acquired over 20 years at New Terra farm.
No fluff, just 150 pages of 'in-the-dirt' instruction, pictures, and techniques that the pro's use to grow a super-productive garden year after year.
And includes my Bonus Book 'Bootstrap Survival Garden Plans'. 10 garden layouts in different sizes to accommodate your space and your preferences.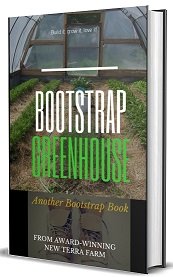 Sells separately for $25
BOOK #2. Build a Bootstrap Greenhouse.
If you are VERY serious about growing good food for yourself and your family, there is no better investment than your own greenhouse.
We have built and currently use three different styles of greenhouses. This book includes plans, pictures, and instructions for all three.
I guarantee you can find a place for one (or more) of them at your homestead (or even a big back yard). The smallest one - my Cattle Panel Palace - is just 8 x 12 and can be built in one morning at a cost of $200.
Includes Bonus Books Greenhouse Planting Schedule and Resource Report.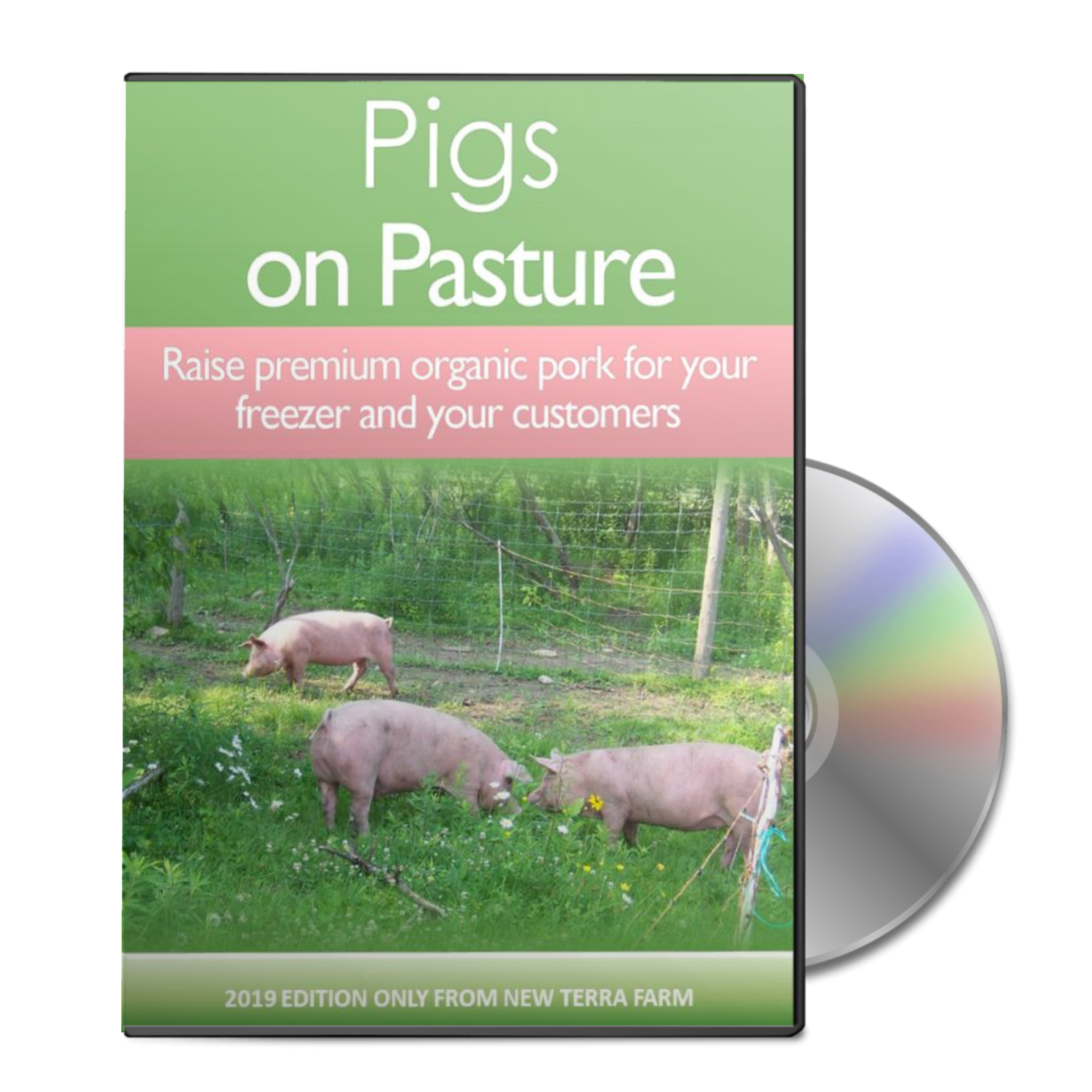 Sells separately for $15
Book #3. Bootstrap Bacon!
At New Terra Farm we have been raising piggies following the methods in this book for more than 10 years. We have raised tons of premium pork for our freezer and our farm customers.

We use our piggies to renovate pasture, prepare land for planting, and for fall cleanup in our garden. Pigs are multi-purpose small homestead livestock, once you have a system to handle them.
Get Pigs on Pasture as part of the Homesteader Bundle and get my Bonus 'Porkulator' software a well.
I built the Porkulator spreadsheet to help me figure out costs and prices for my premium pastured pork. Get it with this bundle and save.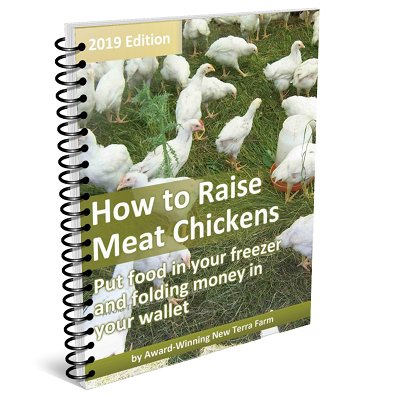 Sells separately for $15
Book #4. Bootstrap Birdies!
If you have a small property and would like it to work for you chickens are the ideal 'starter' livestock.
This book will show you the secrets of raising meat chickens humanely, organically, and sustainably.
If you want to put some food in your freezer (and maybe some money in your wallet) this book will show you how.
Two Bonus Chicken Coop Plan Books included to help you get started right away raising your own pastured poultry flock.
Sells separately for $15
Bonus Book. 2021 Garden Journal.
I've kept a garden journal since 1997. There is no better way to keep track of plans, expenses and 'lessons learned' in your garden.
I'm able to write my various farming and gardening books because of two things - keeping a journal and taking LOTS of photos.
This is a PRINTABLE journal (pdf format) with specific pages to record garden plans, important tasks, plants started and harvested, garden expenses, and YOUR lessons learned to make your next garden even better. It's based on the best parts of the many garden journals I've kept over the years. And you can PRINT a many of each page as you need.

Get them ALL in my "Homesteader Book Bundle" (a $95 Value) and save over 50%!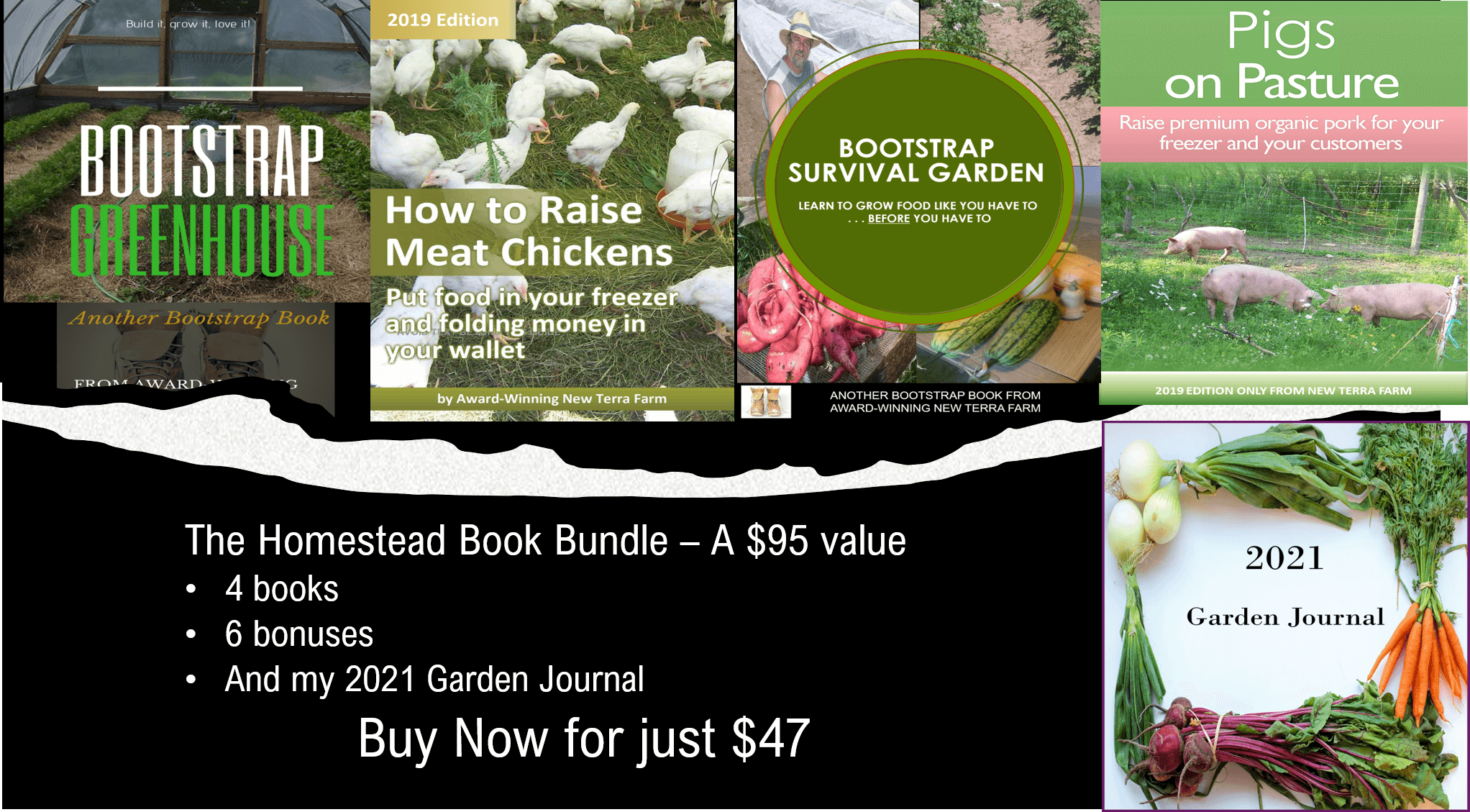 Important Note: I can ONLY offer this deal because my practical farming books are delivered to you electronically, via secure download. Just click on 'add to cart'. Pay securely through PayPal. No waiting for a physical book to be shipped.
The New Terra Farm 100%  

'No-Hassle' Guarantee
All my books and courses are backed by a full 12-month guarantee. if you feel my books did not deliver valuable information, you can return them at any time in the next 12 months for a full refund, no questions asked. Just send me an email and I'll send you your money.

Try my Best Value "Homesteader Book Bundle" Risk-Free.