My Mission: Grow More Growers!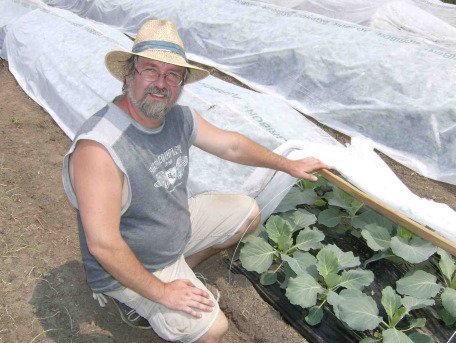 Scott Kelland: Award-winning farmer, author and speaker
Through my books, courses and speaking engagements I help small growers create profitable, sustainable businesses on their small properties.
The country is in desperate need of MORE small growers providing the basic foodstuffs of life to their communities.
I help small growers get alignment from Vision to Implementation to win the game of farming and avoid burnout, stress and angst.
For 20+ years as a business performance expert I led and coached teams through the 'perils' of process re-engineering.
What I learned is that while 'process' is important - you do need to know how - Mindset and Motivation are key. A powerful Vision is a prime motivator.
I brought that understanding to New Terra Farm way back in 2006, and we built a successful farm business. Along the way we picked up the award you see below.

Farming Is A Tough Business - I Can Help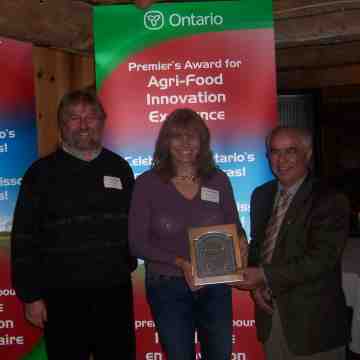 In 2006 New Terra Farm won the Premier's Award for Agri-Food Innovation Excellence for the small farm marketing and management model developed by the owners Scott and Suzie Kelland.

Since then, I've written half-a-dozen books about small farming topics, and created an intensive e-coaching program, teaching new farmers how to successfully  - i.e. profitably - start-up, market and manage an organic farm.
I've been invited to speak and coach at universities and colleges in Canada and the United States, as well as for community and small business groups. Feedback from a recent seminar participant:
"My partner and I learned more about the practical business of farming from your course than from a local business coach we hired".

A Recent Speaking Engagement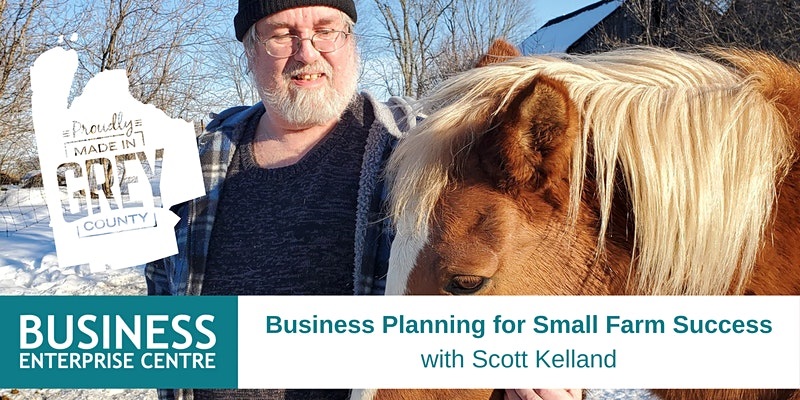 Image credit Grey County Economic Development
The good folks at the Grey County Economic Development Office and Small Business Centre (thanks, Philly and Courtney!) arranged for me to present my Bootstrap Success Plan Course to a group of new and soon-to-be local farmers and growers.
We had a great discussion over three evenings and wrapped it up with a fourth night Q&A session. Great questions, great feedback, high interest and motivation. What an awesome bunch of people I got to talk with!
Keynotes and Seminars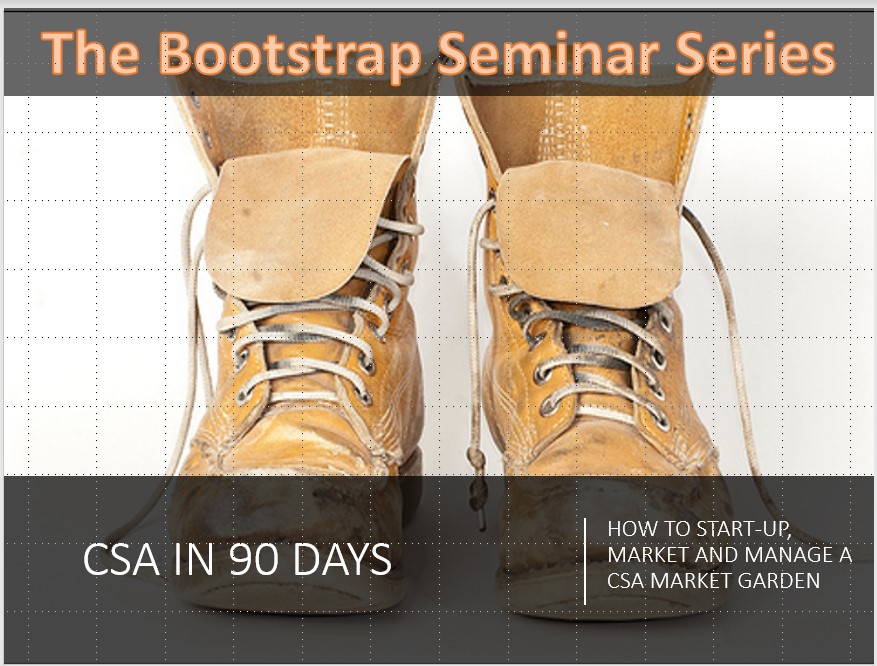 A 60-minute webinar, optionally 75 minutes with Q&A. Participants will receive a handout with key points and a schedule for launching a successful CSA in 90 days.
CSA In 90 Days - How To Start-up, Market And Manage A CSA Market Garden.
Based on my popular book 'Bootstrap Market Gardening',this seminar will show the new or soon-to-be grower how to plan, market and manage a successful market garden based on Community Supported Agriculture (CSA) principles.
Seminar participants will also receive a free Harvest Schdule and Value Calculator spreadsheet created by me.
---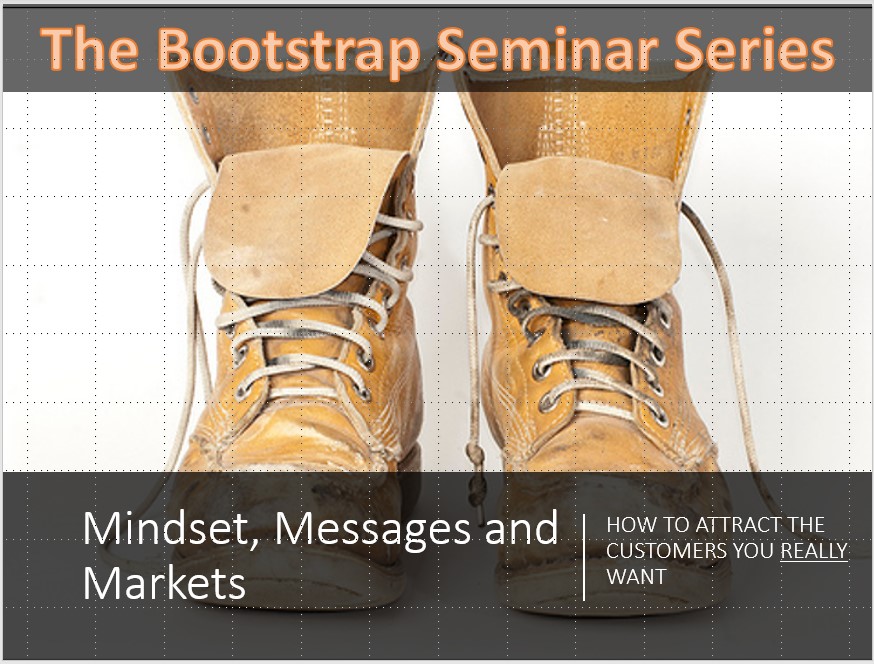 A 45-minute webinar, optionally 60 minutes to include Q&A. Handouts include a worksheet with guiding questions.
Mindset, Messages And Markets - How To Attract The Customers You REALLY Want.
Target audience - the small grower or rural entrepreneur who wants to bring ethics, authenticity, and alignment to their marketing m3ssages.
Marketing is mandatory to small business success. In this seminar you will learn  how to get your message out.

Get clear on what you are REALLY selling

Document the Unique Appeal of Your products

Craft messages that will reflect Your Vision, Values and Ethics

---
A 45-minute webinar, optionally 60 minutes including Q&A. A handout covering a 4-step process to bouncing back from setbacks is included.
Overcoming Setbacks: How to Get 'Unstuck' and Back on Track in Your Small Business.
Sooner or later every small business person experiences setbacks. Rural entrepreneurs and small growers are not the exception.
This can lead to stress and overwhelm and 'stuckness' - the feeling of not making progress towards their business goals.
In this seminar you will discover the importance of perspective on overcoming setbacks in your business. You will learn how to leverage past experience and a future perspective to drive right action in the present.
---
Farm Training Workshop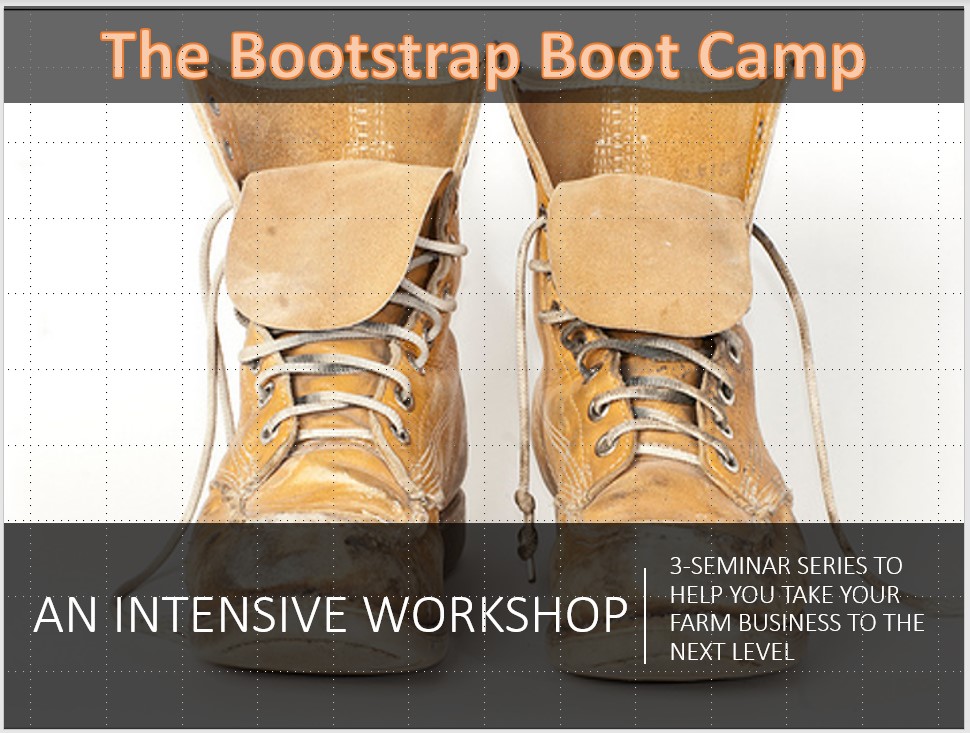 The Bootstrap Boot Camp - How to Build a Plan for Success for the Small Grower.
The Bootstrap Boot Camp is a series of three 1-hour webinars, usually delivered in three consecutive weekly sessions. Given the busy lives of most small growers, evening sessions have proved to be the  most accessible and well-attended.

Target audience - the rural entrepreneur or 'want-repreneur' with the intent to start or grow their small farm-based business.
Learning Outcomes

Being a good grower is necessary, but is only part of the answer to operating a successful small farm or rural business. Here's what participants will take away from this course:
1. How to plan and manage your business;
2. How to persuade others of the value of your products;
3. How to set priorities and allocate your valuable resources to get the most 'bang for your buck';
4. How to maintain financial stability; and,
5. How to stay motivated through your journey to small farm success.
Contact me to schedule a workshop or presentation for your group.
scott@new-terra-natural-food.com      (613) 302-3924
My Books and Courses
---
My latest books!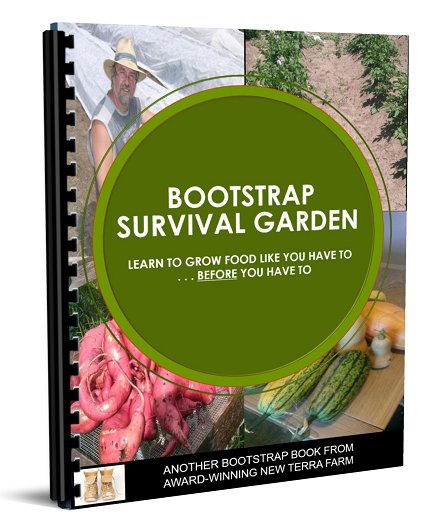 Based on 2 decades experience growing a LOT of food sustainably and reliably.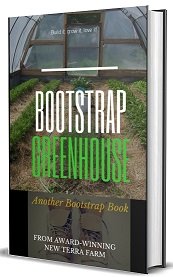 Plans and instructions to build the three styles of greenhouse we use on New Terra farm