TNT-Buds News
Layout for our Secure Operational Facility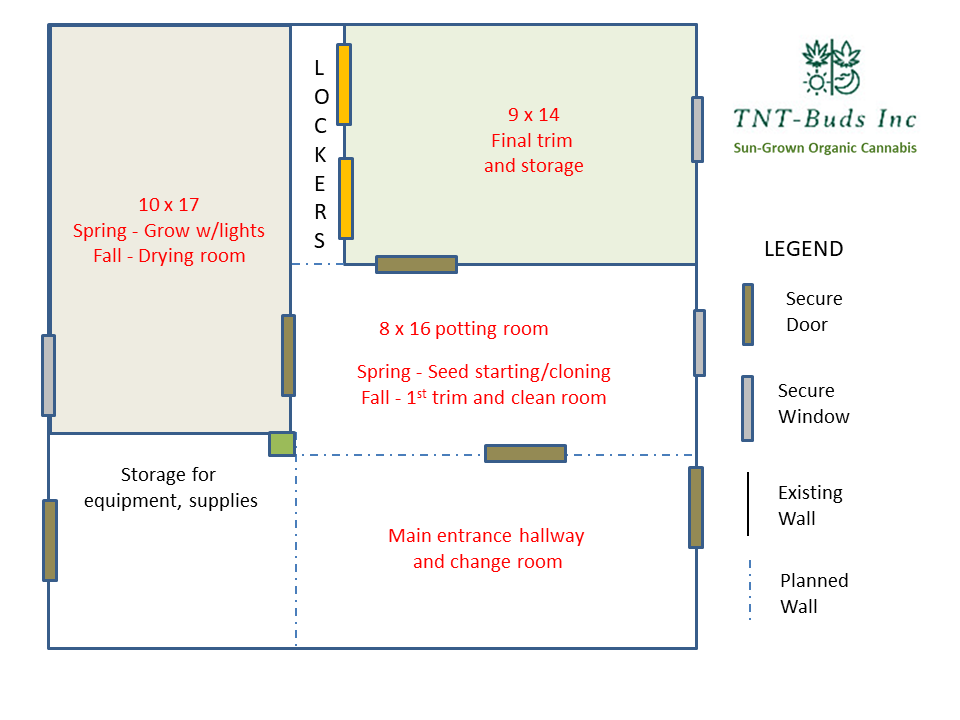 Planned build-out Spring & Summer 2020
February 2020 - This is the floor plan for our secure seed-starting and harvesting facility.  All entrances are guarded by security doors/windows and camera surveillance.
This space will be fitted up inside an existing structure on New Terra Farm. The building is already supplied with heat and power and has concrete floors. Floors will be sealed and painted, walls insulated, paneled and painted. All materials are in compliance with cannabis regulations and are approved Health Canada standard.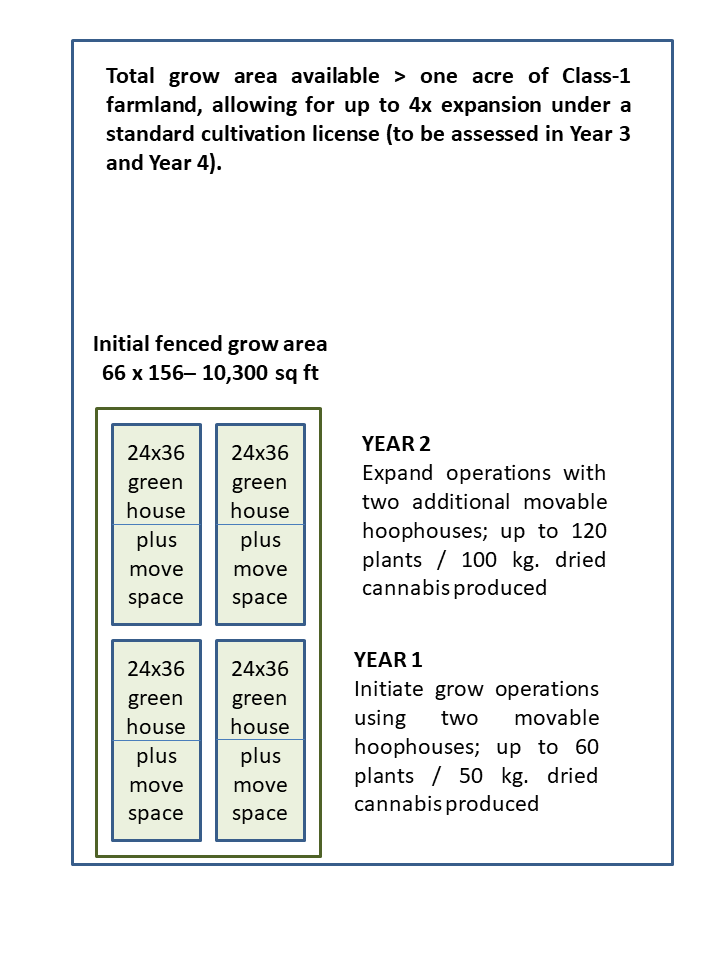 Field plan for greenhouse growing operation
This site is located on New Terra Farm, and comprises more than an acre of Class-1 farmland. Year 1 will see the initial grow area enclosed in security fencing and the construction of two movable hoophouses.
Year 2 will double production; in Year 3 and 4, we will consider further expansion options e.g. transitioning to a standard cultivation model and growing cannabis on the full 1-acre site, or adding processing and retail sales capability.

Spring 2020: TNT-Buds is expanding our investor base.
The latest regulatory changes from Health Canada and CRA seem to be shaking themselves out. We can with some confidence say we will proceed with the build-out of a complaint facility and grow area in spring-summer 2020, and achieve licensed status by late fall.
We're seeking additional investment to support this growth. If you would like to know more, please enter a valid email, and our Investor Information deck will be sent to you right away, at no cost or obligation.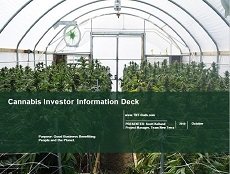 Get the latest TNT-Buds Investor Information deck by completing the form below
---
December 2019: Good News for Cannabis Users and Producers in Ontario.
The 2019 budget for Ontario includes several provisions to remove barriers to the success of the legal industry. To deal with shortages of supply, the government implemented a temporary cap of up to 25 retail store authorizations.
In this budget, the government has committed to moving towards an open allocation of licenses where the number of stores is limited only by market demand.
The government also plans develop a process to allow retail operations to pre-qualify for future allocations of retail store authorizations. When supply warrants, it will issue further retail store authorizations, including in municipalities with a population of less than 50,000 and in First Nation communities.
Health Canada, the approval agency for legal cannabis in Canada, is also taking steps to streamline the licencing process. This is good news for small operators and small communities that can benefit from this growing industry. Opening up the retail market and firming up licencing timelines will reduce the uncertainty facing small operators and potential investors
---
Sun-grown
organic cannabis

brought to you by Team New Terra and TNT-Buds

Drawing on our experience as award-winning organic farmers,
greenhouse growers and planning and performance experts, TNT-Buds will bring you the best sun-grown and hand-cured cannabis in several popular and potent strains.

Bringing our Mobile
Greenhouse

know-how to the Cannabis Grow-op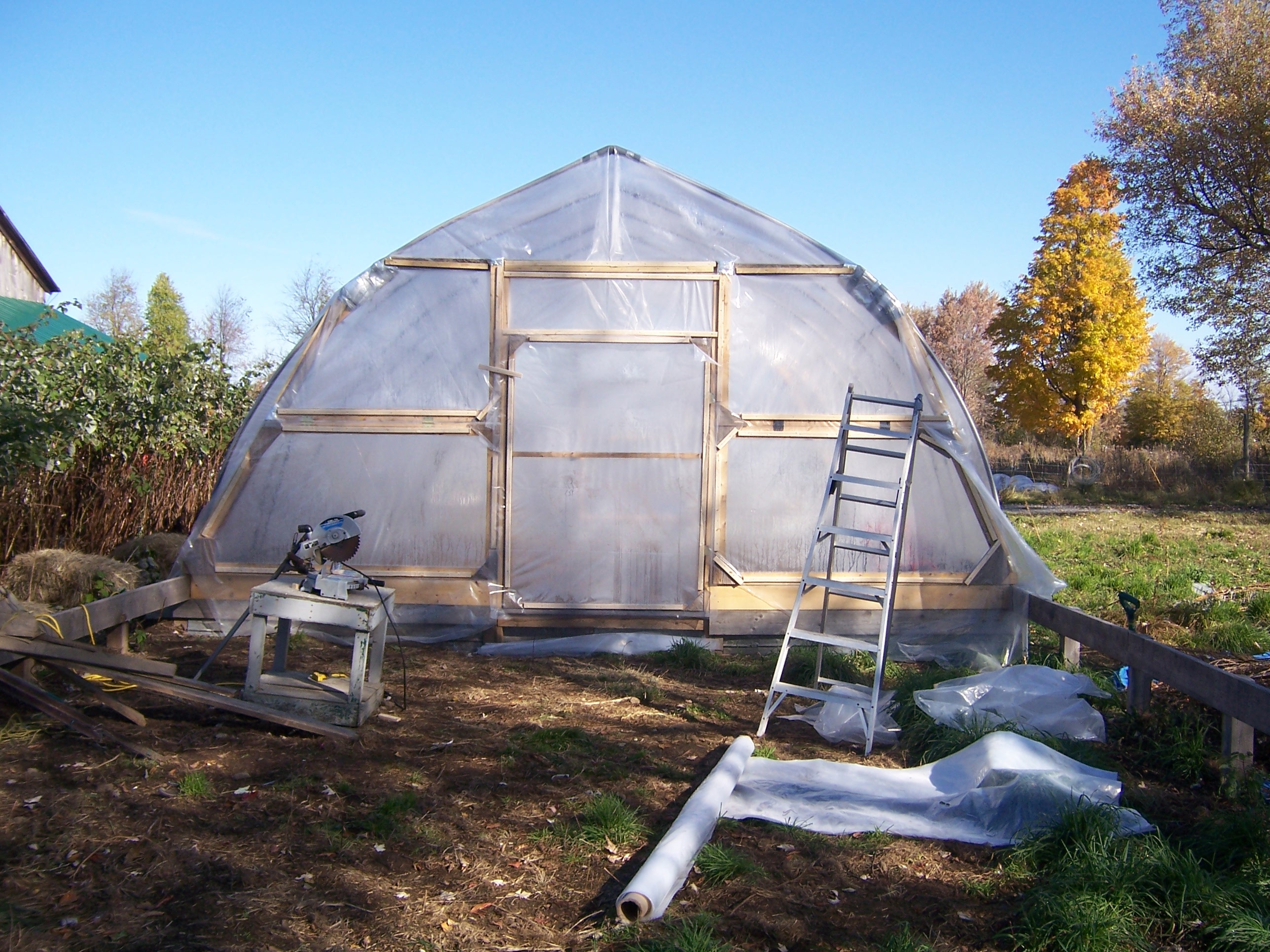 We've been building and using Movable Greenhouses for more than a decade
Why greenhouses, you might ask. In our 20 years experience on New Terra Farm, we're found that plants grown in the ground, protected by a poly greenhouse (technically a high tunnel), had less weather and insect damage, and produced higher yields.
And for more than a decade, we've built and used movable greenhouses, which provide the following advantages:
1 - We plant a cannabis crop in Position 1
2 - Position 2, in the interim, grows a cover crop to improve the soil
3 - We harvest the cannabis crop from Position 1
4 - We till in the cover crop in Position 2
5- We move the greenhouse to Position 2, ready to grow the next cannabis crop
6 - Position 1 grows a cover crop, and the cycle repeats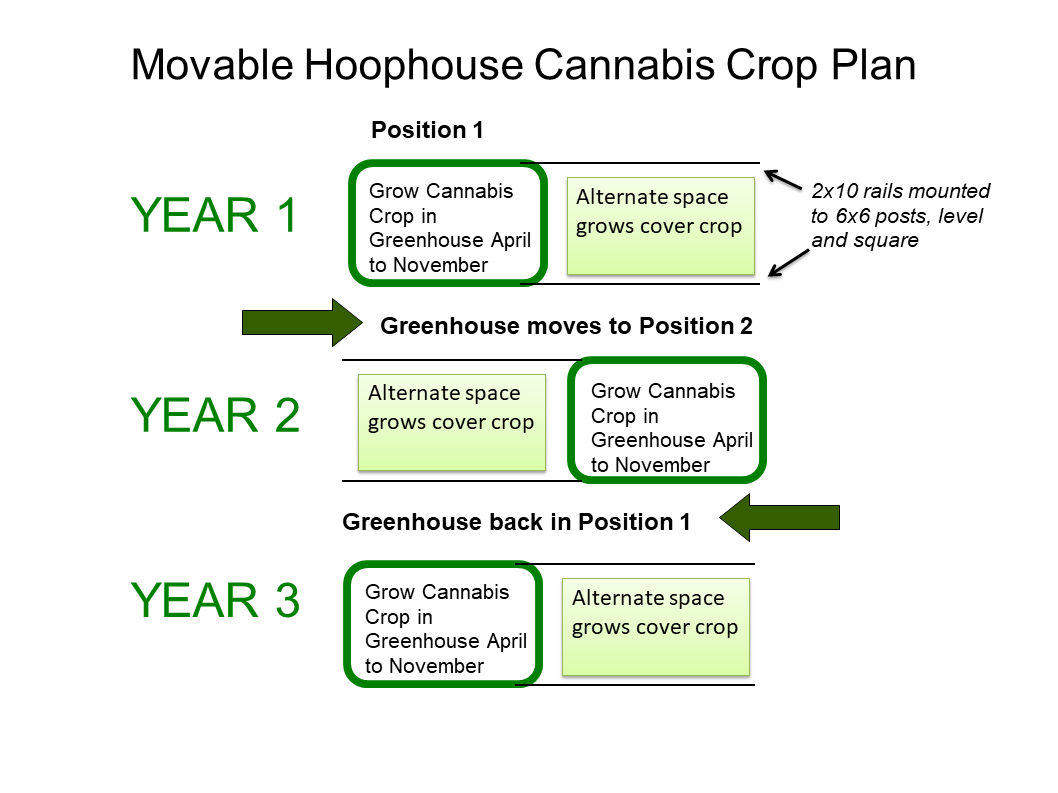 This cycle helps maintain soil fertility and prevent the build-up of diseases and insect pests
Organic

, huh? How do you do that?


New Terra Farm has been organic from the get-go. And TNT-Buds will carry on that tradition. We use crop rotation (enabled by our movable greenhouses) and cover cropping to reduce pests, and composted on-farm nutrient sources to maintain soil fertility.

All plant residues will be shredded and mixed with other on-farm nitrogenous and carboniferous  materials, and then used as a feed source for our vermi-composting bins.

The worm castings from this process (a top-notch organic soil treatment and fertilizer) will be returned to the grow beds, closing the cycle.

Sounds good, where can I find out more?

If you would like to know more about investing in TNT-Buds Inc. please enter a valid email in the form at the top of the page and our Investor Information deck will be sent to you right away, at no cost or obligation.
If you have questions, or to contact TNT-Buds management board, please use the form below.

---
Look for
TNT-Buds

Products Fall 2021. Ciao!