Raising pigs on pasture for meat and money
Raising pigs on pasture is a great way to fill your freezer with great organic meat, and maybe put a few dollars in your wallet, too.

We've been putting pigs on pasture for 9 years here on New Terra Farm. We usually do one or two 'batches' each year, depending if we are busy with other stuff.

We have raised as many as 8 pigs at one time, which is about the limit of our capacity in both freezer space and free pasture.


---
NEW: The one-acre farm plan
New: Download my free Mini-Farm Plan report. Learn how we integrate raising pigs, meat chickens, and an organic market garden, on just one acre!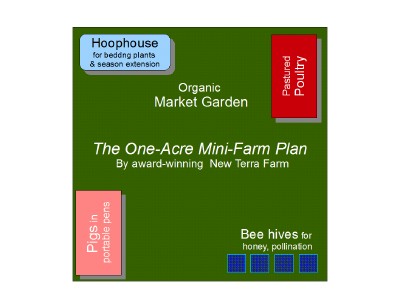 Enter a valid e-mail address and the report will be mailed to you, along with even more practical, useful farming information.

Note: please make you enter an address you can access afterward, as this is the only way I can send you the report.


---
Why we like raising pigs (and why you should try it)
Pigs on pasture as a seasonal enterprise has several advantages for the small farmer or land-owner. Here's a few reasons to give pastured pork a try:
Quick payback- you buy 'weaners' at about 6-8 weeks of age, and send them to the abattoir around 5-6 months of age. So you only have the piggies for about 120 days or so, and then they can be sold (or barbecued!)


Not much space required - you can grow a 'batch' of 4 piggies in about 7000-8000 square feet of pasture (1/6 to 1/5 of an acre)


Easy to care for - raising pigs on pasture is usually trouble-free; our piggies take about 5-10 minutes twice a day for feeding/watering, and about 20 minutes once a week to move their portable 'pigloo' and fencing.We have never had a sick pig when raised on pasture


Organic pork is delicious and profitable - you can expect to make about a 50% profit on your pork, because it is a premium product. We have customers coming back year after year because the pork is SO tasty.


How to get started raising pigs
Here's a quick how-to guide to start raising your own tasty pastured pork.


Decide how many pigs to raise. Consider how many pigs you want for yourself, and how many you might be able to sell. Also consider the freezer space you have available. 2 piggies will just about fill a 14-cubic ft freezer.


Find your feed supplier.Your best choice is to buy feed from a local organic farmer. Ask around to find a local grain grower. You can also buy commercial organic hog feed.


Get your equipment. You will need a trough for feeding, water bowls, and electric fencing to keep your pigs in. You will also need a simple hut for shelter.


Get your weaners Again your best choice is to buy weaner piglets from a local farmer. Ask around to your friends and neighbouring farmers. Your other option is to buy some weaners at an animal auction, but try to find a local farmer first.


Set up your pen area. Place your pigloo and waterers and feeders in their starting location, and hook up your electric fence.


Provide feed and water twice-daily, and move the piggies when they have rooted up all the ground in their paddock.


Depending on feed, and how big your want your pigs to get, in somewhere 4 months they will be ready to go to the abattoir.
Book ahead; some abattoirs have wait times of several weeks, especially during the busy summer months.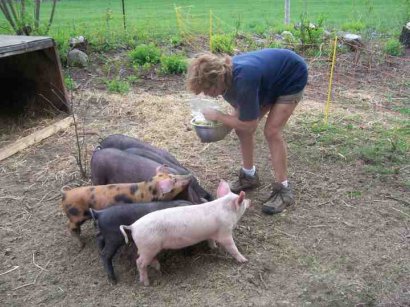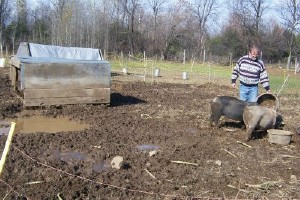 See also:
If you are raising pigs for meat, how much meat will you actually get? Find out here Raising Pigs for Meat

If you are serious about starting a sideline business on your small farm, check out this practical guide to raising pigs on pasture: The Pigs on Pasture handbook

Special Book Offer: Get 'Pigs on Pasture' FREE with the Start Farming Pack only from New Terra Farm. Get a lot of practical small farming information, and a great deal. Tthe Start Farming Pack Special Book Offer


Return to How to Farm


Return to Home page from Raising Pigs