Find natural and organic food in Eastern Ontario
Find the healthy, nutritious natural and organic food you want at restaurants, stores, farms, markets and co-ops in and around Ottawa and Eastern Ontario.


If you wonder what's in the food you eat
And food scares make you queasy
Find natural and organic vegetables and meat
New Terra Natural Food makes it easy!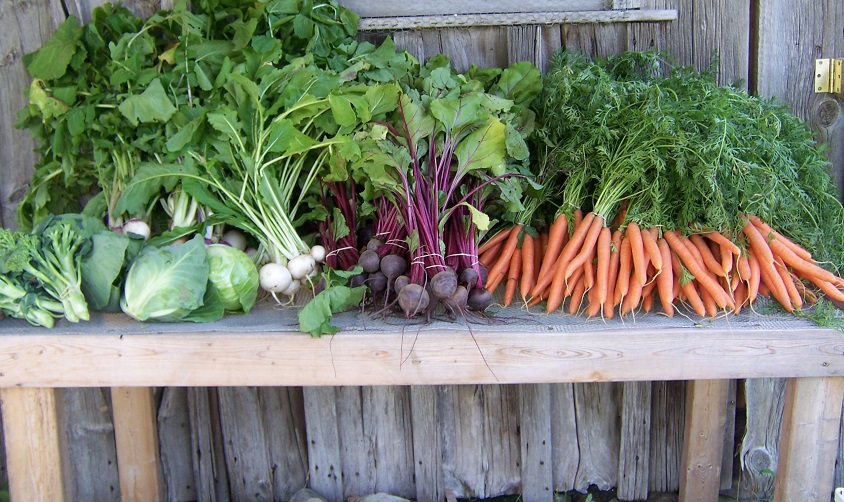 Why we do what we do - GREAT FOOD!
So, who are we (and why are we perpetrating bad poetry)? New Terra Farm is a small family-owned business located near Merrickville, Ontario. We grow a lot of our own veggies and meats, with limited quantities for sale. Trust us, we grow-it better than we po-et!

A man out standing in his field
Our guiding philosophy . . .
Natural is better! Foods grown organically have more of the good stuff (vitamins, minerals and other factors that promote good health) and less of the bad stuff (i.e. herbicides and pesticides) in them. If you are as concerned as we are about what's in the food you eat, then go natural! Get more information about this topic (some very scary!) via the links and reports on our Organic Advantage page.
Farm grown is better! Purchasing directly from organic farms and farmers' markets helps guarantee fresh produce. Farmers' markets and home delivery food basket programs (also known as Community Supported Agriculture or CSA) are a great source of natural and organic food for your family.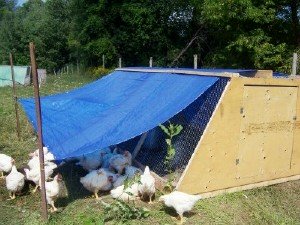 We day-range our poultry on pasture - NO confinement
Pasture-raised is better! There is growing evidence to show that raising animals on pasture is better for the animal, better for the farmer, better for the environment and produces food that is better for the consumer. Find out more on our Organic Farming and Animals Welfare page.
Local is better! Current statistics show that over 85% of natural and organic food eaten by Canadians comes from outside the country. It takes 1500 calories of petrochemical energy to get 1 calorie of food energy to Canada from California. That is the definition of 'not sustainable'!
Buy local, get great food, support your local grower and save the environment, all at the same time! Look for local, Ontario, or Canadian sources (preferably in that order) for natural foods and organic packaged and prepared foods as well.
Our piggies help clean up our garden
Now what, oh wise yet humble farmer/poet?
You can follow the links to find sources and resources for natural and organic food in Ottawa and Eastern Ontario. For the rest of the world, we have information about growing, cooking, preserving and enjoying good natural and organic food that's also good for you.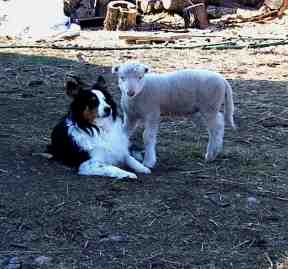 Dogs and lambs living together - MASS HYSTERIA!
---
New Terra Farm Receives Innovation Award

New Terra Farm received the Premier's Award for Agri-food Innovation Excellence for our innovative small farm marketing and management model. Find out more about the award on our New Terra Farm page, or Contact da Farm for details.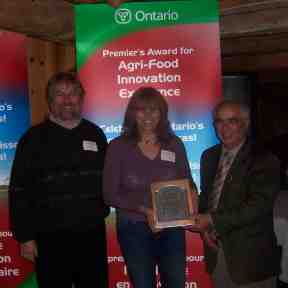 Suzie immediately grabbed the plaque, wouldn't let go
The award is just one reason we believe that there's never been a better time to be a market gardener! Demand for fresh, natural and organic food is soaring: the market in North America is growing by at least 20% annually.
If you are a small farmer (or are thinking about starting a market garden), don't miss finding out more about about our prize-winning market gardening model and take home some lessons from our efforts to launch a successful small farm (without having to spend a fortune.) Hey, they gave us the award, we must have done something right!
New Terra Farm Releases Bootstrap Market Gardening book  - 2019 Edition



We didn't have a lot of money, or equipment, or a huge farm, but we found a way to make our farm work anyway. If that describes your situation, you might want to check out the Bootstrap Market Gardening book, to find out how we did it!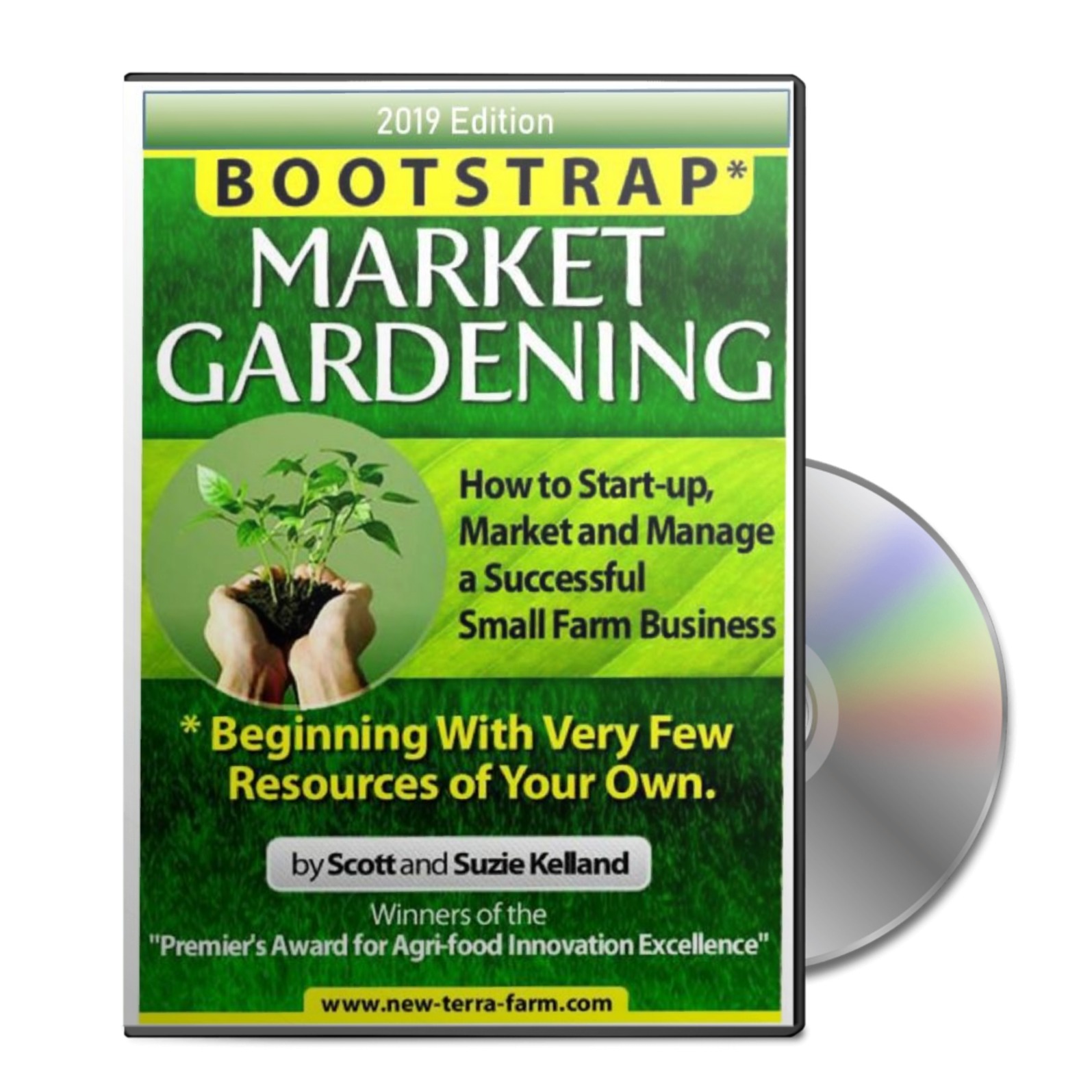 Bootstrap Market Gardening book plus Garden Planner software
Farmers (and all you others!) Want a website that works, guaranteed?
Always wanted a web site for your business but didn't know how to go about it? Find out how we grew this web site. p.s. you don't need to be a farmer to take advantage of this (and you don't need to be an HTML programmer to build a working website!)
---
DISCLAIMER
This site made with 100% recycled electrons. No animals were harmed in any of the photos (a few didn't make it past Thanksgiving, though)


Award-winning farmer, author and speaker Scott Kelland
Build your Bootstrap Grreenhouse with step by step instructions from New Terra Farm
Farm software created by New Terra Farm
Get free stuff from from New Terra Farm
Our free market gardening guide could have helped this beginning market gardener avoid a costly mistake.
A witty collection of country fresh humor, farm fun of the finest kind
The FIRST market gardening book from award-winning market gardening team.Step by step instructions to guarantee your market, your profits and your success
How to raise chickens to put food in your freezer and folding money in your wallet
Raising pigs on pasture for your freezer and your customers
Get all the information you need to start farming from New Terra Farm
Practical farm training from award-winning New Terra Farm
Like some guidance getting your new farm started? Get the advice you need from the New Terra Farm small farm coach
Growing a super salad garden is easier than you think
With our organic food delivery program New Terra Farm will bring the farm to you.
Scott and Suzie teel our story of creatingNew Terra Farm
How did two simple farmer/poets grow a cool web site? Find out here!
Reach out and touch da farm!
A review of Solo Build it the powerful and popular online business building program from Sitesell.com
Writing tools are just as important as rakes and hoes for the modern market gardener. Check out this collection from New Terra Farm
Practical market gardening tips, articles, books, links and resources from award-winning New Terra Farm
Raising chickens is a great business for small land owners. Learn how to raise chickens organically for your freezer and your customers.
Step by step how to start online businesses to make a second income from home
Get the latest on natural and organic food from the New Terra Farm blog
Questions, comments and discussion about organic gardening and farming topics of interest
Tips for building successful farm websites that get the clicks and help your sales
Find out what's going on in the organic food industry. Get the news and views from New Terra Farm
Tirades and rants against tyrants and sycophants
Grow hundreds of dollars worth of fresh organic vegetables by following our home vegetable garden plans
This compost tea recipe makes a great organic seed start booster and a pick me up for your plants
How to make compost tea to feed your plants organically
Start a winter vegetable garden in late summer or fall to keep the garden goodies coming
Is a micro farm in your future? Learn how to get started
Find out the right way to start market gardening using our award-winning 'bootstrap' market gardening model
Failing to plan is planning to fail! Start with a strong farm business plan for your bootstrap market garden
How to build your bootstrap market garden plan to feed your hungry customers!
Chicken raising is not difficult with the right information
Here are a few chicken coop ideas and simple chicken coop plans for the backyard or small farm
What do you need to know about chicken coop construction to successfully build your own chciken coop?
Use this chicken coop plan comparison table to pick the right plan to build your own chicken coop
Raising pigs on pasture is a great way to put meat in your freezer and money in your wallet.
Factors to consider whenn you buy a hobby farm
Learn how to farm the smart way by growing with the seasons
Learn how to farm from award-winning New Terra Farm. If you seriously want to make money on your small farm, start here!
The factors you should consider when selecting your vegetable garden site
Important tips on how to start seeds for your market garden
Leaen how to plan a garden for your small farm or rural property
A collection of country living articles and work at home ideas from New Terra Farm
If you have 25 acres or 5 acres or even less than 1 acre, organic chicken farming can put food in your freezer and money in your wallet.
Award winning farm explores micro-farming for profit in the Great White North
Since 2005 we have been looking at the best online business ideas that can be started by anyone to generate a great income online
The step by step process to start an online business that gets the clicks and generates income
Here's how to create an affiliate business online opportunity to launch a business without any products of your own.
My favorite online business idea is that of infopreneur. The web makes selling information products easy.
The secret to successful small farm living is plan your work and work your plan
Growing plants in a greenhouse is an excellent choice for small organic growers
A simple raised bed garden plan for growing crops in a small organic market garden
A green community journal depicting the path of a green community from inception to implementation
Make 40,000 dollars on one acre with this market gardening plan from New Terra Farm
New to the country? Here are some tips on living the country life and rural etiquette
Want to work and learn on an award-winning organic community farm. Apply here for the 2008 season
Sustainable organic farming will be the farming model that will feed communities after Peak Oil
We use a lot of floating row cover for both insect and frost protection. Here's how we do it
Growing for market is one of the best jobs there is, and Community Supported Agriculture is the best model for new farmers to follow.
Start your own business online step by step
What are the best micro farming ideas for the new small proprty owner? Here's the recommendations from New Terra Farm
If you are thinking about market farming as a career, here's a few points to consider before you take the leap.
Tips and suggestions for small farm living for the new farmer
What dos it take to achieve CSA success? Check out these 7 success secrets.
The advantages of starting a greenhouse on your small farm
Farm planning is the critical first step to farm success
Can you have a successful farming business on a one acre farm? Get this free plan from New Terra Farm
If you have access to a small piece of land, you can learn how to live cheap by providing much of your own food.
Create a REAL work from home job - build an online website business
Raising chickens for meat and money is a great business for your small farm
Every small business needs customers; this includes farm businesses. Customers come from marketing. Here are some simple, smart ways to market your small farm business to get that flow of customers
Vegetable farming for profit is different from growing your home garden. Here's some things you need to know.
You can have a profitable, sustainable business even on a 5 acre farm. Here's how , , ,
Community Supported Agriculture is a powerful model with benefits for market gardeners and customers.
If you are going to be vegetable gardening for profit you need a market gardening business plan
Much of the market gardening advice given 100 years ago is still valid today. Here's some tidbits from a market gardening book published in 1874
Exactly how mucj meat can you expect if you are raising pigs for meat?
Is homesteading today still possible? Here's some answers from a practical perspective
Practical vegetable farming advice from award-winning New Terra Farm
The best affiliate program I've found to create additional streams of income
How does Day Range Poultry compare to the Chicken Tractor Model? An analysis by New Terra Farm
Make money selling plants from your backyard nursery. Work from home growing plants for money
Start an online business from home and succeed with these tips
Growing a high income market garden requires careful crop selection. Here's how!
What the small organic grower needs to know about farm risk management
Successful gardeners are consistent gardeners. Here's how to plan your market garden for continuous harvest
Why I don't want a job (and 3 reasons why you don't't want one, either)
How much money can you reasonably expect to make when small farming for profit?
Why your small farm needs an ecommerce farm website (and how to get started)
Some tips to avoid troubles with your chickens on your small farm
Why we REALLY NEED more small farms to feed the world
What can you learn from a diumb cluck? Here's some important lessons from the chicken coop
Small greenhouses are a great investment for small farms. Find out why here . . .
How farming the Internet can help the bottom line for your small farm
Farm hurdles you must clear on the way to your piece of paradise in the country
We are all eating oil whether we realize it or not
Now is the time to start your market garden plan for next season
Some frequently asked questions about CSA we hear from our prospective customers
Is a multi-farm CSA the way for small farms to feed communities?
Website building for non-techies, or even farmers need the Web
We raise pigs in the garden to the benefit of both the animals and our garden crops
What can you grow on a quarter acre farm to make some income?
Great specials and sales from New Terra Farm. Get 'em while they're hot!
Some tips on extending the garden season from New Terra Farm
Some tips about farming for results from New Terra Farm
To secure our food supply in the future we will need a network of mini farms feeding communities
Some tips for getting fit for the farm you want to have
Money grows in your garden. Some tips on starting a market garden for the new grower
Being a part time farmer is a great gig. Here's how to get started.
What does the future of farming look like? Big agri-business or family farms?
The best farm investments for the small local grower
Some more small farm living tips from New Terra Farm
Make $20 to $25 an hour with a small CSA
Can't find a summer job? Start a student CSA instead!
Business as usual may not be usual much longer. Grow a survival garden to ensure your family food supply
A reality check for planning a survival garden to assure a long-term food supply
The 'eating season' is 12 months a year, so your food plan needs to include a four season survival garden
Why you need a survival community to get through the hard times a'comin'
Some points and priorities for your small farm survival plan
We need to throw off the oppressors and launch a Food Revolution
Why small growers need to build a greenhouse to protect their crops and their season
Faith - a pattern repeated in many ways and sources
The why, how, and how much of growing sweet potatoes in the Great White North
Read about the wins and not-so-much's in our farm review 2019
Get the latest on TNT-Buds Inc
Here's a few things we've learned about raising farm animals over the last couple decades
The best high income crops that are easy to grow for fast cash
What to watch out for when you buy a farm
A dozen free digital tools including web software, office suite, and graphical design
How to write for your audience
The future of food lies in building a robust local food web driven by pesonal connections.