A 5 acre farm plan for the small landholder
More and more people are leaving the cities and buying small rural properties. Here's a 5 acre farm plan to help them (and maybe YOU) manage a micro-farm to create a sustainable, profitable business.

To start, let's set some basic assumptions in place:

Assumption 1. The farm will be 'natural': We will use organic and sustainable methods to the degree feasible. If you live where you work, you don't want to introduce toxic substances into the environment.

Assumption 2. Integrated production of livestock and vegetable crops: Livestock animals are beneficial on a small farm, provided you raise them properly. This means raising them outdoors and not in confinement. And the livestock will add another valuable income stream to your micro-farm.

Assumption 3. This is a business, not a hobby: No business starts up without some idea of where customers will come from, or how much revenue is needed, or who will do the work needed on your 5 acre farm. This means we need to think about planning, marketing, and management as well as production.

OK, with these basic assumptions in place, let's look at the plan.


The 5 acre farm plan
Here are the pieces of your 5 acre farm:
A 3-acre CSA market garden


A 1-acre cover cropping area


A 1-acre pasture area for raising meat chickens and pigs


A 4000-sq. ft. hoophouse for starting transplants and growing early crops. The hoophouse will reside at the north end of the property, to avoid shading crops and also to help provide a windbreak from northerly winds.


20 beehives to help with garden pollination and to produce a cash crop of honey. The bee yard can be on the perimeter of the garden.


Assorted fruit trees on the north (an optionally, west) perimeter of the property.


Equipment needed for your 5 acre farm
Here's a list of the minimum basic equipment needed to efficiently manage your mini-farm:
diesel tractor and loader in the 40-45 hp range


Spader with power harrow


Bed shaper and drip tape/plastic layer


Transplanter


Rotary Mower (Bush Hog)


Rear-time tiller (Troy-Bilt or BCS), 8-11 hp range


Pickup truck


Walk-in cooler or refrigerated room


Plant starting light room or small heated greenhouse


Electric mesh fencing and charger


Feeders, waterers, and portable housing for pigs and chickens


Honey processing equipment - cap knife, extractor, filters etc


---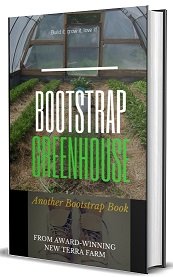 New for 2019 - Get Bootstrap Greenhouse now just $9,and only from New Terra Farm!
---
Putting it all together
Here's how it all goes together:
You grow your market garden on a three-acre section of your farm.


The garden area rotates with the animal grazing plot and the cover crop area.


The animal grazing area can be planted to forage crops to help with feed costs.


The cover crop should be some deep-rooted, nitrogen fixing crop like alfalfa


The electric mesh fencing protects your animals and your garden from predators


Your large greenhouse will start crops several weeks earlier than the outside garden, and can hold flats of transplants from the small heated greenhouse until they are ready to be planted out.


Revenue from your 5 acre farm
Let's assume you are following the Community Supported Agriculture model for your small farm. Here's a quick breakdown of the revenue possible from the above plan. CAUTION: this is an example only, actual income will depend on your market, your model, and your skill as a grower. Expenses will probably go up as you add enterprises as well.
Sales of 90 CSA full shares @ $900/share = $81,000


Sales of 500 meat chickens = $9,000


Sales of 12 pastured piggies = $7,000


Sales of 1,000 lbs of honey = $5,000


Sales from your mini-orchard = $4,000


Total sales = $106,000
This is not the limit; you could add bedding plants for the spring, or a fall planting of garlic, or value-added products for the winter to the mix. You could have laying hens in an 'egg-mobile' in the summer, and house them in the greenhouse in the winter. Lots of possibilities, limited only by your ability to manage.
For further reading . . .
Now is the time to start planning your farm for next season, check out the links below and the resources at right to help you make next year the most successful year on your small farm . . .

Free one acre farm plan

Your CSA market garden is the centrepiece of your 5 acre farm plan. Your CSA customers will also be a prime market for your other farm products. Learn how to plan, start-up, market and manage your own Bootstrap Market Garden

A backyard nursery can be a profitable home-based business for the new grower or would-be small farmer. Learn the ropes here Start a backyard nursery

Why my farm needed a website (hint: I needed more income, and a way to retire. Here's why your farm needs a website, too


Return to How to Farm from 5 acre farm plan


Return to Home page