Make money selling plants from your own backyard nursery
A backyard nursery can be a profitable home business for the new grower or would-be small farmer. I found out this spring that people seem to pay more for ornamental plants than the ones they can eat! You can take advantage of this odd fact by growing and selling plants for money.

I ventured into the backyard nursery business on a small scale a couple years ago; I wanted to test the waters before I bet the farm on a new business (to mix a metaphor.) Here's what appealed to me about growing plants for money:


I could start on a small scale and learn without a huge investment

The equipment requirements and start-up costs were low, and most of the equipment was reusable

I was growing my own transplants for the market garden anyway, and could make use of the same infrastructure

Selling plants could bring in additional money before my regular season

And of course, the somewhat surprising fact that plants you can't eat seem to sell for more than those you can. Higher margins, more cash in my pocket.



---
A 'low tech' plant stand in my backyard nursery
These facts convinced me to give the business a try. Here's some pointers if you are thinking about starting your own home-based nursery business.

---
New Special Report:  "Grow the Top Ten Most Profitable Vegetables".
Grow like the pro's for maximum productivity (and profit)!
---
Getting started in the backyard nursery business
If you've read anything on my site about starting a market garden you know that I strongly recommend a four-step process to start any business. The four-step process is Planning -> Marketing -> Management -> Production. This process is no less valid when starting a backyard nursery business.

The planning phase is where you set targets for your business, estimate your sales and expenses, research the kinds of plants that are popular in your area, and what they sell for.

You also need to to look into local bylaws and zoning restrictions that may affect your business, as well as any licensing requirements. Don't neglect the fact that you will probably need liability insurance.
DO NOT start without taking this step; you don't want your fledgling business shut down by the guv'mint just as you are making some money.

It would be a good idea to go to a couple local farmer's markets or flea markets that have plant sellers. Take a look at their stock, and see what advice they can give you.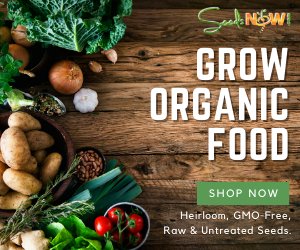 Daily Deals, Grow Guides, and a *100% FREE* ORGANIC GARDENING eBOOK
One key piece of advice for the serious gardener -  buy LOTS of seed EARLY. Seed houses often sell out of popular varieties. Most seed keeps for several years, don't risk running out mid-season.

This is one of my go-to resources for Heirloom, organic and non-GMO seeds. Awesome selection, great prices and excellent customer service.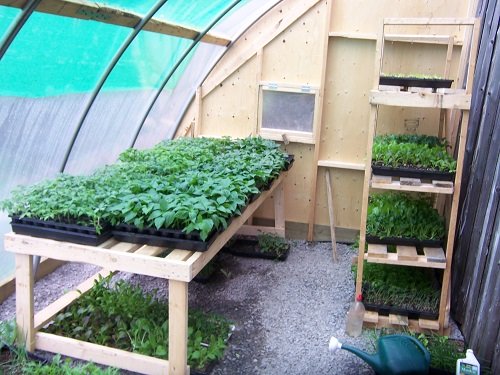 First lean-to greenhouse we built to start plants for sale
Selling your plants
Let's say you've figured out that you would like to start your backyard nursery business by selling 100 each of the 10 most popular bedding plants in your area. Based on our research, we grew marigolds, nasturtiums, sweet pea and a miniature sunflower that turned out to be our bet seller.
Marketing is all about finding the buyers for your plants. Where will you sell your plants? When will you sell your plants? Will you sell plants all season, or just try to hit the peak early summer period, and sell out in a few weeks? (That's what I did, by the way.)

With these goals in mind, now comes management. This is all about figuring out your schedules and location and methods for growing and selling your plants profitably.
When do you need to start your plants to have them at optimum age for display and sale? What kind of care will they need? Who will do the work?

Finally, with all this figured out, you start production: the day to day care and feeding of your nursery plants.
CAUTION: do not start this process the other way around; that is, by growing a bunch of plants and then trying to figure out how to sell them. This is a sure way to failure for your small business.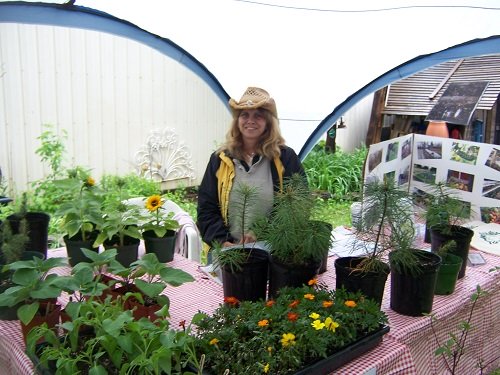 Suzie selling sunflowers (not at the sea shore)
Growing your backyard nursery business
Once you have (at least) one season under your belt, you might be thinking about expanding your business. This will be a lot easier if you kept good records of sales to find out which plants were most popular. (In my case this was a beautiful little dwarf sunflower; I wish I had grown a thousand of them!)

Before you re-launch your empire, make sure your market can accept more of your nursery plants. Will you have to sell at more than one market to make your sales goals? Remember that time spent at the market is time you don't have for caring for your plants.

Also, be aware that growing a few hundred plants of limited varieties is very different than growing the many thousands of plants that are found in a commercial nursery.
Our 20x30 greenhouse on rails fully planted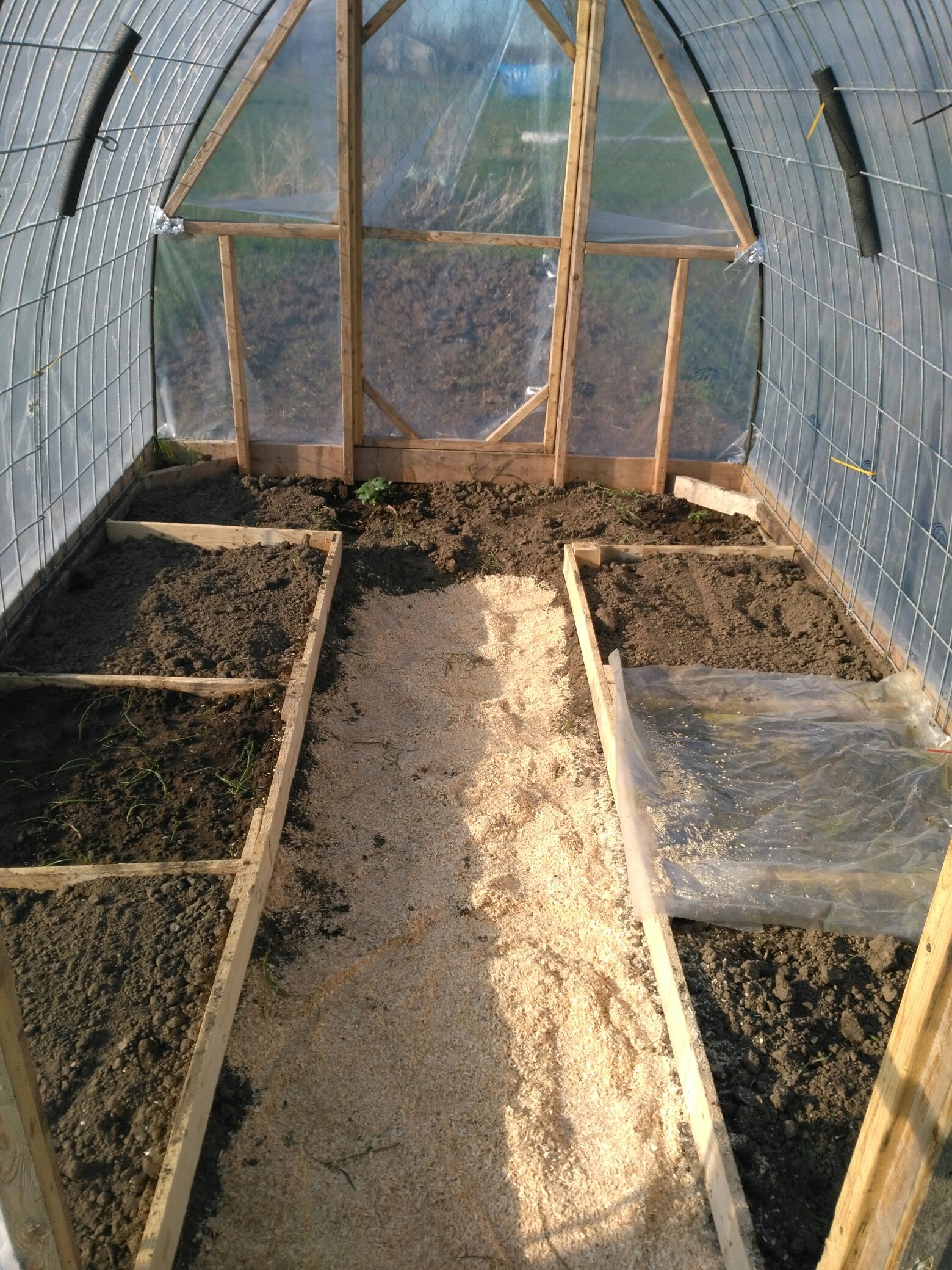 Our latest mini-greenhouse just 8' x 12'
Your home-scale growing techniques may not be efficient at a larger scale. You may have to invest in a greenhouse, automation e.g. irrigation systems, misting boxes, thermostatically-controlled fans. Be sure this investment will pay off.
Find your Backyard Nursery supplies here...

If you've surfed around my site you may have seen my farming books - 'Bootstrap Market Gardening', 'Bootstrap Greenhouse', 'Bootstrap Survival Garden'.
I didn't know it when I wrote the books but there is an AWESOME supplier of commercial-quality farming and gardening supplies serving the U.S. and Canada.
You need to check put BOOTSTRAP FARMER.
They have everything you need for seed starting and greenhouse growing - including the greenhouses! They are worth a look if you need to get your growing game going.

Free Reports from New Terra Farm
---
I wrote some books...
Based on 20+ years of gardening and farming experience, I wrote some books that show you practical approaches to gardening and raising small livestock. If you want to fill your freezer and cold storage with your own healthy, nutritious food, and provide some real food security for your family, it might be worth a look here.
I just put together two special book deals:
If you are a new 'country dweller' or homesteader (or soon to be), check out my

Homesteader Book Bundle

If you have ambitions to start a small mixed organic farm of your own, take a look at my Complete Start Farming Pack
Backyard Nursery
Backyard Nursery