MIcro-Farming for Profit (even on a really small farm!)
Welcome! This brand-new section of my site is going to explore micro-farming for profit from a practical, sustainable viewpoint.

I am actually going to create a one-acre, organic micro-farm, incorporating livestock animal and vegetable production, with the goal of generating a $40,000 income while maintaining the land's fertility and tilth (whew!) And, you can watch!

Just released - get my new free report: How to raise chickens, pigs on pasture, and an organic market garden - on JUST ONE ACRE!

Download my free One Acre Farm Plan


If you want to follow along as we work the farm, click on the link above, and add your email to the form that will be displayed. I'll send you my free Mini-Farm Plan, and each week you will also get an e-mail explaining what we are doing to make this plan come true.
So, who the heck are you, anyway?
You may be wondering, 'who is this guy, and why does he think he can pull this off'? Does he have any actual experience in micro-farming for profit? The answers are mostly documented elsewhere on this site - e.g. check out the New Terra Farm Page but bear with me for a couple para's while I provide some background.

My name is Scott Kelland, I'm the the owner, Head Gardener, Director of Marketing, COO and CIO for award-winning New Terra Farm near Merrickville, Ontario.

New Terra Farm has been around for 10 years; in that time my wife Suzie and I have explored ways to make money on a small farm, without employing harmful or unsustainable farming practices.

Overall, we have been pretty successful; we have a CSA market garden providing food to 75 families (2009 season) and we raise pigs and meat chickens on pasture for those same families.

And, not to brag, but in 2007 we won the Premier's Award for Agri-Food Innovation Excellence for our small farm marketing and management model.

And, why are you writing this stuff?
So, why am I writing this stuff about micro-farming for profit? The answer is pretty simple: Suzie and I strongly believe that North America desperately needs more small, sustainable, family-friendly farms.

We believe that, sooner or later, whether through environmental catastrophe, rising oil prices, or financial disaster, the current unsustainable agri-food industry will collapse. And communities once again will depend on local growers for their sustenance.

Unfortunately, due in part to government policy and the actions of the 'agri-business' industry, many small farms have disappeared. And the skills to operate such a farm have, in many cases, been lost. Hence, my writing about micro-farming for profit, as a way of helping close the 'skills gap'.

When we wrapped up the 2009 growing season and started planning 2010, we decided we would make it an explicit mission of New Terra Farm to grow farmers as well as food. We want to show that micro-farming for profit is possible on just about any plot of land, by anyone with the 'drive' to do it.

I had that idea in mind when I wrote my books about small farming (see links to the right of the page.) The books got good reviews, and I know they have helped hundreds of people learn more about micro-farming for profit.

How do I expect to convey my experience and provide the information, training, and explanations necessary to allow someone to create a profitable micro-farm on just one acre?

Well, as you can see from the preceding, all the pieces of the one-acre micro-farm already exist here at New Terra Farm, although they are not consolidated and integrated the way they need to be to fit in one acre. And remember, while we are micro farming for profit, we also want to maintain and in fact improve our little plot of land.

So, here's the plan: We will begin documenting step by step all the actions we take to plan and manage and operate our one-acre micro-farm. Everything from what seeds we order, to laying out and planting the garden, to marketing the farm products, to hiring farm help, to growing, harvesting and delivering our garden goodies.

We will show you the cash-flow we receive and expenses we incur, the purchases we make, and the equipment we use.

We will show you how we operate our plant starting room and greenhouse. You will learn all about season extension, managing bugs, weeds and other pests in an organic market garden, irrigation, crop rotation, cover cropping, using pollinators like honeybees, and about 1.1 million other things that are necessary for a successful, sustainable organic market garden.

You will also learn how we have been successfully i.e. profitably - raising pigs and meat birds organically, on pasture, and how to integrate livestock animals with your garden production to create an efficient micro-farm eco-system.

In short, we will try to show you everything you need to know to start micro-farming for profit on your own. Stay tuned!


Micro farming for profit articles
Here's some of the latest and greatest micro-farming for profit articles, hot off the keyboard . . .

If you are considering a move to the country and plan to buy a farm, this article has some information that can help you through the process . . . Buying a farm

Creating a farm business plan is the first (and most important) step you should take when start micro-farming for profit. This is time well invested in the success of your business. Your farm business plan

You've grown some wonderful veggies in your market garden and now the time has come to sell them. So you head off to the farmers market, right? Wrong! If you are a market gardener (or want to be one), there are good reasons to stay away from the market. Why say NO to the farmer's market

So, you have lots of hungry customers signed up for your market garden . Now you need a garden plan to figure out how to grow the veggies to satisfy those customers. How to plan your garden

I use raised beds in my market garden to provide early soil warming and to protect against flood. If you are micro-farming for profit you have to take every advantage. Here's a raised bed garden plan that can be adapted to grow a variety of crops. The raised bed garden plan

Why is sustainable organic farming important? Because I believe we are headed for changes of massive proportions in the near future. I believe that declining oil, increasing social and financial upheaval and the devastation of our environment will irrevocably change how we live in North America. Here's why you need Sustainability on your Small Farm

A backyard nursery can be a profitable home-based business for the new grower or would-be micro farmer. Learn the ropes here Start a backyard nursery

I've been 'on-line' since 2005; about half my farm sales are a result of my website, and other sales - e.g. my books and products I recommend - provide a nice steady income, even in the 'off-season' from farming. Over the years, people have asked me how they can develop a working website, that gets 'traffic' and makes money online. Here's how you too can grow an income-generating farm website


Return to Home Page from Micro-Farming for Profit




---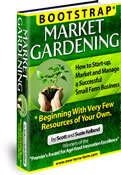 NEW! I'm putting the FULL TEXT of Bootstrap Market Gardening online for anyone to read! All 100-plus pages will be available to read . Yes, this is the same book that I have been selling for $47, now free to read online.Click here to start reading Bootstrap Market Gardening