The MOST

EFFECTIVE

Ways to Make Money on Your Small Farm . . .

Practical Farm Training from Award-Winning New Terra Farm
p.s. check out the bottom of the page for the best deal!

In 2007 New Terra Farm won the Premier's Award for our small farm marketing and management model. Since then, it's been our mission to offer practical farm training to novice market gardeners,  'wanna-be' farmer and new farmers who are looking to expand or improve their business.

Over the years, hundreds of people have used our books and courses to help put their farm enterprises on a practical business footing. We're also proud to say we have helped several people in our local area start their own successful organic market garden using our principles and techniques.
On this page we've collected all the books and training programs offered by New Terra Farm. Use the links below to go to the individual pages for the items shown.

---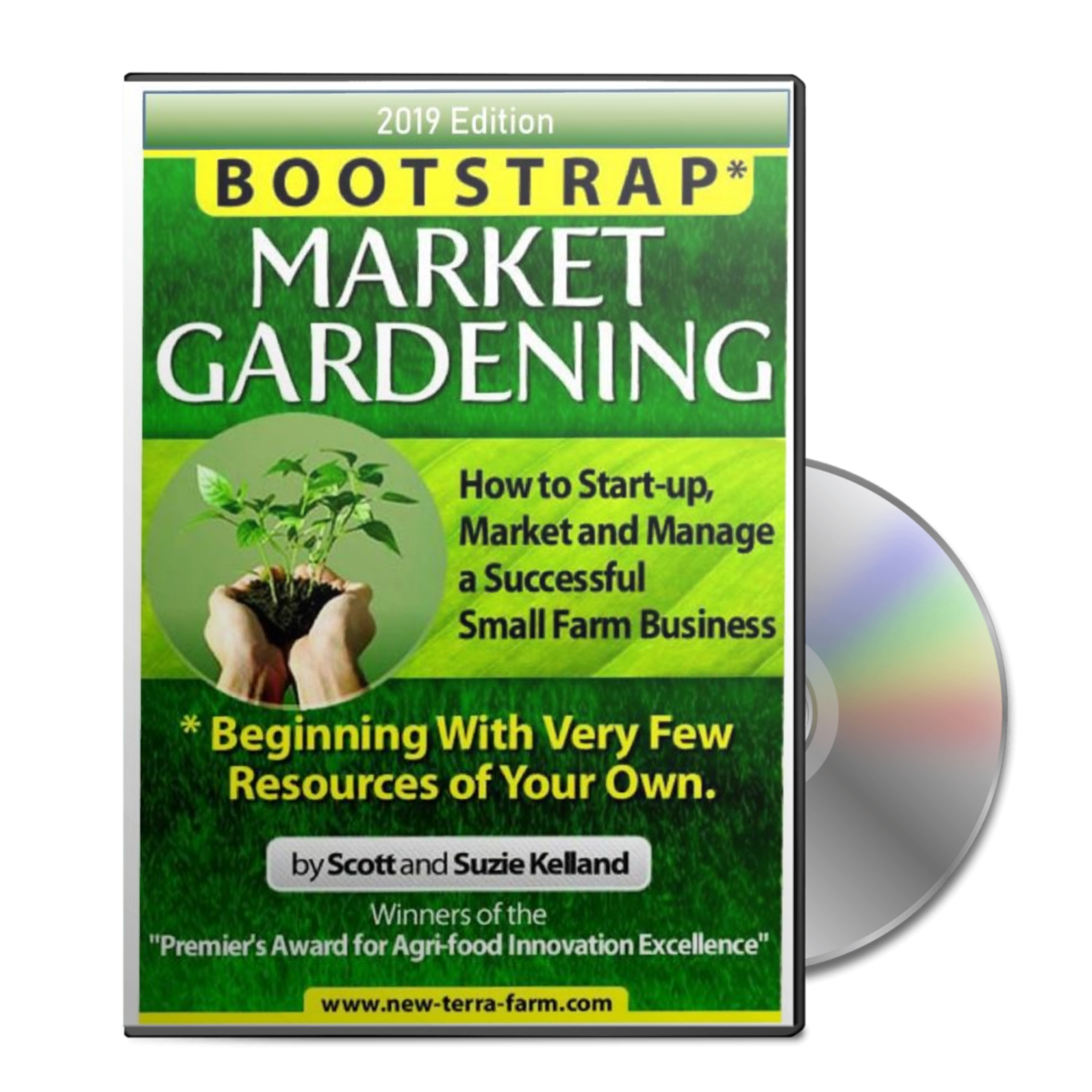 2019 Edition includes new Garden Planner software
Bootstrap Market Gardening is the book that started it all! This was the first book we wrote that explained how to start-up, market and manage a small organic market garden based on CSA principles. Now comes with Bonus Software. $13

Bootstrap Market Gardening is also available as part of the Complete Start Farming Pack shown below. If you think you might want more than one New Terra Farm practical farming book, check out the Start Farming Pack further down the page

---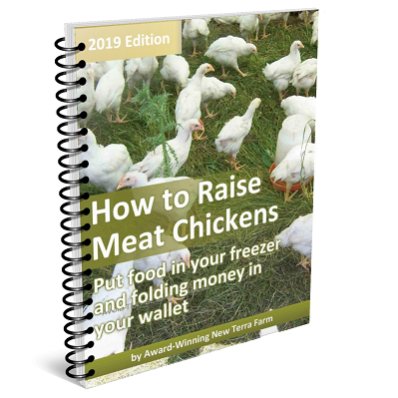 2019 Edition now with TWO bonus Books
How to Raise Meat Chickens was the next book we wrote, to show new farmers a simple and inexpensive way to raise organic pastured poultry. This pack also includes plan for the New Terra Farm Movable Coop (we've built a few of these, they are cheap and simple to make).
And for 2019 we've added the New Terra Farm Hoop Coop bonus book .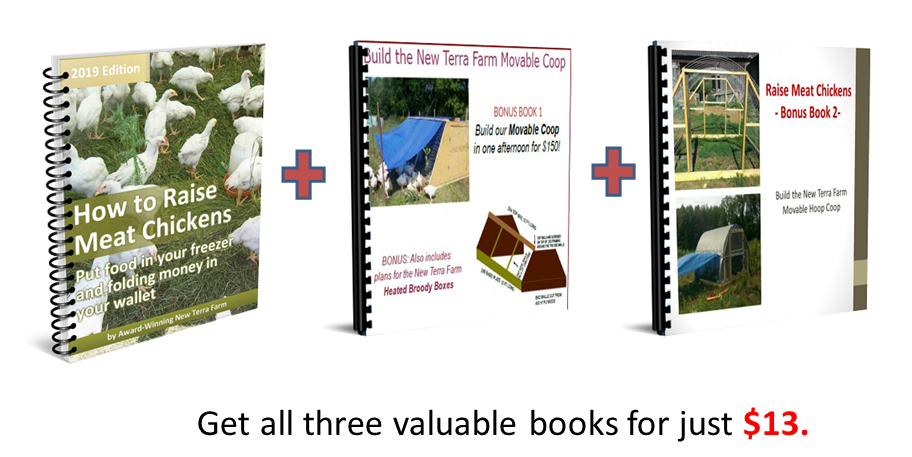 How to Raise Meat Chickens is also available as part of the Complete Start Farming Pack shown below. If you think you might want more than one New Terra Farm practical farming book, the Start Farming Pack can save you some money.
---
2019 Pigs on Pasture now includes the Porkulator software
Raising pigs on pasture is a great sideline business for a small farm. we use our piggies to prepare ground for planting and to clean up the garden in the fall. And our customers love our premium pastured pork.
AND, get the Porkulator software I wrote to help me figure out costs and profits for my pastured piggies. Just $9 only from New Terra farm

New for 2019! Build your own Bootstrap Greenhouse. Get the details on building the three styles of greenhouses we constructed and use at New Terra Farm.

Three greenhouse designs for $13
---
And, to wrap it all up . . .

COMPLETE 2019 Start Farming Pack
NOW get ALL the New Terra Farm books and save over 50%. The Complete Start Farming Pack includes:
Bootstrap Market Gardening and Bonus Software
How to Raise Meat Chickens and TWO Bonus Coop Plans
Pigs on Pasture AND the Porkulator Software
Bootstrap Greenhouse with plans for my 3 greenhouses
PLUS additional Software Bonuses
This incredible package would sell separately for more than $50, but with this deal you get whole magilla for just $27. Only from New Terra Farm.

Important Note: New Terra Farm can ONLY offer these deals because we deliver our practical farming books to you electronically, via instant secure download. No physical book will be shipped.
And as always, all my books and course are backed by a full 12-mionth guarantee. if you feel my books did not deliver valuable information, you can return them at any time in the next 12 months for a full refund, no questions asked.