How to Raise Chickens
Learning how to raise chickens is not difficult, if you follow a few basic guidelines. There are a few key steps to follow and a couple important issues that you need to be aware of to successfully raise baby chickens into tasty (and profitable) roasters.

Just released - get my new free report: How to raise chickens, pigs on pasture, and an organic market garden - on JUST ONE ACRE!

Download my free One Acre Farm Plan


Here are some of the key principles to successful chicken raising:
Do it natural. Organic is the only way to go. If you are going to the effort of raising your own birds for the freezer or for sale, you might as well raise the best.


Do it outdoors. Raising chickens on pasture is simply the best choice for the small flock owner. Chickens raised on grass have fewer health problems, are more nutritious, and are tastier, too!


Don't process them yourself. Cleaning and plucking chickens is quite a bit of work, and if you are doing a batch of, say, 100 birds, you will need space, help, and probably lots of freezer space to get the birds frozen quickly.

Unless you really want to be fully self-sufficient, or you have experience in processing chickens, I recommend you bring your birds to an inspected abattoir, especially if you plan to sell them.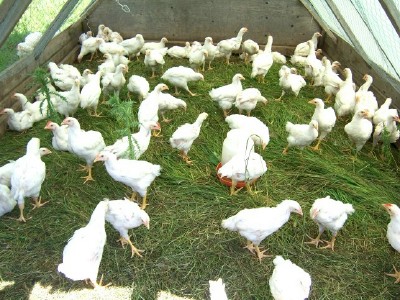 We've been raising meat birds successfully - i.e. profitably - here on New Terra Farm for a number of years. You can find out more about our methods here:

Next: Before learning how, you should determine if raising chickens is a good idea for your small property. Here are some of the reasons why raising chickens may be right for you

Need a coop to raise meat birds? Check out the New Terra Farm Movable Coop

Here's how to raise chickens, step-by-step. Follow these instructions to raise your own small flock

Here are some key chicken-raising tips to keep your birds safe, warm, healthy, and growing steadily more . . .

Want fresh eggs from your own backyard? Here's how to Raise chickens for eggs


Why my farm needed a website (hint: I needed more income, and a way to retire.) Here's why your farm needs a website, too


Return to Raising Chickens


Return to Home page from How to Raise Chickens