Building a chicken tractor for raising meat birds
A 'chicken tractor' is basically a low, wire-enclosed, open-bottomed box for raising chickens. This structure keeps the birds in and predators out. The tractors are usually moved to fresh ground daily.

These portable cages can be constructed to just about any size suitable to your purposes. make sure to allow adequate space for the birds.
Well-known farmer Joel Salatin of Polyface Farm uses a 'fleet' of tractors sized about 10' x 12' to raise thousands of birds a year. I believe he puts about 75 birds in each tractor, giving a space of about 1 1/2 square feet per bird.

I would consider this the minimum space per bird you should consider, if the birds are confined. A small tractor might be 4' x 4', housing half a dozen birds.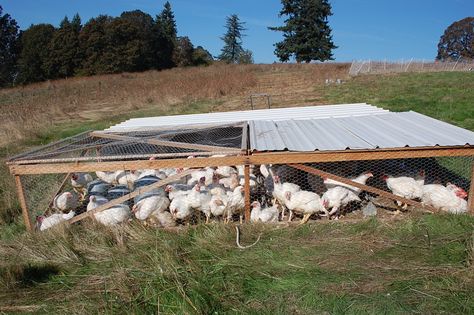 Chicken tractor at Polyface Farm
The New Terra Farm Chicken Tractor
We built a few 4' x 8' chicken tractors and put them in our garden one year. We moved the tractors around and the birds ate weeds and bugs, and fertilized our garden.

The tractors are usually constructed with a solid - e.g. steel - roof, and open sides enclosed in chicken wire. Part of the top needs to open to provide feed and water and access to the birds.

We used 2" x 3" framing for our chicken tractors; larger models may require heavier framing. Construction of a tractor is a compromise between making a structure solid enough to stay together, yet light enough to move.

Our first chicken tractor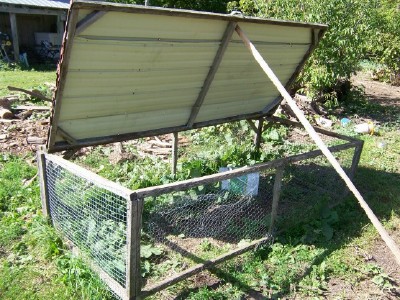 Not pretty but it worked OK

The tractor pictured above is 4' x 8'; we would put up to a dozen birds in it and move it around our garden to help clean up weeds and bugs.
Note: we no longer use chicken tractors like the above. We were not happy with the performance of chickens in them, and instead we designed and built a Movable Coop and our Hoop Coop to day range our poultry (see pictures below.)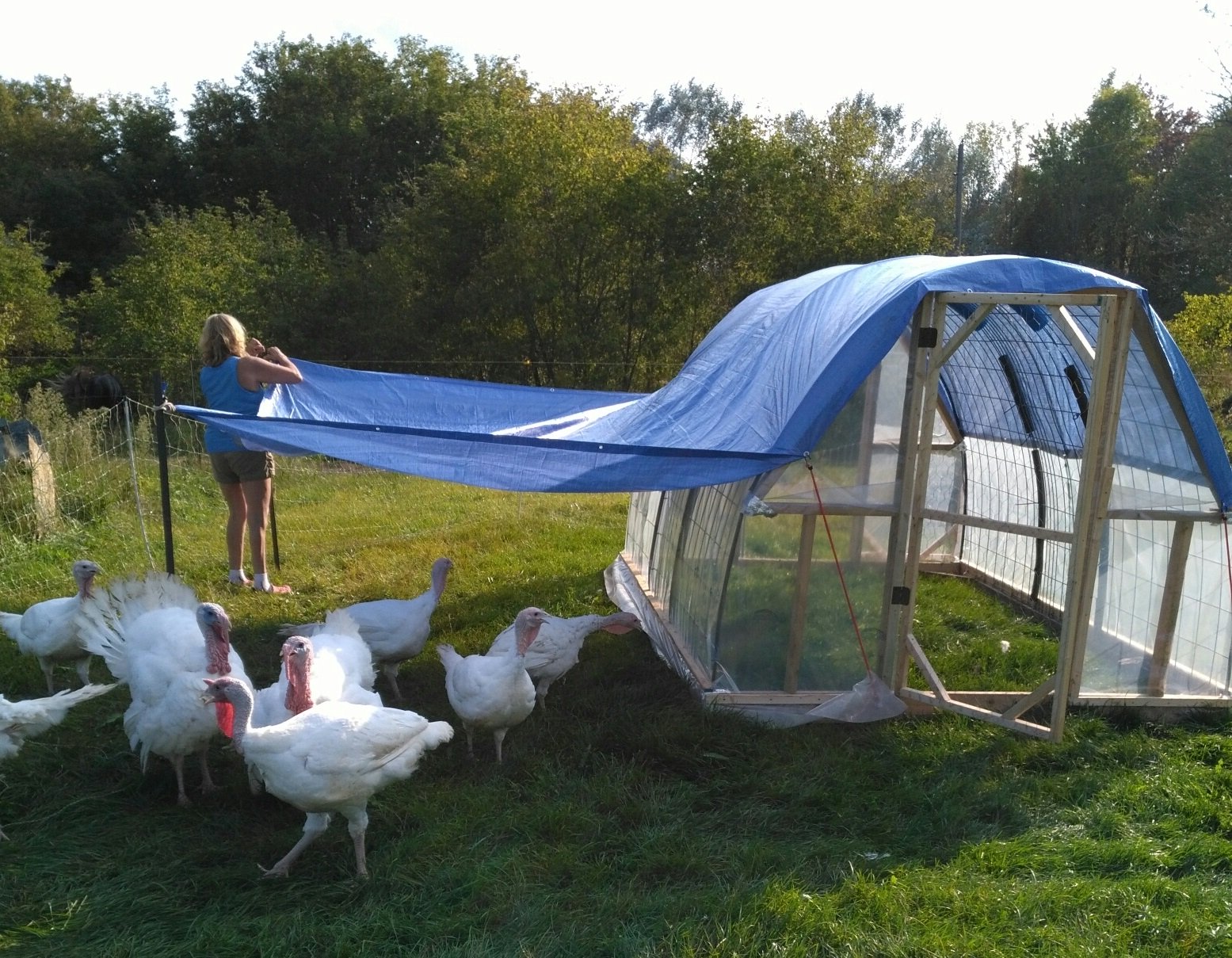 We find our chickens and turkeys do better if we 'day range' them
The first portable coop we built
---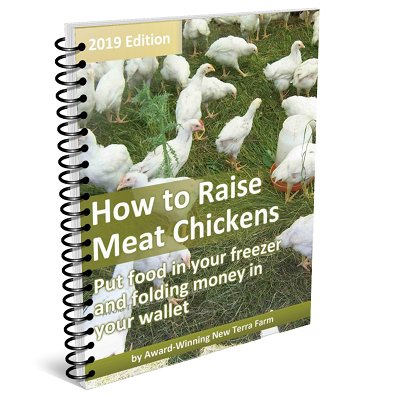 Day range your poultry for meat and money
If you are ready to raise chickens on your small property either to put food in your freezer or some money in your wallet, you might want to check out my book How to Raise Meat Chickens.
A LOT of chicken raising information, plus plans for my movable coop and the new Hoop Coop.
PS: for an even better deal, get How to Raise Meat Chickens and save 60% when you upgrade to my Complete Start Farming Pack

SPRING SALE: Just in time to plan your season, when you click on 'add to cart' use special promo code

FEB28

AND SAVE 50% ON ALL YOUR PURCHASES!
Sale ends February 28 2021
---
Chicken Tractor