Chicken Raising Tips from New Terra Farm
Chicken raising can be rewarding if you follow the right steps to reduce losses.

Get  free report: Raising chickens, pigs on pasture, and an organic market garden - on JUST ONE ACRE!
The One Acre Farm Plan

These tips will help you keep your chickens healthy and happy.
Keep your chicks warm and dry. For the first several weeks keep the birds in a warm, draft-proof enclosure. We use broody boxes like in the picture below. A heat lamp keeps the birds warm and the screened opening makes sure they don't overheat. The boxes keep out rodents, too.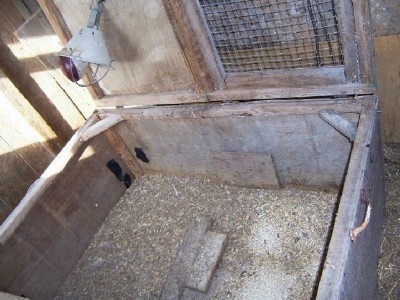 Our home-built heated broody box
Keep your big birds sheltered but not too hot. Once the chickens come out of the broody box, keep them in a place that provides shade and shelter. Hot weather can kill large meat chickens if they don't have access to shade. We raise our poultry on pasture; our portable coop has a canopy for shade.
Keep your chickens well fed. Use a good quality chick starter for the first 5-6 weeks then switch to grower. Don't overfeed; this can lead to problems as the birds may gain weight faster than their internal organs and skeletal structure can keep up. We have had success feeding the birds twice a day, with enough food to keep them eating for 15 minutes or so.
Keep your chickens safe. You need to protect your chickens from foxes, raccoons, weasels and even domestic dogs. They need to be in a secure enclosure like a fenced yard, and preferably locked up at night in a coop. We use electric mesh fencing surrounding our portable coop; it keeps the birds in, the bad guys out, and is easily portable when you want to move the chickens to new ground.
Keep alert. Another advantage of twice-a-day feeding is that you see the birds often. Keep alert for lethargic birds, or birds that don't seem to walk or move well. Watch for symptoms like 'pasty butt' and deal with them promptly. Quick care can often save a chicken that might otherwise not make it.

More chicken raising hot topics: We have raised chickens successfully for eight years by following these tips, and we have built several chicken coops to do so. Here's a peek at The New Terra Farm Movable Coop


Raising meat chickens can be a profitable business on a small property. Check out this sample budget at Raising chickens for meat


Or how about getting your own fresh eggs daily Raising chickens for eggs



---
Get the latest from New Terra Farm . . .

Now is the time to start planning your farm for next season, check out the resources below  to help you make next year the most successful year on your small farm . . .