Free Chicken Coop Plans
Can you actually build a chicken coop from free chicken coop plans? We decided to check out some free plans to see if they were practical for backyard chicken raising or the small farm flock.

We've been raising chickens at New Terra Farm for 20 years. We raise a few hundred meat birds each year, and also maintain a flock of laying hens.
This is the Movable Coop we designed and built the second year we were on the farm (I've now built several more of them.)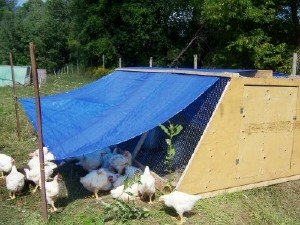 Day-ranging our meat birds in a Movable Coop
And this is the Hoop Coop we designed and built for raising meat chickens and turkeys.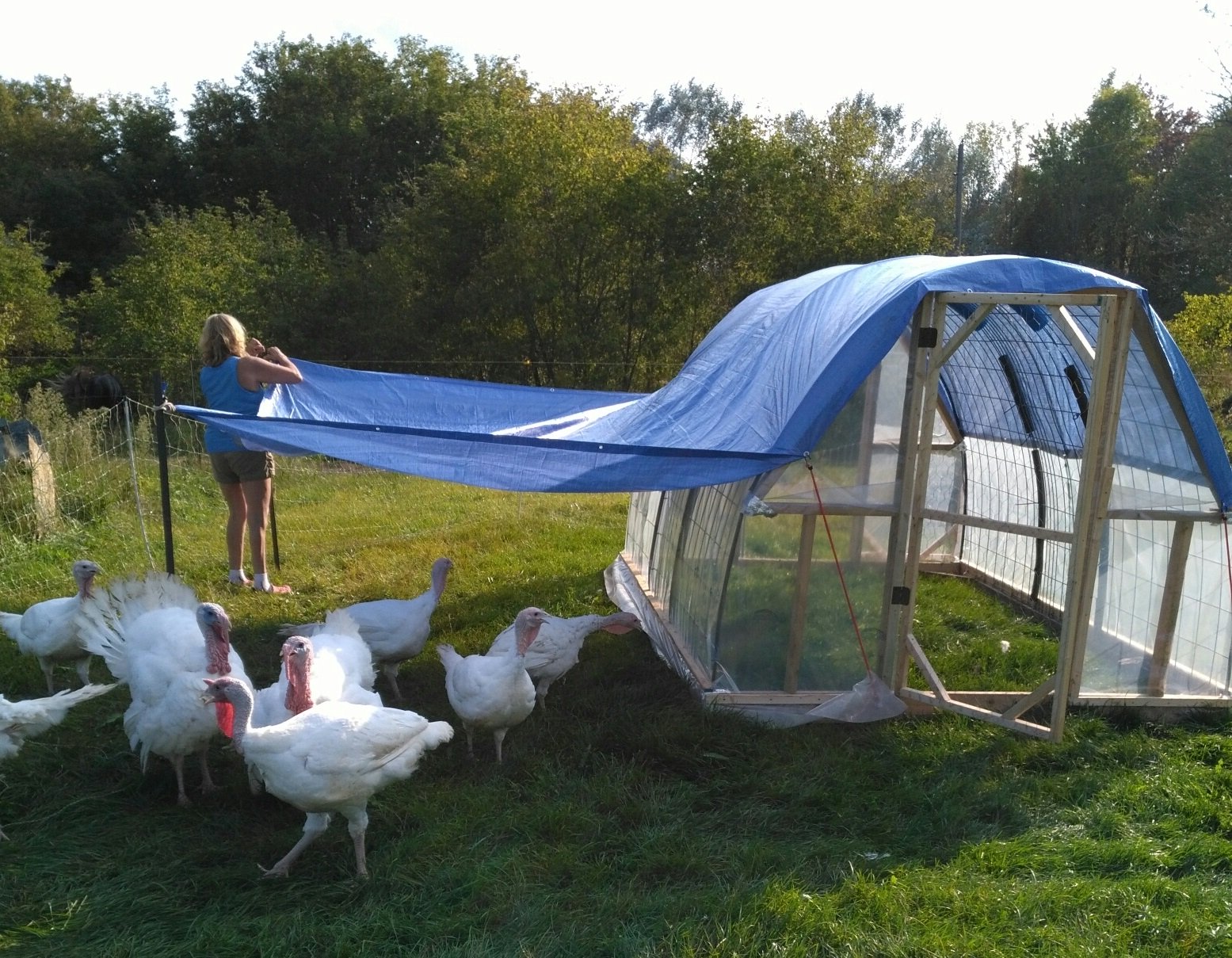 Our walk-in Hoop Coop works for raising turkeys as well
So we know how to build a chicken coop that suits our particular needs, but we wondered what free chicken coop plans might be available for the novice chicken farmer.

Before we jump to the free plans link below, a quick review of what a chicken coop needs to do. If you have looked at our Chicken Coop Ideas page you know that a chicken coop has to provide 3 things:

Confinement and control of the chickens


Shelter from the elements


Protection against predators


In other words, the coop has to keep your chickens warm, dry, safe, and where you want them!

So the free chicken coop plans have to at least meet those criteria.

There is another point to consider as well: how portable is the coop? At the farm we try not to build structures we can't move if necessary.

The coops we use for our meat birds are all easily movable by one person. This is important for raising poultry on pasture; you want to move the birds to fresh ground regularly.

Next to consider is the readability and comprehensiveness of the plan itself. Can the plan be easily followed, by a builder with minimal experience in reading plans?

And finally, how easy is the coop to construct? Does it require complicated joinery or advanced carpentry skills? We like to keep our constructions as simple as possible (we're growers, not carpenters!)

So, how do the free chicken coop plans stack up against these criteria?
Here are the Free Chicken Coop Plans
We chose two free chicken coop plans to examine; one is a plan for a small portable backyard chicken coop, suitable for raising a few laying hens. The other is a larger, portable 'chicken tractor' type that can raise a couple dozen layers or 50 or so meat birds. Here's the first:

Plan 1: Portable Backyard Chicken Coop Plan from Mother Earth. This plan is quite simple, and will produce a small portable coop suitable for a 3 or 4 backyard hens.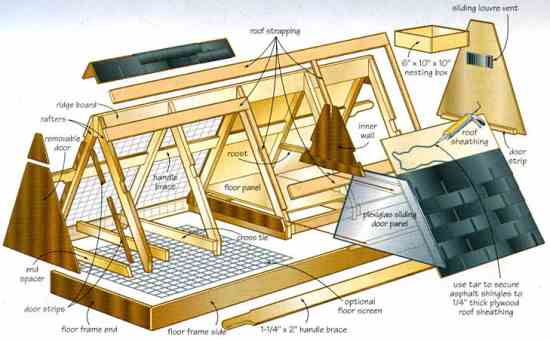 Construction diagram from Mother Earth free chicken coop plans
The plan itself itself is quite clear and the instructions are sufficient to allow fairly quick construction. One possible problem area, the diagrams included are not terribly detailed, and this may prove a challenge for the novice builder.

This design has a sheltered coop area about 4' x 4' and an attached chicken yard about 4' x 5'. The structure appears solid and provides protection against the elements and predators. The finished product looks pretty good too.

The only point of complexity in the plan is the requirement to 'notch' rafters and floor panels to accommodate structural members. This will require some effort and precision to produce a good finished product, but I could probably build this coop in an afternoon.

Regarding portability, this design has an axle and wheels on one end, allowing it to be moved.

One minor quibble, the overall length of this coop is about 9 feet, somewhat of an awkward size when buying lumber. I would probably reduce that to 8 feet (make the sheltered coop area a little smaller, but leave the yard the same) or expand the whole thing to 10 feet long and raise another bird or two. The bigger coop will still be easily portable.

As free chicken coop plans go, this is a pretty good design, attractive looking and portable. If you have some experience as a builder, this one will be only a minor challenge to construct.
Here's the link: (when you get to the page click on 'Image Gallery' to see the graphic depiction of the plan)

Get the Mother Earth Free Chicken Coop Plans
 


---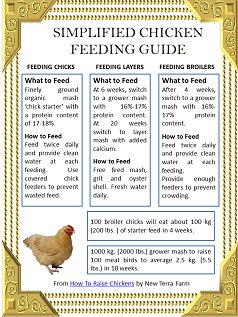 We've made feeding your birdies easier with our Simplified Chicken Feeding Guide.
Over the years we have evolved an simple way to feed chicks, layers and meat birds. Our birds do very well with this method.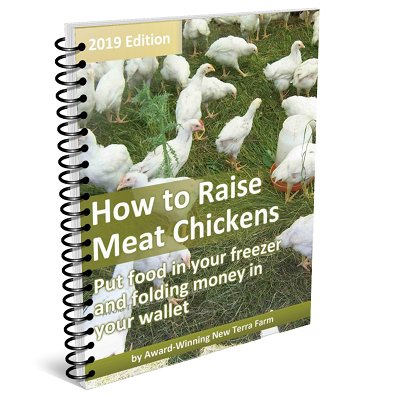 Day range your poultry for meat and money
If you are ready to raise chickens NOW on your small property either to put food in your freezer or some money in your wallet, you might want to check out my book How to Raise Meat Chickens.
A LOT of chicken raising information, plus plans for my movable coop and the new Hoop Coop.
Now on sale!
PS: for an even better deal, How to Raise Meat Chickens is included for FREE when you upgrade to my Complete Start Farming Pack

---
Free Chicken Coop Plans