Factors to consider when you buy a hobby farm
So, what else do you need to consider when you buy a hobby farm?
First, try to get a realistic idea of
how much acreage
you can manage. It can take a lot of time and experience to learn to use 5 acres or even one acre efficiently; don't bite off more than you can manage.
Just released - get my new free report:
BUT FIRST . . .
Want to get ALL my books and courses for free?
If you are planning to buy a rural property in Eastern Ontario, you are eligible to receive over 100 megabytes of valuable farm business information. Books, training course, and specially-designed software, all about how to successfully start-up, market and manage a small farm business.
If you have ever thought about making some money on your new farm, you need this information. All the books, courses and software will be delivered to you on CD - a $400 value.
To get the CD, just list or buy your property through my real estate connection (who happens to be my daughter, so I can tell you with total objectivity she is an excellent agent;-)
To get started, fill in the form below, and she'll get back to you to see if she can help you realize your small farm dreams.
Now, as I was saying, you can get my The One Acre Farm Plan here.

For comparison, I have 52 acres; but about 40 acres of that is bush. My market garden and greenhouse fit on less than one acre. And I use about one more acre to raise my meat birds and pigs. So, normally about 2 acres of New Terra Farm might be considered in "full production". The rest of my pasture provides graze for my ponies.

This year, though I am trying a special experiment, and using just one acre for the market garden and the pigs and chickens - get the Free Report above to find out more.

You should also get a realistic idea of the income you can make before you buy a hobby farm. While it is possible to grow high-value crops using intensive techniques, you should be aware there is a learning curve for most farm businesses. You may not make the expected income while you are still learning how to manage your property.

The three crops that have worked consistently for us on New Terra Farm is our organic market garden, our meat chickens, and our pastured pigs.

Each of these enterprises is suitable for a hobby farm, and each can be started and managed part-time, while you are still working in the city.

Starting a farm business is like starting any other business; you need to consider planning, marketing, and managing before production. In other words, don't grow anything until you know how you will sell it, who you will sell it too, and how much money you can expect to make.

And speaking of raising animals, remember that good fences make good farming. If you buy a small farm and expect to have livestock, good fences are a must. You need to keep your animals where you put 'em, and OUT of inconvenient places like your garden (or your neighbour's garden ;-)

See also:

Trying to decide what to do on your small farm? Learn How and What to Farm

Why my farm needed a website (hint: I needed more income, and a way to retire). Here's why your farm needs a website, too



Return to Home page from Buy a Hobby Farm


---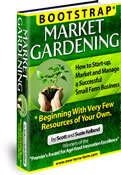 NEW! I'm putting the FULL TEXT of Bootstrap Market Gardening online for anyone to read! All 100-plus pages will be available to read for free. Click here to start reading Bootstrap Market Gardening