Farming the Internet - Using the Web to Attract Business to your Farm
I've written elsewhere about why your small farm needs an ecommerce website so lets talk a bit about the 'mechanics' of farming the Internet. By this I mean using the Web to identify and attract prospective customers to your small farm business.

By the way, just because I titled this 'Farming the Internet', the process is not limited to marketing the farm itself. If you have another business based on your farm, the same information applies. Lots of farmers do custom work using the farm as home base; you can promote those businesses the same way.

So how does this on-line promotion process work? Well, just like in the off-line world, you attract prospective customers by offering something they want.
People search the Net for looking two things: 1-  information, and 2 - goods and services. In other words, they want to learn something or they want to buy something. Your site has to meet these needs if you expect targeted traffic that ultimately become customers.

'Targeted traffic' means visitors to your site that are predisposed to want what you are offering. How do they they know what you are offering? You let them know by way of your content.
Successfully farming the Internet begins with quality, relevant content. Quality content will generate quality traffic – i.e. people who have an interest in your particular offerings.

OK, so what is the definition of 'quality content'? It is information and guidance and advice, written in your particular voice, relevant to your particular niche.
For example, my niche for new-terra-natural-food.com is growing and using great food. My content is all about that, from the perspective of both the home and market gardener. You won't find me writing about auto-repair, or hang-gliding, or square dancing (three particular phobias of mine, by the way).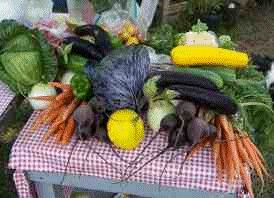 I get to write about (and EAT) my favorite topic
I do have another niche that has sort of developed over time, and that is using the Internet to create a second income. But my writing on that is still consistent with the overall theme of my website, i.e. making a living on a small farm. I believe an online business is possible for every small farmer, so I write about that as well.

I mentioned in a recent newsletter that I give away a lot of information on my websites; this is the 'quality content' we are talking about. People visit my site because of this content. Here's the key point that really makes this work: visitors can get more really good stuff after they register - i.e. provide a valid e-mail address so I can follow up (and maybe SELL them something.)

I offer a Market Gardening Start-up Guide, and the Mini Farm Plan; you might offer any particular piece of wisdom you have acquired. You might offer a book of favorite family recipes in exchange for their email address, or create a seven-part course on harvesting and storing vegetables.
Or how to repair a Ford 8N tractor, or (in reality) any other topic that relates to your niche. Whatever the engagement they choose, you know the people that register are interested in buying what you have to sell.

In other words, the prospect is pre-sold before human engagement has begun. Visitors who engage with your site are no longer cold prospects. They have self-qualified by demonstrating interest in your content.

Just like in the off-line world, visitors to your site arrive in various stages of 'readiness to engage'. So when farming the Internet, the content you provide has to:
Get attention from those prospects just beginning to consider buying what you offer


Grow interest with those seeking more information about your products;


Build credibility with those currently evaluating various purchase options;


Engage continuing involvement from the careful, due-diligence types seeking assurance that YOU are the right choice


Repeat exposure to high-value, free information is a way to move your prospective customer along the stages of readiness, and make the job of closing the sale easier for the human salesperson. This is how farming the Internet works to bring you customers in the mood to buy.
The good news is, you don't need to be a programmer to build a working website.  I now use an all-in-one website building and hosting package called SoloBuildIt!
After trying any number of other companies, this is the one I settled on. They offer an unconditional 90-day guarantee, so you can try it risk-free.
Check out all the tools they offer here
New for 2020: Download my free report explaining in (non-technical) terms how to build a working website that 'gets the clicks' and can actually create another income stream for you.
Enter your email address and '7 Secrets of a Successful Website' will be sent to you right away.
Farming the Internet