Get some market gardening publicity - free!
We've said before that market gardening is as much about 'marketing' as 'gardening'. Here's some valuable information about promoting your bootstrap market garden (or any farm business). We have done these things, and can tell you they work to get free market gardening publicity for your farm.
Issue a news release. Local media are always looking for events of interest or unique happenings. Starting your own farm business is newsworthy!
We have sent out news releases about the rare breeds animals we have on the place, the start-up of our bootstrap business, and (of course) the Premier's Award. Each has resulted in media attention, and some media visits.
We have been in a dozen or so newspapers, and interviewed on television (even before the award). Find something you think might be of interest to your local media, write it up and send it out.
Write an article. Write a brief article (300-500 words) about your farm and submit to local papers. Here's an interesting thing, a 'news release' and an 'article' can be just about identical in content! Just change the heading, and send it out.
We have had several follow-up visits from reporters after submitting an article, and the phone always starts to ring with new customers after it is published. Free advertising!
Consider setting up a web site. This falls into the category of 'not necessary but expected'; i.e. the new standard for business is a web presence.
This does not have to be difficult, but it will take work (and some money) to create a decent site. However, done right, the investment can pay off many times over. See more about building a web site that works on our how we grew a website page

Submit articles to on-line article directories. There are many 'hubs' on the internet that will accept and publish your on-line article for free. These hubs get a lot of traffic from the search engines, and therefore can attract a lot of traffic to your website (and your business).
Check out my online article at ezinearticles.com for an example. It is really not that difficult to write a few hundred words on a topic you are passionate about (and you are passionate about market gardening, right?)
Our Bootstrap Market Gardening book has a section on writing news releases and articles for free market gardening publicity, including:
What to write about


How to write a snappy headline


Where and how to submit them to the press.


We even include sample headlines that have actually been published about our farm.


A fellow grower lost out on $5,000 in her first season because of one simple mistake. Get your FREE Market Garden Starter Guide and avoid this costly error.

Imagine building a profitable and sustainable market garden  even on a small property.

Enter your email address and your free report will be sent to you right away.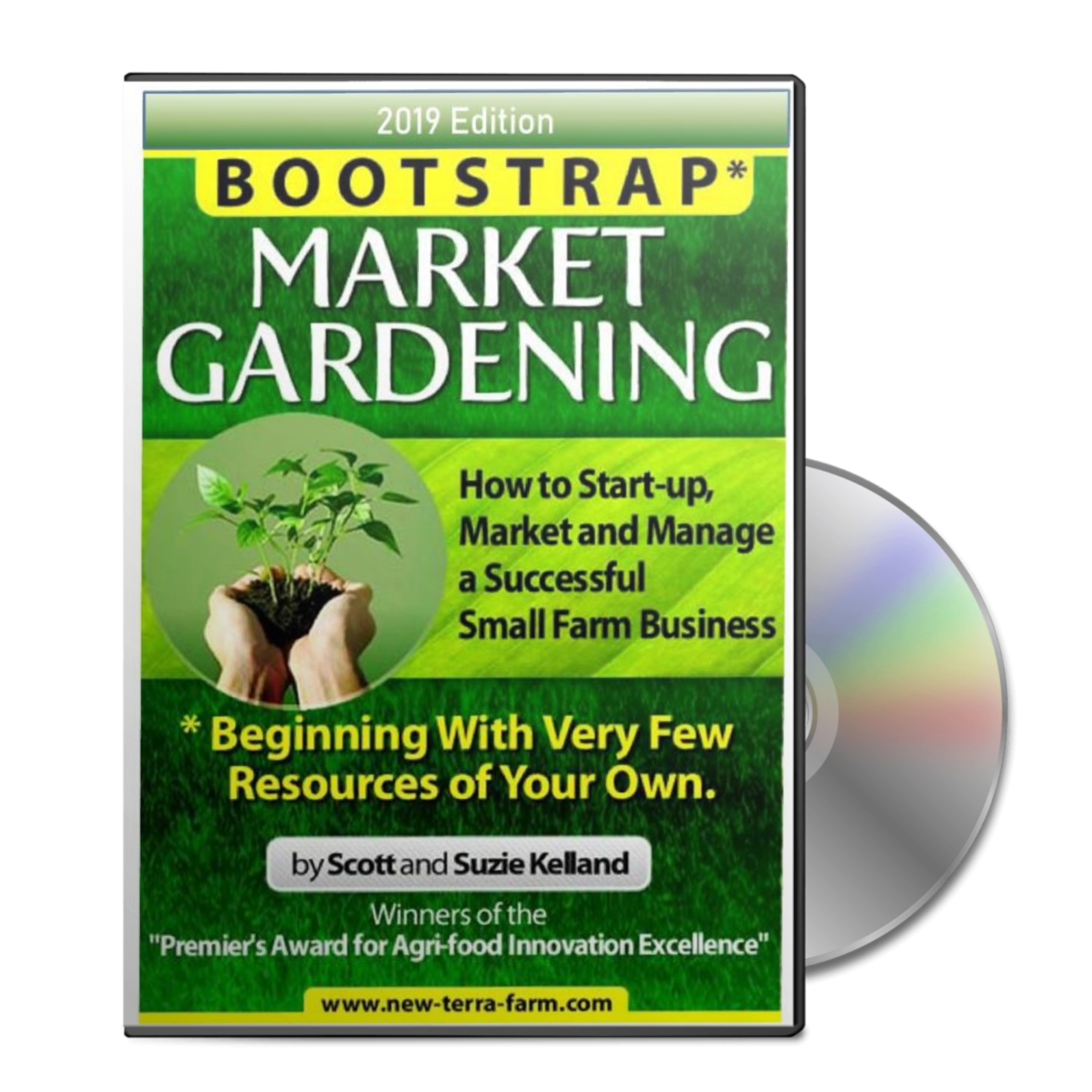 Now includes Garden Planner software
Bootstrap Market Gardening, my first Bootstrap Book, shows you step-by-step how to start-up, market and manage an organic market garden based on CSA principles.
New edition includes my Garden Planner spreadsheet. Get Bootstrap Market Gardening only from New Terra Farm.
Or get Bootstrap Market Gardening as part of my Complete Start Farming Pack and SAVE EVEN MORE!
Market Gardening Publicity