Country living articles and other topics
(from your friendly neighbourhood farmer)
Country living articles, market gardening, making a living in the country (or anywhere else, really), writing for money, I may pontificate on any and all.

Welcome to our vast collection of knowledge (although you might find some of the ideas only half-vast).

Just released - get my new free report: Raising chickens, pigs on pasture, and an organic market garden - on JUST ONE ACRE!

Download my One Acre Farm Plan


The country living articles you will find here are based on my personal experience with the various topics; I don't like to write about things I haven't done myself.
In the same way, if I recommend something (a method, or tool, or product) it's because I actually use it - I won't suggest something I haven't tried and tested.
On with the show!
Market gardening articles


Why Farmers must avoid the Farmers Market! If you are a market gardener (or want to be), stay away from the farmers market more . . .

The Market Gardener's Secret Marketing Weapon. Market gardening is as much about 'marketing' as 'gardening'. Find out about the marketing 'secret weapon' more . . .

Smart small farm marketing. Every small farm business needs customers; this includes small farm businesses. Customers come from marketing. Here are some simple, smart ways to market your small farm business to keep that flow of customers coming more . . .



Living in the Country
Country living and country etiquette might hold some surprises for 'city folk'. Here's some things I've learned about Living the Coun try Life


And, here's a few more tips for Small farm living

Why my farm needed a website (hint: I needed more income, and a way to retire.) Here's why your farm needs a website, too


Return to Home page from Country Living Articles


---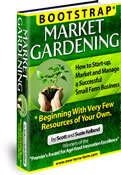 NEW! I'm putting the FULL TEXT of Bootstrap Market Gardening online for anyone to read! All 100-plus pages will be available to read for free. Click here to start reading Bootstrap Market Gardening