Ease of construction. I prefer to stay away from complicated joinery and intricate design details when I can. (I am the acknowledged master of 'half-fast' carpentry.) How easy will this coop be to build by someone with minimal-to-average carpentry skills?

So how does the ChickenDIYGuides How To Build a Chicken Coop with Easy Step-by-Step Instructions. package stand up in this comparison?


To start with, understand that these coop plans are intended for the 'backyard' chicken fancier who wants to raise a few hens for eggs.

If you want to raise meat chickens on a larger scale, check out my coop for raising meat birds

But if you are looking for chicken coop plans for a backyard coop, these are the best.

The Chicken DIY Guides plan actually includes plans and instructions to build a number of sizes and styles of coops, ranging from a small portable 'hen chalet' to a larger, permanently-installed coop suitable for a dozen or so birds.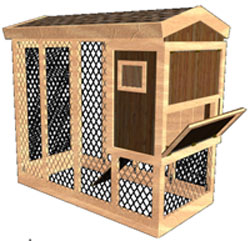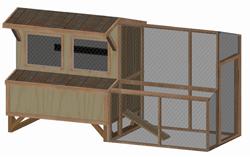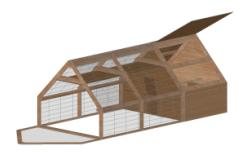 To rank this plan package against the criteria given above:

Readability and Ease of Construction.

Readability: These plans are well laid out and easy to follow. Instructions are provided in logical sequence, with pieces constructed in appropriate order, e.g. situating the structure and constructing base frames before proceeding with other construction.

Readability Rating: 4 out of 5

Ease of construction.This is the one where I have a few quibbles with the construction methods chosen. The coops are (in my humble opinion) a bit 'overbuilt'; that is, the framing and details are a little excessive just to make a house for a few hens.
And there are a few details I would just leave out e.g. the roof vent is just not necessary!
There is nothing wrong with doing it the way the plans suggest, but there are simpler ways to accomplish the same thing. For example, rather than framing a window with mitre cuts and rabbett joints, I would probably scrounge a 'recycled' window already framed and adjust my plans to suit.
These plans will build you good-looking, sturdy coops but at the cost of some extra work.

Ease of Construction Rating: 3.5 out of 5

Comprehensiveness of the plan. These plans are thorough, and include instructions from how to situate your coop to finishing details such as constructing roosting poles and nest boxes. Potentially tricky bits - e.g. constructing roof trusses - are explained in detail, with diagrams.
A list of material and a 'sheet cutting' list is provided to help you plan your work. There is no list of tools required per se, but the plan does explain when certain tools are required e.g. a framing square for laying out roof rafters.

Comprehensiveness Rating: 5 out of 5

Graphics.The graphics provided with these plans are excellent, high quality graphics with dimensions clearly marked (feet and inches only, no metric equivalents given.) Photos of the completed coops and at various stages on construction are included.

Graphics Rating: 5 out of 5


Bonus material.There is quite a bit of additional material included with these chicken coop plans. The material varies in quality from 'pretty useful' to 'not very helpful'.
You get basic instructions on chicken care (pretty good), a chicken dictionary of terms (not especially useful), and access to some videos (somewhat interesting). A couple other items are also included, but don't add a lot to the package.

Bonus Material Rating: 3.5 out of 5

Conclusion and Recommendation
This is a pretty good package overall, with the plan comprehensiveness and graphics standing out. I would give it an overall rating of 4 out of 5, which would certainly make it a 'buy'.

Chicken DIY Guide. $39.97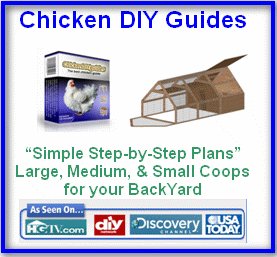 Get the Chicken DIY Guide Chicken Coop Plans


---
From time to time I recommend books and software on this site that I believe will be of value to my readers. I only recommend products I actually own and find useful myself. And I only recommend the best I can find in that particular category of product.

If you follow my recommendation and buy one of these products through the link on my site, I receive a small commission from the originator of the product. This is one way I create income to maintain and improve this site, and keep reviewing genuinely useful products. Hopefully, you will agree this is 'win-win-win' for you, me, and the people who create these great products.